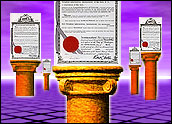 Recently, I've made several trips to Geneva, Switzerland, the home of the World Intellectual Property Organization (WIPO). I've seen firsthand how this once-sleepy organization of patent attorneys and intellectual property technicians has become ground zero for an assault on the economies of the industrialized world.
In a global information economy, WIPO is the most important organization people have probably never heard of. Charged with promoting the protection of intellectual property (IP), WIPO educates countries on the importance of IP and helps them implement functional IP regimes that are consistent with those of the rest of the world.
This is a noble mission. The protection of property, including intellectual property, is a key factor in economic growth. Not only is IP protection important to the knowledge-based economies of the West, but IP is also critical to encouraging economic growth in developing countries. What possible economic leverage does a small innovator in a poor country have, other than a property right to his creation?
Harboring Resentment
But many of these countries remain suspicious and resentful of the West, and don't think they're getting a fair shake in their attempts to grow their economies.
They have a legitimate complaint. Western hypocrisy on agriculture subsidies is depriving them of a traditional means of economic growth. Such ill-considered policies in the West are creating enormous reservoirs of resentment among developing nations, and these countries are looking for alternative opportunities to exert political leverage.
A number of anti-corporate activists and organizations have found common cause with socialist-learning countries like Brazil, Argentina and Venezuela, and they are using such country delegations to lobby for them at the international level.
The influence of this partnership between anti-capitalism and anti-corporatism was demonstrated last September when Brazil, Argentina and Egypt succeeded in pushing a proposal through WIPO that could so significantly change its mission that WIPO could be renamed the World ANTI-Intellectual Property Organization.
Under this proposal, instead of promoting strong and consistent intellectual property protections in developing countries, WIPO would instead enact a moratorium on promoting strong global intellectual property standards until "development needs" were considered.
The development agenda controversy has almost completely sidetracked WIPO for 2005, distracting it from its important mission and politicizing what was probably the last functioning international organization.
Because WIPO is a "consensus-driven" organization, nothing like the development agenda can happen unless everyone agrees. This means that nations which recognize the danger of the development agenda can hopefully block its implementation, though the pressure will be powerful to "give" on something.
Bashing IP Protection
But the development agenda effort has already succeeded, because it has begun to undermine the international order's confidence in the importance of IP. IP is bashed at every opportunity through assertions that strong IP protection "enslaves people" and "results in death and destruction." You would think that IP protection is the main reason for disparities between rich and poor, and that elimination of IP protection will result in a Utopia where access to medicines, software, books and recorded entertainment will be free and abundant — a magical world where people will continue to work and create without the prospect of profiting from their work or having any control over its distribution.
We recognize this for what it is: that same old impulse which has at various times and in various places led to socialism and communism. But this debate is being held in front of delegations from nations whose grasp of property rights and market-based economies is tenuous at best, and which are not immune to such utopian delusions. This anti-IP campaign is having an effect, and unless this campaign against IP is actively opposed, the U.S. economy has much to lose.
Today, the comparative advantage of the U.S. isn't cheap labor or natural resources. Our comparative advantage is our creativity — our ability to innovate new products and services that the rest of the world wants and is willing to pay for.
Fostering Innovation
If intellectual property protections are allowed to erode across the globe, the brunt will be borne by U.S. workers with high-paying jobs who work for companies that produce IP products like computer software, technical equipment, pharmaceuticals, books, music and movies.
The U.S. economy depends on the property-rights model of innovation. We must use our maximum influence with WIPO to make sure the anti-capitalists of the world don't succeed in destroying global innovation. Intellectual property matters, not just for the U.S. economy, but also for the good of the entire world.
---
Tom Giovanetti
is president of the Institute for Policy Innovation (IPI). He maintains a blog on intellectual property policy at
www.ipblog.org.
---