The Iriver Story HD, the first e-reader to be fully integrated with the Google eBooks platform will be available exclusively at the Target retail chain Sunday.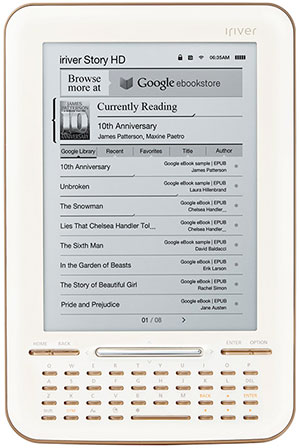 The Iriver Story HD
Priced at US$140, the Iriver Story HD was first shown at the Consumer Electronics Show in Las Vegas in January.
The six-inch, WiFi-only e-reader has an XGA screen.
It's based on an i.MX508 e-reader applications processor based on ARM Cortex technology, and it will be able to use the global Easy WiFi Network.
It supports Adobe EPUB and PDF formats with DRM (digital rights management).
"I don't think e-readers is a big category for Google, so they're probably selling it as a way of making it easier for people to read their books and as a very low-end tablet," Andrew Eisner, director of community and content at Retrevo, told TechNewsWorld.
Google and Iriver did not respond to requests for comment by press time.
Tech Specs of the Iriver Story HD
The Iriver Story HD's screen offers 768 by 1,024 pixel resolution. The screen's made by LG Display, with which Iriver established a joint venture in June of 2010.
The Story HD's FreeScale Semiconductor i.MX508 processor is the first system on a chip designed specifically for e-readers.
The SoC is based on an 800MHz ARM Cortex A8 processor, and it has an integrated hardware electronic paper display controller that drives the latest Pearl panels from E-ink. The Story HD has a QWERTY keypad.
Battery life is three weeks.
The Story HD will have access to the Easy WiFi Network built in. This network provides automated login after users log into it for the first time. It is claimed to provide coverage worldwide. Users can extend their coverage by adding their own hotspot accounts.
Easy WiFi supports commercial WiFi network providers as well as WiFi networks set up by cities or universities. It provides users maps of hotspot locations.
Could the Story HD Be a Contender?
Google touts the Iriver Story HD as the first e-reader to be integrated with the open Google eBooks platform. It also focuses on the device's WiFi access, which lets owners download Google eBooks wirelessly.
However, many other devices, such as Android phones, the iPhone, the iPad, the iPod touch and, possibly, other e-readers can already download Google eBooks wirelessly.
At $140, the Story HD may seem a tad pricey. The latest Kindle ereader from Amazon is available at $120, and the competition is going to get even keener.
"In a few months, Kindles are expected to drop below $100, and that, combined with the fact that the Google library isn't very attractive, make the Iriver Story HD a non-starter except for Google employees and readers that just want a lot of old, free books," Rob Enderle, principal analyst at the Enderle Group, told TechNewsWorld.
The Story HD is "selling on performance, appearance and resolution in a market that's defined by content," Enderle pointed out. "Without closing the content gap, it's unlikely this will sell well," he added.
Nose in E-Book
Google seems to be using the Story HD as a stalking horse for further penetration into the e-book market. It's reaching out to manufacturers interested in integrating their next device with the Google eBooks platform.
Whether the Internet giant will throw enough of its weight behind the Story HD to make that device a success has yet to be seen. Google's past performance with hardware may not be encouraging.
"Google has a history of throwing hardware out there and then not supporting it very well," Retrevo's Eisner stated. "We saw that with the first Android phone. It'll be interesting to see where this product goes and whether Google will hand it off to somebody later."
Still, Iriver itself is no newbie to the market, and the device may have a decent lifespan.
"Iriver ran unsuccessfully against Apple for years with their MP3 player," Enderle said. "They have done better in Asia, though."