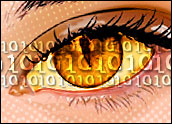 iRobot, perhaps best known for its Roomba autonomous vacuum cleaner, has announced the Ava 500, a robot that lets users conduct video conferences while on the move. The device was developed and will be marketed in close alliance with Cisco.
It consists of a Cisco TelePresence EX60 personal telepresence system — essentially a two-way videoconference screen with associated technology — mounted on a smart pedestal from iRobot that stands at about 5 feet 5 inches but can be lowered to seated height.
The Ava 500 can be sent to a location for a videoconference, tour a facility, or observe training in progress, for example.
The device "is designed with very specific needs in mind — situations where a user needs both video and freedom of movement," Cisco spokesperson Christine Johansen told TechNewsWorld. "We envision applications in corporate training, factory inspections, manufacturing sites, labs and customer experience settings."
The Ava 500 is aimed at enterprises, which would lease it at about US$2,500 a month, Marcio Macedo, a director of product management at iRobot, told TechNewsWorld.
Features of the Ava 500
The Ava 500 uses Cisco's Aironet 1600 Series wireless technology for communications. It offers enterprise-grade security and interoperability in any standards-based video collaboration environment.
It maps its own space so it can travel without bumping into people or objects, or falling off stairs.
Capable of remote access, the Ava 500 supports WiFi, 3G and 4G connectivity; it has an advanced sensor suite consisting of laser, sonar and 2D and 3D imaging; cliff sensors; and contact bumpers. It has touch-sensitive "skins" for local control that integrate with pad-based sensors such as barcode scanners, cameras and near field communications.
It is customizable and has voice, touch and gesture controls. It recharges autonomously, and it has some manipulation capabilities.
The Ava 500 is controlled using an iPad-like interface.
It will be demonstrated at the InfoComm 2013 conference and expo in Orlando, Fla., later this month, and it will be available early next year.
The Ava 500 is programmed using open application programming interfaces for HTTP as well as iRobot's own Aware 2 software.
Ava's Pros and Cons
"Autonomous mobility is a factor that could make the iRobot effective for plant tours and the like," Charles King, principal analyst at Pund-IT, told TechNewsWorld. "I think the pitch for using the device to make collaborative meeting locations more flexible is less compelling."
The Ava 500 would offer better audio and video quality, reliability, security and interoperability than Skype or other existing videoconferencing solutions, Cisco's Johansen remarked.
"Plus, if you were going to try to use Skype, you'd need someone on the far end holding a tablet or smartphone, moving it around for you. With this, you are free to move about and see what you please," she added.
However, "We're getting to the point where we've got screens around us, whether it's our handsets or PCs or TVs," Jim McGregor, principal analyst at Tirias Research, told TechNewsWorld. "It's really hard to make a case for something like this, especially when we're constantly surrounded by screens and cameras on our mobile PCs, tablets and smartphones. We're getting to the point where we're in the virtual presence mode, but we haven't yet enabled it to the full extent."
It's not that the Ava 500 doesn't have value, King remarked. "The real question is, how does the cost balance against the expected payback?"