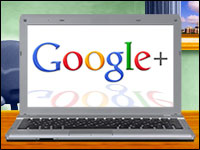 Google on Wednesday announced new features for its Google+ social network.
The Internet giant on Wednesday introduced what Google+ head honcho Vic Gundotra called a "more functional and flexible" version of the service.
"With Google+, we're building a seamless and consistent social layer across Google," company spokesperson Kat Eller told TechNewsWorld. "Today's foundational changes let us move even faster toward a simpler, more beautiful Google."
That consistency might result in an industry-wide similarity of features.
"As social networking has exploded in popularity, there are certain kinds of features and functions that users of Facebook and other social networking sites are used to having and like having, and Google's simply adapting Google+ to, if not emulate the competition, establish the same general theme of what users can expect," Charles King, principal analyst at Pund-IT, told TechNewsWorld.
Looking to the Future in Google+
Google has replaced the static icons at the top of Google+ pages with a dynamic ribbon of applications on the left, Gundotra said. This lets users drag apps up or down to rearrange them, hover over certain apps to reveal a set of quick actions, and show or hide apps.
The ribbon also has a free space for future features, Gundotra said.
New Google+ features also make it easier for users to share information. They include a stream of conversation "cards" that make it easier to scan and join discussions, an activity drawer that highlights the community around users' content, and a dedicated Hangouts page.
The dedicated Hangouts page includes a list of invitations from people in users' circles that will be constantly updated, quick access to every public and On Air hangout, and a rotating billboard of popular hangouts, pro tips and other items.
Google's also working on new hangout apps.
Other new features include an "Explore" page that shows what's interesting and trending across the Google+ network, a chat list that puts users' friends front and center, and a new profile with much bigger photos.
Does This Look Familiar?
Some of the new Google+ features appear quite similar to their counterparts on other social networking sites such as archrival Facebook and erstwhile partner Twitter.
For example, the free space in the ribbon of applications has given rise to speculation that Google will allow apps and widgets from third-party developers on the Google+ site emulating Facebook and other social sites.
Some observers have noted that the "Trending on Google+" box is similar to the "Trending Topics" feature on Twitter, right down to the use of hash tags. Further, Google now lets users pick a cover photo for their profiles, echoing Facebook. And could Google be stepping up its focus on photos in the wake of Facebook's recent billion-dollar purchase of photo-sharing app developer Instagram?
"Both Facebook and Google will track features head to head, as it's an all-out war for users," Maribel Lopez, principal analyst at Lopez Research, remarked.
Google's Rebuttal to Speculation
"A critical piece [of the seamless and consistent layer Google's building] is a design that scales to our future needs," the company's Eller said about the space in the ribbon.
Further, the Google+ trends feature "has been live on the Google+ search result pages for months and Google has a long history of offering trending data to users," Eller pointed out, citing Google's search trends feature.
And as for the pix, "we're always experimenting with new ways to bring users a rich and beautiful photo experience," Eller remarked.
Google's Two-Headed Bluebird of Happiness
If the new features are aimed at making Google+ users happier, they are also likely aimed at bringing cheer to Google's accountants. After all, the more data users share, the more information the Internet giant can glean from them, thus allowing them to further refine their ad strategies.
"The sharing of data goes to the heart of Google's commercial model," Pund-IT's King stated.
"The feature improvements are designed to get us to share more so Google can learn more and monetize its users more effectively," Lopez Research's Lopez told TechNewsWorld.