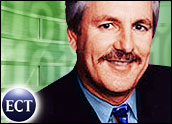 Last week we saw the two big guys go at it: First Apple showed off product updates for the iPod and iTunes, and then Microsoft had the coming-out party for Zune — its so-called iPod killer.
I'd like to talk about all this first and end up discussing products I think do the best job in the media space today to point out some non-Apple examples of excellence. Hopefully this will prove that others can build products that are as good or better than Apple's.
Apple Shoots First
Apple's announcement was underwhelming when taken against the expectations set for that company. What was anticipated was a new iPod with a larger screen more appropriate for video content, an iTunes modification which would do for movies what the original iTunes did for music and a living room media player done right. Many expected an Apple cell phone in addition to all this.
What Apple announced, however, was a slightly modified iPod for movies that offers better resolution, better capacity and slightly longer battery life. While the firm has made some impressive iTunes improvements, with regard to movies, Apple's only got Disney so far. Granted, Disney is the first studio I'd pick, but this fell well short of the initial iTunes effort. Apple did announce what could be the best home media center on the market this holiday season — the only problem is that it won't show up until after the season is over. The firm did not unveil any cell phone, but I expect if it does, it will be tied to a completely different event.
On the Defense
Apple is adding new colors to the iPod line and has a cool, new iPod shuffle. Neither of these announcements had been expected. Colors, however, have historically been a problem in that the ones people want tend to sell out and then there is an overstock of colors folks don't like. The technology to do custom colors in stores has been around for well over a year, but no one in this segment, not even Apple, has yet figured out how to offer that yet.
The new shuffle is the most impressive new Apple product that will ship this year. Unfortunately, however, the shuffle doesn't do movies and Apple set expectations solidly tied to movies for this event. Still, it is an impressive little player even if it still follows the Apple M.O. of not including a radio or replaceable battery.
So as a defensive shot, Apple's event wasn't particularly strong in my view. That means that if Microsoft had done its homework it would have had an opportunity to do to Apple what it did to Sony with the Xbox. It didn't.
Microsoft's Zune Response
Let's start with Zune's hardware, because that's where the buyer starts. While Apple has the most complete line of players of any vendor, Microsoft launched with one player in three colors: white, black and brown. I'm not a big fan of brown, but each of the devices do look better in reality than they do in pictures.
As for movies, which clearly would have been a good attack vector given Apple's focus and disappointing miss, all Microsoft needed to do was offer a big screen and at least two studios. Microsoft had the big screen but they had zero studios, in fact they have no TV or movies at all at this point.
Now, to be fair, the jury is out on using these small digital media devices for video. Some think it will work, and even Steve Jobs has been outspoken in saying he doesn't think video is smart — though he made those comments before Apple had video capability. However, the idea of offering a hardware device that seems designed to do movies but does not actually do movies, seems like the quick path to low sales, particularly since we know that the fastest growing non-Apple player is the SanDisk Sensa, a small player focused on music. Meanwhile, the Zune player is oversized, all because of a screen you don't need just to play music. The device is built with video in mind.
On the positive side, the Zune is a robust, almost hardened device and should look nearly as good on year three as it does on day one. It may have better battery life — though it's hard to tell because the screen appears to pull more power, and, particularly under flat rate pricing, it provides a more complete music experience. It has accessories that allow it to move easily from (big) pocket to living room to car and appears to have a lower build cost which should result in a lower purchase price. Apple's accessories are vastly more diverse and complete, of course, but the iPods have also been in the market a lot longer.
Missed Opportunities
In addition, there is a lot going on behind the scenes with Zune that could allow it to stand out. Zune may offer fans better connections with musicians through a MySpace-like social networking service, and it also offers users the ability to share files with other Zune users via a unique wireless connection, and a very high-quality, iTunes-like experience. It also has a radio. I can't see why anyone would create a digital music player without a radio when we live in a world where gyms are equipped with TVs broadcasting audio on FM and when we have such a need to have access to real-time info about weather, natural disasters and terrorist alerts.
We know, however, that people don't buy Apple's iPods to get iTunes. Rather, they get iTunes as a result of buying what continues to be a very nice looking family of devices and continue to favor appearance over features across a broad segment. Just look at the success of the Motorola RAZR. It is a marginal phone but its stunning looks drive it to the top of that market.
It is interesting to note that while Apple will miss the fourth quarter with its living room media player, Microsoft's Vista-based Media Center misses this quarter as well and doesn't appear to take Zune into account at all. Frankly, the Apple product line appears to be much closer to what the market actually wants.
Finally, Zune has created a problem with Microsoft's other high-profile music effort "Plays for Sure." I interviewed one partner who had been set to launch a "Plays for Sure" offering this week who said that now, thanks to Zune, "Plays for Sure" support is on indefinite hold.
So who won last week's early battle? Apple did — and it didn't even seem to be trying too hard.
Examples of Non-Apple Excellence
I believe that it is possible to build excellent products in the digital media space — and not be Apple. Here are three products that stand out.
Sonos: If there is a company that seems to really get music, industrial design and user experience at all once it is Sonos. I met with reps from this company to talk about its latest software update which allows users to bypass the PC entirely and use the Rhapsody service for music. Previously you could use to a storage device in your home directly but you had to set it all up on the PC first. Having to have a PC on all the time to service home media devices just seems wrong-headed to me. Apple's original peer to peer model failed in the face of client/server technology in business, so it seems strange that folks who should have learned that lesson would need to relearn it. Sonos seems to just get this right.
Kaleidescape: If you want to see what an amazing Media Center looks like look at Kaleidescape. Granted, even the inexpensive version of the product costs nearly US$10,000 and the full featured products cost more than twice that, but this is the best product for home movies on the market — and at that price it sure better be. If you want to know what some of the folks who build Media Center PCs use in their own homes this is it. This is the only major system that allows you to rip DVDs into it and visually manage the result. You can also easily script the entire movie experience, from previews to ads for sodas and popcorn. These folks didn't use Windows, Linux or the Mac operating system — they wrote their own OS. If someone can figure out how to do something like Kaleidescape affordably they could own the home multimedia space.
High Tech Computer: Finally, HTC just released the stunning new Cingular 3125 phone using Microsoft's Mobile platform on the Cingular network. At $149 with a two-year commitment, this thing has lust written all over it. I've carried it for awhile and everyone I've shown it to wants it. It showcases that some folks using Microsoft technology understand that design, too, is important.
---
Rob Enderle
is a TechNewsWorld columnist and the Principal Analyst for the
Enderle Group
, a consultancy that focuses on personal technology products and trends.
---