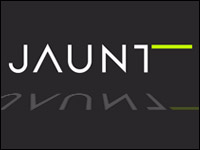 Though the current incarnation of virtual reality entertainment has its roots in gaming, potential applications for the Oculus Rift and Sony's Project Morpheus extend far beyond video games.
Jaunt is one company hoping to expand the possibilities of virtual reality through development of an end-to-end solution for creating cinema-quality VR experiences. Its system provides content creators with the hardware, software, tools and applications they might require to create such experiences.
To make its platform a reality, Jaunt has secured US$6.8 million in venture funding from investors including Redpoint Ventures, Peter Gotcher, Blake Krikorian, SV Angel and British Sky Broadcasting. As a result of the funding round, several people are joining Jaunt's board of directors, including Tim Haley, partner at Redpoint Ventures; Peter Gotcher, chairman of Dolby and founder of DigiDesign; and Stuart Murphy, director of entertainment at Sky.
Glass Advisor
Jaunt's advisors include Google Glass creator Babak Parviz, IMAX Chairman Brad Wechsler, film director Mark Romanek, and Stanford University electrical engineering professor Bernd Girod.
"We are really just at the initial stages of VR development," said Jim McGregor, principal at Tirias Research.
"This surge of investment — combined with the latest graphics, processing, display and audio technology — is enabling the development of VR solutions that we could only envision before," he told TechNewsWorld.
"Any time major industry and media players talk up a new technology, it's worth paying attention to what's being said," Charles King, principal at Pund-IT, told TechNewsWorld.
"At the same time, marketing and PR budgets are not what drives the kind of adoption among consumers required to guarantee commercial success," he pointed out. "Right now, major companies seem willing to spend millions — or in Facebook's case, billions — on VR. That's an interesting development that frankly doesn't signify any sort of tipping point."
Jaunt's system centers around a camera that captures 3D action and audio in every direction — naturally, the director and crew have to stay out of sight. It uses advanced computational photography algorithms to enable creators of cinematic content to build cinematic VR experiences using industry-standard production software like Final Cut Pro.

Image Processing
The algorithms enhance the recorded video via geometric calibration, color adjustment, and image processing. Once the footage is crafted into the final product, users can use the cross-platform viewer to watch content on Oculus Rift and other devices. The system uses virtual reality head tracking to let the user turn their head to see the action in any direction, and harnessed binaural mixing for an immersive audio experience, according to Jaunt.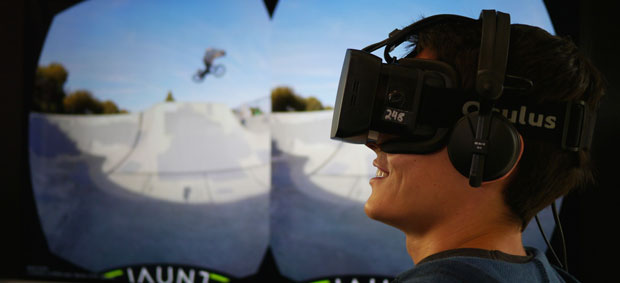 The idea behind the platform came early last year, when one of Jaunt's founders returned from visiting Zion National Park and wondered how he could revisit the site at any time from any place.
Supporting Vision
When Facebook announced its deal to acquire Oculus Rift for $2 billion, CEO Mark Zuckerberg expressed his belief that virtual reality could be used for much more than gaming.
Jaunt appears to be taking a step in the direction of Zuckerberg's vision. What remains up for debate, however, is whether the technology and mainstream consumers will support that dream.
"With any new technology, it typically takes several generations from introduction for it to be attractive to the masses," Tirias' McGregor pointed out.
"During this time, the technology, applications, usage models, and overall ecosystem evolve — and even then, a technology can fail, or fail to gain mainstream support. So, I think the greatest challenge is the time it takes for that development and evolution to occur," he explained.
"I think there are many potential applications for VR, such as training — music, sports, etc. — engineering design and analysis, and even entertainment content creation," McGregor added.
"There is great potential for VR, but it takes a great deal of technology, combined with the applications and usage models and acceptable prices," he said.
"Facebook's Oculus deal seems to have a generational-specific edge to it — a belief that younger people will be the ones eventually driving the market for VR," Pund-IT's King said.
"There's a certain truth to that, but it's worth noting how similarly immersive past efforts — Second Life — have largely failed to live up to expectations," he observed. "Technologies tend to succeed according to how and how well they enhance common reality. Unless virtual reality can somehow be better than real reality, its chances of becoming the next big thing seem pretty small. "