I've been focused on and off on turnarounds since I covered IBM's from the inside out in the 1990s, so I don't know how I missed this, but EMC2's turnaround was clearly a success, and its unique resulting organizational structure is incredibly subtle.
The company is actually far more similar in breadth to HP than most folks realize, largely because they mix up EMC and EMC2.
They aren't the same any more than HP's storage organization is the same as HP the company. This is almost like organizational magic, because people look at EMC2 and they don't realize it isn't EMC — it is something vastly more diverse and powerful, and organizationally, it's amazingly unique.
Joe Tucci, EMC's beloved CEO, is an organizational wizard — kind of the Harry Potter of CEOs.
I didn't understand this at all until last week, when I heard Joe Tucci explain what his company truly was at EMC World. It really opened my eyes to the fact that the EMC you think you see isn't the EMC2 that represents a far more powerful entity.
I'll talk about that and close with my product of the week: the new best hybrid Windows 8 tablet, the Lenovo IdeaTab Lynx.
HP and IBM
HP emulates IBM but is far more complex. IBM had both printing and PC divisions but exited both businesses to get rid of the complexity, and because it determined it wasn't very good at it.
Printing became Lexmark, a powerful but currently struggling printer vendor that also generally supplies Dell with its printers. Lenovo bought the IBM PC company and recently passed HP to lead the worldwide PC market.
The first showcased that there was a sustaining business in printers — just not one that really leveraged much of anything else IBM — and the second showcased that it wasn't the segment but the drag of IBM corporate that limited the PC business. Once out from under that drag, the division was able to again focus, and aided by Lenovo's dominant Chinese market position and growth, it grew back into the kind of power it once was.
Both IBM and HP have a traditional umbrella structure with comparable divisions focusing on specific markets. Recently IBM reduced complexity, driving its software and hardware businesses together under the same leadership. You could argue that it has broken from the umbrella model as a result, and now looks more like a smaller, more linear company without the umbrella model's distinct silos.
HP remains the only true umbrella company using the old IBM model. Each division head is kind of a CEO-lite, with more authority than a large department head but not the authority or stature of a true CEO. This can be a problem, because this structure often results in a company becoming a farm for CEOs of other firms. There is only one CEO slot, after all, and it often requires skills that the division heads never develop — such as the proper care of stockholders, financial analysts and investors.
EMC2's Unique Better Way
Tucci looked at that ancient model and completely revamped it. His division heads are CEOs either over closely held corporations or over public companies where EMC2 is the majority owner. Through a series of CEOs, HP first centralized (under Fiorina) then distributed (under Hurd) then tried to find balance (under Whitman). EMC2's unique model creates companies that are self-contained but still able to get the benefits of a larger firm — like volume buying and a large employee pool — by forming strategic partnerships that are reinforced by the firm's majority owner.
Because the CEOs are real CEOs — with the privileges, responsibilities and authority that go with the position — they are less likely to want to leave to get another CEO slot. They already have the title and stature. Pivotal, EMC2's latest company, is helmed by Paul Maritz, the guy who likely should have been Microsoft's CEO, and this is effectively EMC2's software division.
Unlike IBM's or HP's software unit, Pivotal can seek — and did get — outside funding, in this case from GE, and Maritz is a real CEO, getting the unusual opportunity to build a company at scale. He will start with something like 1,200 employees, full funding, and a major committed multinational customer in GE. This is like being given the chance to build a startup with almost guaranteed success — most of the glory and little of the risk.
No other company is doing this. The closest are Dell and Intel, which took acquisitions and left them as independent companies. Also notable is CSC, which took a group seeking initial venture funding and basically bought and funded it into a massively successful and relatively independent cloud division. This was driven by IBM alum Mike Lawrie, who worked under Louis Gerstner there.
Wrapping Up: Thinking Out of the Box
Tucci's organizational turnaround represents truly out-of-the-box thinking. I'm in awe of the effort and amazed at how long it took me to even see it. VMware, RSA, Pivotal, Syncplicity, EMC, etc. — each is either a power or has the potential of becoming one within a structure that allows EMC2 to add, remove, change, or grow with external funding much more quickly and aggressively than with more traditional umbrella model.
Organizational structure isn't where you'd expect to find innovation, but apparently EMC2's Joe Tucci has cornered the market on it. What an amazing company. Now it just has to figure out how to get others to see it for what it really is. On the other hand, I'll bet most of EMC2's competitors underestimate it now, and perhaps that is a good thing.
Product of the Week: Lenovo IdeaTab Lynx Tablet Computer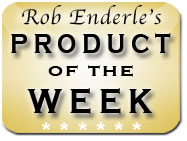 Microsoft is getting a lot of grief about its Windows 8 sales, but one Windows 8 product that has been selling out is the Lenovo IdeaTab Lynx Tablet Computer. This product is kind of a showcase of what will be coming in more volume later in the year.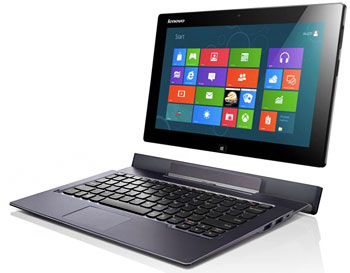 Lenovo IdeaTab Lynx Tablet Computer
It is a hybrid with a keyboard dock, and it uses the Intel Atom processor. This makes the tablet very light and gives it impressive battery life for a Windows 8 product — eight hours in tablet form and then an additional eight hours when you have it in the keyboard dock, which has an additional battery. That means even if you are watching movies, you should get better than 12 hours when it's docked.
This is kind of a precursor to what you'll be seeing a lot more of in the second half of the year. Intel has released a new version of Atom with similar battery life and greater performance at attractive prices, suggesting that eight- and 10-hour Windows 8 laptops, convertibles and hybrids will be far more common by year end.
This is the kind of hardware that Windows 8 was designed for, and the Windows Blue update should be available around the same time.
Lenovo shot the moon with this product, and it is arguably the best Windows 8 offering in market at the moment. The fact it can't keep this thing on the shelf — it is currently sold out — suggests that this is no secret, and it's a natural for my product of the week.