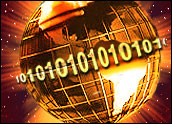 Last week, I was at the HP analyst event where DreamWorks CEO Jeffrey Katzenberg got up on stage and gave an example of what every speaker should do — tell a story. Behind him slides went by, and we even saw a preview of one of the coming movies. Looking back, it was one of the two best presentations of the event. The other, by Chandrakant Patel — on powering a data center using cow dung — was actually just as fascinating for much the same reason.
Interestingly enough, on the prior day, the speaker with the most stage presence was Cathy Lesjak who, instead of the more normal numbers-oriented talk, wove a compelling story around HP's new strategy.
In all cases, the best speakers overcame PowerPoint to tell compelling stories and better entertain and inform the analyst audience. However, it was at the end of Katzenberg's talk that I saw the big message, as he volunteered to work with HP to replace PowerPoint with something that could help — rather than hinder — storytelling. Replacing PowerPoint is what I'll focus on today.
I'll close with my product of the week, a chameleon Laptop line from Dell that you can match to your personality.
The Problem with PowerPoint
PowerPoint made a bad practice global. You see, years ago before we had PowerPoint slides, we had flip charts, chalk boards, foils and photographic slides that we would use as visual aids. Typically, these would be behind us, so we had to work from cards, a written script we would read or memorize, or a few notes to guide an extemporaneous speech.
With the advent of the computer and PowerPoint, we got lazy. Instead of using the slides to present visual images of what we were talking about, we used them more as notes we could share. In short, we increasingly read the bullets off the slides and forced the audience, who likely could read much faster than we could talk, to read along with us.
Most PowerPoint-assisted talks are deadly dull — particularly if they're given by speakers who have done them so many times they seem to have forgotten what the words actually mean, and even their minds seem to wonder as they parrot back what they read on the screen.
Instead of making talks more compelling, interesting or exciting, PowerPoint often turns them into torture. I'm quite sure some of the talks I've seen over the years using PowerPoint would be banned by the Geneva Convention.
Technology Advancements
Since the advent of the personal computer, we have developed digital projectors and the ability to place massive images on the screen — and, most recently, we've added 3D viewing capability. We can now create artificial worlds like the ones DreamWorks does for movies, and animations with such high photographic standards you can't tell what is rendered from what is real.
Telepresence technology lets us beam a meeting from one end of the world to another and avoid the loss of time in a plane and the disruption of having to be away from our families. However, we send the image digitally — and instead of using the technology to make what is seen at the other end more exciting, we generally give our audience the foils we're reading to look at. We seem to have mastered the superpower of being able to bore people to death long distance.
Fortunately, with video conferencing you can often throw things at the speaker, mute the audio and make snide remarks, and secretly catch up with your email. If the purpose of the conference is to communicate a concept or idea, though, a PowerPoint presentation is probably only memorable because it is something you wish you'd avoided.
Building a Better Microsoft Office: Bring Back Clippy?
It's funny, but I think Microsoft actually had an idea about what needed to be done when it created Clippy. Remember him? He was that little annoying animation that would give you obvious advice you hadn't asked for.
Like a lot of early things, I think he was a good idea well before the technology existed to make it work right. Part of creating anything — from a column like this one to a speech — is getting coaching on how to make what you are saying more compelling. The first part of a better talk is the script, and few of us know how to write a good one.
At the core of a good script is a story — and while most of us read stories, we really aren't taught how to write them in business school. Some of us are lucky to be natural storytellers, but even then we generally bring to the table the skills we were born with and rarely get the help we need to be truly great.
A future tool that would take our outline for a talk and craft it into an interesting story/script would be incredible. Then, once the script was created, a computer could parse the thoughts behind it and suggest images to enhance it. Those images could be crafted into a movie that would help convey the core meaning of our ideas without the need to put actual words on the screen.
For instance, if we were talking about a new product, we could showcase that product as it was built, serviced or used. Or we could showcase the time saved by showing the activities that the audience would now be free to do — all of this synchronized with the script. Or we could show pictures of a future world that would result should our green ideas be implemented. In all cases, the result would be far more compelling than words on a chart.
Finally, few of us are great speakers, but we do have the power to generate a realistic avatar and apply cadence and tone to a file that contains the elements of our voice. The end result of our work would be a realistic image of us performing the talk blended with the images, which could be emailed or streamed to anyplace in the world.
Perhaps this would only be the baseline, and ideas could be entered real-time from tweets, emails, IMs or Facebook — and rendered real-time into the talk, which would auto-adapt itself to its audience in real-time. No two talks would be identical. More skilled speakers could tweak the result to showcase their own unique skills. Bad speakers could become great speakers. Great Speakers could become speaking gods. To be honest, I'd love to be a speaking god.
Wrapping Up
I think we are entering the third age of computing, when our compute resources will begin to shift from being just tools to becoming intelligent partners learning from us how to grow our collective abilities to levels we can only imagine.
If DreamWorks and HP can help make this happen, they will go down in history as king makers — raising politicians, executives, teachers and even analysts to heights of influence we can't now imagine. HP and DreamWorks could free our imaginations and change the world.
Product of the Week: The Colorful Dell Inspiron R Laptop Line With Switch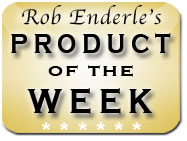 One of the industry jokes right now, and one Motorola leveraged in one of its anti-iPad ads during the Super Bowl is that Apple, after making fun of IBM in its first Big Brother ad, has basically become Big Brother and turned its customer base into lemmings.
Most Apple products are like Model T Fords, in that you can have any color as long as it is black — or white. Most PCs are like that — you don't get a choice. Yet Dell was defined initially as the company that built your product to order.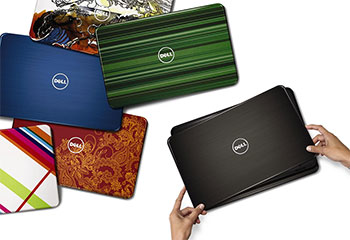 Dell's Inspiron R Laptop With Switch
Well, what makes this new Inspiron R line special is that you can choose from a huge number of laptop lids to customize it to match your own unique personality. Many of these designs are from outstanding artists and designers, or represent institutions — like Susan G. Komen for the Cure — that are important to many of us. And you can even change your mind.
Starting at under US$600, these laptops can be equipped with 3D Blu-ray players, 9 cell 5-hour batteries, Intel's wireless display projection system, Intel Core i3, i5 or i7 processors, and up to 8 GB of memory. In short, the customization isn't only on the outside; you can make it uniquely yours inside as well.
I have no desire to have a product — no matter how good it looks and feels — that is the same as everyone else's, and that is why the Dell Inspiron R is my product of the week.