The LaCie Fuel is available at the LaCie Store for US$199.99. It is also available at many other outlets.Cords have been the bane of digital life style since the introduction of personal computers. As wireless devices proliferated, though, the need for cords has declined, thanks to technologies like Bluetooth and WiFi.
One product area where cords have been persistent, however, has been storage. Sure, the cloud has provided some relief from cords, but local storage, even network drives, often require a cord to tap into a wireless net.
That's not a terrible problem if the storage device remains stationary, but it can be annoying when you want to take your storage with you. Storage standout LaCie has addressed that vexation with a portable hard drive that includes a mobile hotspot as a bonus.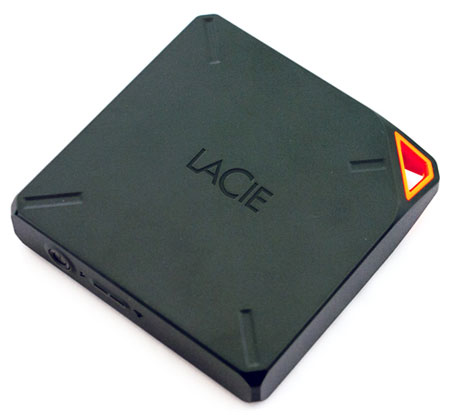 Offered with 1 terabyte of storage, the LaCie Fuel is optimized for storing and streaming media with Apple devices, although it's compatible with Windows hardware and Android devices.
However, if you're looking for a backup drive for your Apple devices, Fuel won't fit the bill. In fact, LaCie specifically warns not to use the drive with Apple's Time Machine backup software. That's because Fuel is ExFAT formatted, which isn't compatible with that backup software.
Seagate Connection
As might be expected, Fuel is compact and light. Its gray plastic case feels rugged and measures 4.5 inches square and a tad over three-quarters of an inch thick. One corner of the case is beveled and has a hole lined with an orange insert. The opening can be used for inserting a home-brew strap for easier toting of the drive.
Power for Fuel is furnished by an internal battery or USB 3.0 Micro B cable. The cable can be used to transfer files and charge the drive — either from a computer or, with an included adaptor, from a power socket. LaCie rates the battery life of Fuel at 10 hours, but that will fluctuate with usage.
Fuel's apps include a battery gauge for quickly checking its power status. It also has an Eco mode for conserving power by suspending some low- priority functions.
Fuel can be setup with a minimum of fuss. You press the power button on the side of the unit and wait for about 60 seconds for the amber and blue lights on the side of the drive to stop blinking and burn solidly. That means the unit is emitting a WiFi signal. Fuel supports IEEE 802.11n for fast data transfer.
Seagate bought LaCie in 2012, and while the companies have largely kept their product lines separate, that's not the case with Fuel, which uses Seagate apps. It is actually similar in function to a product released by Seagate last year, the Wireless Plus.
Intuitively Challenged
The Fuel Web app displays thumbnails of files located on the drive. Contents of the drive can be viewed as folders or as media types. In media view, content will be sorted into videos, photos and music, as well as documents and recently viewed items.
You can not only save and move files with Fuel, but also stream songs and videos from it to any connected device, including Apple TV or any device supporting Apple AirPlay.
Streaming the samples included with the drive worked smoothly. When I tried to stream some of my own clips, though, they stuttered and sputtered and were choppy. That may be because my clips weren't optimized for streaming while the samples were optimized for it.
Tasks for Fuel are performed with tools located on a toolbar at the top of both the Web and mobile app interface. If you're good at guessing the meaning of icons, the tools will be intuitive to you. If you're not, you'll be puzzled by what they do because labels don't pop up when you hover over them in the Web app.
Tools in both the Web and iOS apps — which are available for free from the Apple App Store — are primarily the same. In the Web app, though, there's an upload tool. Click it, and you can browse your Mac files for uploading to Fuel.
Uploading in the mobile app is less intuitive. You tap a checkmark tool — located on a secondary toolbar below the primary one — and a set of icons will appear. They allow you to select media files — via tap — individually or en masse, as well as play or display them, or upload them. Maybe I'm just obtuse, but a checkmark doesn't suggest to me anything about uploading files.
Transcends Warts
The checkmark tool is used for downloading media in both the Web and iOS apps. In addition to downloading files, you can play and trash them in download mode. In addition, in the Web app, you can copy, move and rename files.
Other points of interest about Fuel are its warranty — two years on defects in materials or workmanship — and Dropbox support, allowing files to be synchronized between Fuel and Dropbox.
Fuel is the most cooperative effort to date between LaCie and Seagate, but it's one with a wart or two. In addition to software interface annoyances, the Web app has a tendency to drop its connection to the drive after periods of inactivity. Clicking a browser's back button can create an endless search for the drive. Closing the tab in which the app is running seems to be the only way to mitigate that problem.
Nevertheless, once you get accustomed to Fuel's quirks, it can be a very useful device to have on hand. It makes it easy to move files among devices, and its streaming and hotspot features make up for its flaws.