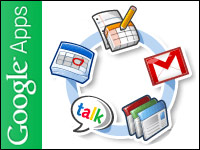 Google Apps seems to have stubbed its toe in providing services to the 30,000 employees of the city of Los Angeles.
Google and Computer Sciences Corp. (CSC), which had contracted to implement Google Apps in the city's IT infrastructure in 2009, have apparently failed to meet security requirements as promised, and the city is out for blood.
City Chief Technology Officer Randi Levin addressed this issue in a letter to Michael B. Schneider, CSC's senior manager for contracts and subcontracts, in August.
A copy of that letter was published on the Internet by consumer privacy group Consumer Watchdog.
Consumer Watchdog has written to Los Angeles Mayor Antonio Villaraigosa asking him to disclose the extent to which Google has failed to comply with its contractual obligations in the project.
"I don't know how Consumer Watchdog got the letter, and I've called them about it," Laurel Lightner, assistant city attorney for the City of Los Angeles, told TechNewsWorld.
She declined comment further on the issue because the letter "is not supposed to be a public document."
What LA Wants
Levin's letter refers to a missive from CSC's Schneider dated May 13, 2011, in which CSC indicated that it's unable to meet the security requirements governing data and information for the City of Los Angeles and the Los Angeles Police Department (LAPD).
These requirements are laid out in the United States Department of Justice's policies.
As a result, the city demanded that CSC execute a second amendment to the agreement between the two.
That amendment, which was enclosed with the letter, holds that the city won't be charged for any Google licenses for the LAPD or for any other city department or users affected by CSC's inability to meet all security requirements. Where charges were incurred, credits will be issued to the city for the full amount.
Further, the city will pay Google for licenses for 30,000 users regardless of how many users are actually employing Google Apps; the city won't have to return the $250,000 advanced renewal discount credit to CSC; and Google will reimburse the city for the costs incurred to continue using Novell's GroupWise system from July 1, 2011, through Nov. 20, 2012.
GroupWise was to have been replaced by Google Apps by June 30, 2011.
CSC, Google Fight Back
CSC has successfully migrated 17,000 City of Los Angeles employees to Google Apps, company spokesperson Chris Grandis told TechNewsWorld.
However, another 13,000, who are either in law enforcement or associated agencies such as the fire department, haven't been migrated yet.
"Significant new security requirements" the city introduced for the LAPD after the original contract was awarded in November 2009 caused the delay, Grandis asserted.
Google and CSC have "worked closely with the city" to evaluate and implement these new requirements, and "we're still working together on one final security requirement," Grandis said.
Google reportedly echoed CSC's claims about changes in the security requirements.
However, a Dec. 9, 2010, letter from City CTO Levin to David Beach, who was then CSC's senior principal contract administrator, appears to outline repeated failures by CSC and Google to meet deadlines or security requirements, and it stated CSC wanted the LAPD to make policy and operational changes.
"It seems Google's position on security requirements is, they think this is good enough and the Justice Department should change its security rules, but the Justice Department has refused," John M. Simpson, director of Consumer Watchdog's Privacy Project, told TechNewsWorld.
The LAPD has been expressing concern about various aspects of security around the planned move to Google Apps since 2010.
The LAPD declined comment on the issue when contacted by TechNewsWorld.
Consumer Watchdog Growls
Google has reportedly dismissed Consumer Watchdog's actions over Levin's letter and accused it of working closely with the Internet giant's competitors.
These assertions not true, Consumer Watchdog's Simpson stated.
"We've been a critic of Google but also of a number of other companies, including Facebook and Microsoft," Simpson said. "We're an independent, nonprofit, nonpartisan foundation."
Google did not respond to requests for comment by press time.