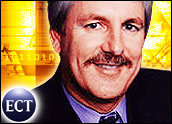 One nice thing about this job is that tons of products get sent to me throughout the year. Some of these things are really cool, and some probably aren't worth the postage it took to send them. With college and high school graduation season in full swing and Father's Day on the horizon, I thought I'd share some info on a few technology products that I think might make an ideal gift for that special someone.
Enhancing the iPod
The new class of iPods is really cool but there is a good likelihood that your dad or grad already has one. If not, the best way to buy one is online at the Apple store. You'll get it faster and you can have it engraved for free. I did this myself for my wife and the engraving, assuming you pick a nice message, makes all the difference in the world.
However, the problem with the current generation of iPods is that their "edgy" design makes them very delicate. A relatively inexpensive way to improve this situation is to give an iPod owner an Otterbox. These cases look good and they are waterproof, drop proof, and do a nice job of keeping the iPod looking new. Since my wife destroyed her first iPod by dropping it in a pond, I've realized that the fact that you can actually use the Otterbox while swimming makes it a good investment, both for the protection it provides and for that fact that it means you can listen to your iPod while swimming.
By the way, Watertight makes nice products that protect anything from digital cameras and PDAs to electronic equipment and valuables. Its site is a good place to visit if you, or anyone you know, needs a product like this.
iPod Alternative
Apple may dominate the MP3 market but the No. 2 player is SanDisk. I've had the company's Sansa for awhile and there are things I like about it that, for me, makes it better than an iPod. It uses an AAA battery (I always forget to charge things or run out of power on planes and hate carrying charging bricks); it has an FM radio (since 9/11 I want a radio with me all the time and need it for the gym anyway); and it even has a voice recorder (which could be very important if you're a guy named Jack on a show called "24"). You can even add more memory.
Price for the 1 GB c140 is a reasonable US$109; the 2 GB is $150; and 1 GB SD cards are down to under $59. This works with Janus's subscription services, which makes more sense to me than purchasing music for download does for a lot of reasons right now, and it isn't just like what everyone else has. SanDisk also makes the Sansa e260 which starts at $180, has 2 GB (and can go up to 6 GB) and is better for folks who want to share photos.
Desktop Camera
Staying in touch is very important. I'm a big fan of desktop cameras that allow you to videoconference with family. I have friends who are able to get over separation anxiety with this technology when their kids move out. The best system I've seen for this application is Logitech's QuickCam Fusion.
At $100 this won't break the bank. It also looks good, is easy to use, and has software that allows you to make yourself look like a talking cartoon and is very easy to install and use. What makes this particularly special is that it is designed to work on laptop computers, which is incredibly important for traveling dads or grads who are dependent on laptops, which is most of both, from what I see.
Bluetooth Headset
By now everyone has a phone and most have Bluetooth wireless capability — but few dads and grads have wireless headsets. These used to look kind of dorky and were very hard to use. Current models are much better looking and are vastly easier to install. The ultimate headsets are made by Plantronics, two of which really stand out. The first, the Plantronics Pulsar 590A is, when it sits on its stand, desk art. Not only is it the only wireless stereo headset I've used that actually seems to work, it also looks cool and costs around $250.
Alternatively, a more usable product is the Plantronics Discovery 640. At a reasonable $130 it comes in a very nice case with accessories, has a unique battery-powered charging cradle that looks like a think pen (did I mention I forget to charge things?) and it is relatively small, as well as comfortable. In silver and black it is an impressive package.
Coolest Phone
I just got the new Motorola Q and I am incredibly impressed. This is one of a new class of super-smart phones that is up-and-coming for doing e-mail and browsing the Web. Most others I've seen are too big and clunky or make tradeoffs — as is the case with the Blackberry, which kind of sucks as a phone, for instance. But the Q is the first in this class that I've been really impressed with. It has design elements that are similar to the RAZR, a very nice screen, and there's no need for a stylus. It even has a decent 1.3 megapixel camera with a light for dark shots — and a 6x digital zoom, too.
My typical experience with a phone in this class is that I get more disappointed the longer I have it. So far, with this one, the experience has been one "oh wow" after another. Right now it is compatible only with Verizon service in the U.S., which is good for folks living and traveling domestically, not so good for international travelers. However, if you get a chance to wander into a Verizon store to check this thing out, I'll bet you'll be impressed — and if your dad or grad likes gadgets, he or she will too.
Good luck shopping — and here's hoping your dad or grad has a wonderful time this spring.
---
Rob Enderle
is a TechNewsWorld columnist and the Principal Analyst for the
Enderle Group
, a consultancy that focuses on personal technology products and trends.
---