When I reviewed POP!_OS 20.04 in May 2020, I saw its potential to be one of the best starting points for any new Linux user.
The latest release, POP!_OS Linux 21.04 issued June 29, clearly shows that the in-house tweaking of the GNOME desktop to the COSMIC GNOME-based desktop is even more inviting.
Given this distro's rising popularity, it will continue to hold that distinction. COSMIC is an attractive offering for seasoned Linux users as well.
That is a bold statement, but developer System76 has made some bold moves to push this distro to the forefront and spark its popularity among newcomers to Linux — as well as with seasoned users. That was true for the changeover to a modified GNOME desktop last year. It is even truer with this latest release's added COSMIC polish to GNOME.
COSMIC stands for Computer Operating System Main Interface Components. While it is not an out-of-this-world or strikingly new desktop environment, it does provide enough change to the traditional GNOME user interface to be better than the original.
That has been System 76's goal from the get-go. The company has refined the desktop experience primarily for its own line of Linux-powered computers. But even running POP_OS! on your own unoptimized hardware, this Linux distribution soars like a heavenly creature.
What's Up with COSMIC
Ubuntu 21.04 (Hirsute Hippo) is the first release of System76's distribution with its own revamped GNOME desktop environment. Earlier releases were based on stock GNOME with additional System76 tweaks.
Numerous distro makers using the GNOME desktop modify its user interface. So that is not a remarkable innovation at all.
What is noteworthy, however, is the subtlety of the innovations that produce a much better hands-on experience using GNOME's underpinnings. I am not a zealous fan of GNOME in almost any modified version. I find that the desktop environment is too inflexible in meeting the demands of my workflow.
Much of that displeasure is a reaction to power-user features easily accessible to fully functional panel bars and keyboard shortcuts that supplement navigating around multiple open virtual workspaces. GNOME just gets in the way of executing my on-screen workflow needs.
The modified COSMIC GNOME integration soothes and solves much of that workflow blockage. The COSMIC desktop comes with a fully customizable dock. It splits the Activities Overview function into Workspaces and Applications views. It provides the ability to open the launcher with the Super key, as well as various trackpad gestures.
The COSMIC desktop also brings streamlined launching and switching between applications. All these features make the interface simpler and more straightforward to use.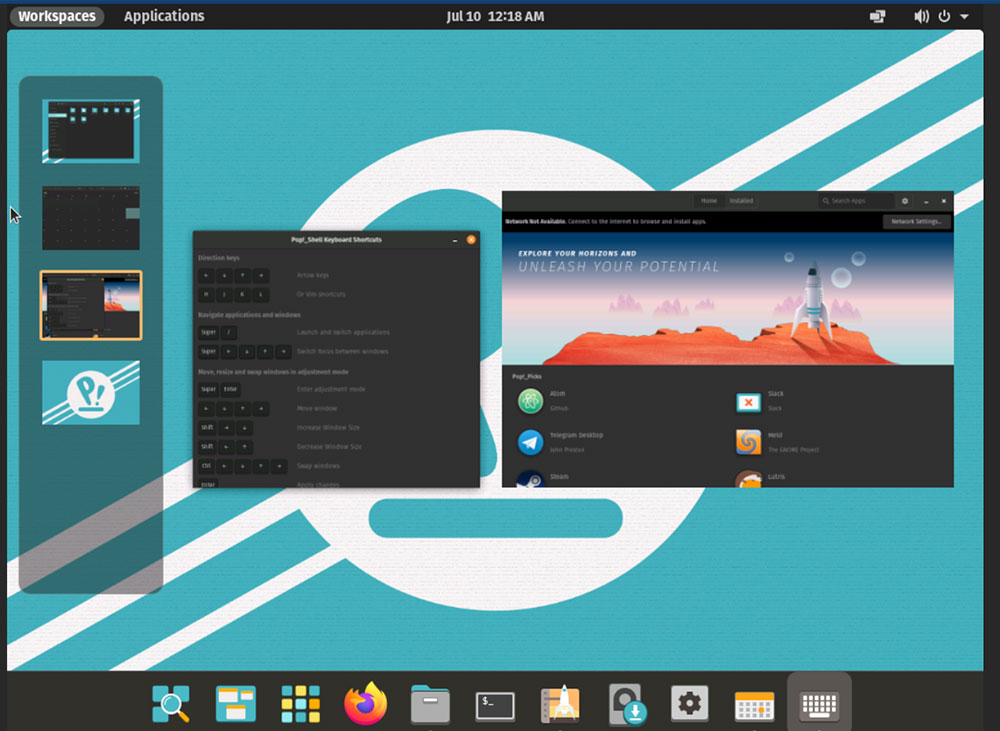 Meet the COSMIC layout. Workspace overview is still displayed in a vertical column when you click on the Workspaces button at the top left of the screen. You can also use the Show Workspaces button on the far left of the bottom dock or near the right side of the top panel.
---
More Under the Hood
In short, COSMIC with POP_OS! just has enough new options to deliver an adjusted GNOME desktop to satisfy my personal computing tastes and meet most of my workflow needs. Is it an all-around perfect computing solution? No! But it is much closer to meeting that goal without having to leave GNOME behind.
One glaring example is the option to have minimize/maximize buttons for windows. Add to that the ability to tile windows with the mouse by clicking and dragging tiled windows to rearrange them.
COSMIC also adds an ability to upgrade the recovery partition, an improved search feature, and a plugin system for the launcher to let you create your own plugins. Plus, the new release comes with updated components and a newer kernel from the upstream Ubuntu 21.04 release.
Another nice touch is being able to move the workspaces to the left or right edges of the screen. To do that, open Settings and go to Desktop | Workspaces.
But the System76 designers left a glaring old GNOME menu display in place. The application menu remains full screen. That might be a visual impediment to which new users will have to adjust. The popup or dropdown one- or two-column menu most Linux operating systems use is not a part of the COSMIC display.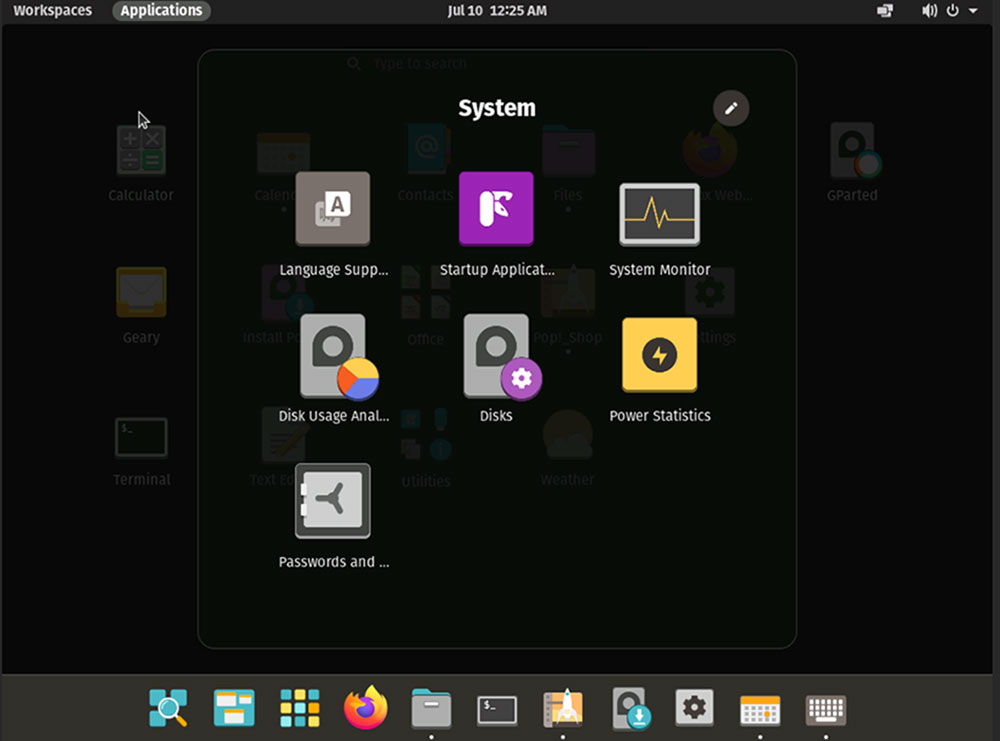 One thing that has not changed with COSMIC's design is the full-screen applications launcher. Press the Applications button and then select the software category. You can see the selected category (in this case System applications) in the top square overlay. The full-screen menu with all software is somewhat visible under the displayed System folder.
---
A More Likable GNOME
POP_OS! is largely a "take it or leave it" offering. If you really like the GNOME environment, you should love how System76 morphed the UI into something unlike any other GNOME desktop revisions in any other Linux distro. If you are not familiar with GNOME yet, this is a much better version to make that introduction.
One example of this likability is how COSMIC handles workspaces. POP_OS! uses a vertical layout along the edge of the screen for the workspace overview. But the designers made up for that GNOME carryover somewhat by adding a Workspaces button in the top panel. I give designers credit for building in the ability to easily drag and drop applications to a different Workspace.
Another new element is the centered bottom dock. But I find the dock provides less utility than a fully functional bottom panel. Functionality should include more than just a holding spot for quick access apps.
YES, the latest POP_OS! has a top panel that resembles a classic Linux layout. But this panel bar lacks full functionality. However, it does provide access to other system icons on the right end. It also includes a Workspaces button in the top panel.
Unusual Tiling Option
Usually, tiling window managers is a separate kind of desktop environment in Linux distros that offer that option. POP_OS! does include it as an option. Tiling windows is not for everyone. In COSMIC, the tiling window manager is highly tweaked.
The window tiling feature automates the process of arranging window sizes in split-screen configurations. But it is not a typical Linux feature that has universal appeal.
I doubt new users to POP_OS! will find it particularly endearing or useful. However, other components of COSMIC will certainly make trying this new release worthwhile; like trackpad gestures, for instance.
Keeping Track of Gestures
System76 seems quite committed to making gestures a new Linux OS staple for trackpads. Its designers have done a good job to make this a palatable feature.
If you are handy with the Chromebook platform, you no doubt already are proficient in using trackpad gestures. Lately, I use Chrome OS quite a bit. It is a nice change of pace and lets me combine the benefits of tablets and my favorite Linux applications. I think my growing affinity for Chromebooks has made me feel more at home with the latest release of POP_OS!.
The included gestures are:
Swipe four fingers right on the trackpad to open the Applications view;
Swipe four fingers left to open the Workspaces view;
Swipe four fingers up or down to switch to another workspace;
Swipe (in any direction) with three fingers to switch between open windows.
Trackpad's gestures is a game-changer for desktop Linux in general and for POP_OS! in particular. It is efficient and user-friendly.
Bottom Line
The combination of an Ubuntu base and GNOME customization makes POP!_OS with the new COSMIC integration a winning choice. New features and more tweaking make this release extra productive.
The only decision you need to make to download POP_OS! is your hardware configuration. It must be a 64-bit system. This release will not run on older 32-bit computers.
Another factor is the type of graphics your system uses. One download ISO file is strictly for Nvidia graphics cards. Otherwise, click on the other ISO choice.
The only other hardware requirement to meet is two GB RAM with at least 16 GB storage.
If you like the performance that this latest POP_OS! release gives you on your current computer, sit back and enjoy. Then think about how super-fast it will run on a spiffy new System76 computer that enhances the optimized operating system software.
Want to Suggest a Review?
Is there a Linux software application or distro you'd like to suggest for review? Something you love or would like to get to know?
Please email your ideas to me and I'll consider them for a future column.
And use the Reader Comments feature below to provide your input!