Victorinox, maker of the Swiss Army Knife, has come out with a model that would make James Bond proud: a pocket knife with a super-secure USB stick.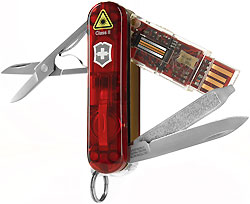 A Swiss Army Knife with a Secure Pro USB stick
How secure is the Secure Pro USB stick? Well, it's equipped with both a fingerprint reader and a thermal scanner so, if someone cuts off your finger and applies it to the fingerprint reader, that won't work.
Oh, and if a bad guy tries to force open the USB, it will self-destruct.
About Victorinox's USB Stick
The USB stick comes in three versions. The basic model is the Secure Pro, which is available in capacities of 8 GB, 16 GB and 32GB. Prices range from about US$75 to about $270.
The Secure Pro is attached to a Swiss Army Knife that has an LED mini white light, a retractable ball point pen, a blade, a pair of scissors, a nail file, a screwdriver and a key ring.
"It's nice to know they've got a cutting-edge data storage device that's got a nail file and other features as well," chuckled Charles King, principal analyst at Pund-It. "I guess you could say they're putting the cutting edge into technology in more ways than one," he told TechNewsWorld
The second version of the USB stick is the Presentation Master Edition. This adds remote Bluetooth access and a laser pointer to the Secure Pro feature set.
The third version is called the "Flight-Safe Edition." It consists of either of the other two models with the blade removed, so users can take the device through airport security. Chances are, the scissors and nail file will also have to be removed.
Storage for the Insecure
Consumers with a healthy level of paranoia may love the Victorinox USB device. "The finger alone, detached from the body, will still not give access to the memory stick's contents," the company's press release reads.
Is this level of safety really necessary? "It is, if you're worried about people cutting off your fingers to gain access to things," Rob Enderle, principal analyst at the Enderle Group, told TechNewsWorld.
Bad guys who snatch or steal the Victorinox USB stick also won't be able to physically crack it open. Any attempt to force open the device to access its hardware will trigger a self-destruct mechanism that destroys its CPU and memory chip.
"They left out the 'Mission Impossible' countdown," Enderle pointed out. "At least it doesn't explode."
Of course, if you're someone who stores highly confidential data on the USB stick and bring it along on your travels, that may give you peace of mind. But how then will you recover the data for use on your trip? Pulling it down over the Internet seems so unsafe somehow.
Nyet to the Hackers
Victorinox claims its USB device is hack-proof because it uses AES 256 technology on the company's proprietary MKI Schnuffi Platform. This is because there are no external and accessible lines between the different coding and security steps, as on multi-chip solutions, and this makes cracking the hardware impossible, it said. Victorinox's proprietary MKI Schnuffi Platform is a single-chip technology.
This is not the first single-chip security solution in the market; another is the SafeXcel-5160 from Japanese company SafeNet. Broadcom's BCM5802 chip is also a single-chip security processor.
However, Victorinox's use of a single-chip solution for security does not necessarily mean its USB sticks can't be broken into. "I'm always a little skeptical of anything that's claimed to be unhackable," Carl Howe, director of anywhere consumer research, told TechNewsWorld. "Tech security is a game where you can lose a million times and can only win a few," he added.
"Nothing is unhackable," Enderle pointed out. "It's just that Victorinox has made it very difficult to penetrate the USB stick and the effort needed to do so appears to be significantly higher than for most other removable devices."