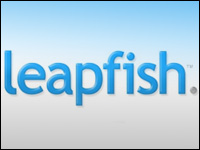 California-based LeapFish launched a new style of search engine last month, offering users a multi-dimensional search aggregator that combines several features to provide more focused results. This one deserves a prominent spot in your browser bookmarks.
Similar to the Gogimon Search Channel, which launched last month as well, LeapFish has a look and feel that enhances users' comfort levels with Google, Yahoo and MSN Search. Simply clicking one of these three search engine buttons — they appear above the LeapFish search bar — displays that engine's results for quick comparison.
However, LeapFish goes a step further. It eliminates the need to click a search button after entering the search terms. Instead, it displays the changing results in real time as the search expression changes. Even adding an "S" to a search term — "iPods" vs. "iPod," for example — instantly presents updated search results.
Not a Replacement
To help ease new users into making the switch, the search window reads, "It's OK. You're not cheating on Google" until it's replaced with search terms.
Apparently, LeapFish's goal is not to race alongside Google or Yahoo. Instead, this company wants to leverage what is already working and desired online, according to Ben Behrouzi, president and CEO of LeapFish. The engine is designed to take what already works and lend more accessibility to what is already valuable on the Internet.
"Google and Yahoo are the kings of the indexers on the Web. They provide a relevancy. The problem is that there is just too much data, so relevance is not the only criteria," Behrouzi told TechNewsWorld.
Much of the information users need is usually found on a second or third results page. But typically searchers accept the idea that the most relevant information is on the first page of results. LeapFish's results are not ranked by relevancy or popularity. Instead, it aggregates information from additional sources such as blogs and YouTube and presents them based on its hyperthreading technology. It is not limited by the relevancy ratings of traditional search engine crawlers.
What You Get
LeapFish is sleek and peppy. It combines the best of standard leading search engines along with an innovative graphical user interface (GUI). For instance, I typed "Windows 7 impressions" and got a plethora of results. I could browse around for topics in various search engines simply by clicking on the button for Google, Yahoo and MSN.
The search results filled the left half of the screen. The right half displayed what LeapFish calls "search widgets." These thumbnail-sized displays give up-to-the-minute news, images and videos on every search term. Click on any one to see it full-screen.
Under each widget is a link labeled "see more." Clicking the link gets a complete list of relevant results. Hover over a video image thumbnail to view it in a small window. Click on the thumbnail image to go directly to the Web site holding that content.
LeapFish also aggregates blogs, news, Q&A, videos, images and shopping results from major online destinations including eBay and YouTube, all related to the search term and conveniently organized into a single, easy-to-use interface.
How It Works
LeapFish's concept of aggregating all related content is similar to what longtime portals such as Dogpile.com have done in gathering and presenting content. The similarity ends there, however. LeapFish has a fine-tuned interface that pulls search results from some 200 Web sources simultaneously.
The search engine is based on the latest hyper-threading technology to communicate with major online portals simultaneously to deliver the various search results from across the Web to users in a single search query.
"This technology will change the way things are done online from a search perspective. We're adding functionality that will change the search world," Mark Kithcart, director of marketing for LeapFish, told TechNewsWorld.
As the Web grows with more sites and utilities each day, end users have an increasingly hard time keeping track of it all. This forces users to jump around to numerous sites and use many different engines. There are just too many of them, he explained.
Fighting Fragmentation
"The information is too fragmented. So LeapFish is a new solution. It doesn't just index the Web. It aggregates it. We have relationships through APIs in over 200 Web sites dealing with real estate, music, consumer products, traditional search engines," Behrouzi said.
Finding something in LeapFish gets the searcher not only the results available from Google or Yahoo, but also the most appropriate other destinations of information related to what was typed, he explained.
The Plus Factor
The real key to search success is what users find on the right-hand side of the display. This is where users find the blog results, YouTube results, images and Yahoo Answers.
LeapFish conveniently gives searchers what they did not know existed about the topic. Much of this content would only be exposed through separate, more time-consuming searches on several individual sites.
Think of the search widgets as a dashboard for search results.
The Money Payout
Another key difference with LeapFish is how the company generates a cash flow. LeapFish.com is based on a relatively new revenue model.
The company makes money through regionalized category sponsorships. A sponsoring vendor can "own" a particular search category that gives localized search results.
So the same category can have different regional sponsors around the country. In essence, the sponsor owns the category hits like a domain name and can rent or sell it to others for a share in the money action.
"We're able to penetrate the market very well with annual renewal fees for the sponsors," said Behrouzi. This opens up the online real estate for more small vendors, he explained.
Final Thoughts
It is difficult for a new Internet search company to go up against the longtime big guys and survive. When a startup can tap into what these big search engine masters already provide and add their own twist to the mix, the newcomer stands a fighting chance.
That is the case with LeapFish.com. Its agreements for API support from over 200 online entities, plus its unique search widget interface, gives LeapFish.com enough innovation over novelty to grab and keep consumer interest.