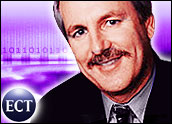 Sometimes it really is about competition and changing the game. In the business space, victory in the race to be the most green has been awarded to one company, while another — with Al Gore on the board — continues to come in last.
Ever since Apple launched the iPod, companies have been trying to duplicate its success. Unfortunately, most tried to do it with MP3 players, and that didn't work out so well. But HP may just have done it with gaming.
Finally, I have another three gift ideas for dads and grads, and they're a little more unusual.
Lenovo Goes Green, Apple Gets Raspberry
With the Democrats running much of the country, the sense is we are going green whether we want to or not. This is one of the big trends this year, and most of the technology companies in the U.S. are spending a lot of time and effort improving their environmental ranking. Coming up on top is Lenovo, which came in first in the latest Greenpeace report.
It is fascinating that the company with Al Gore on its board — Apple — came in last. That has to hurt at some fundamental level, and it kind of makes you wonder how sincere Gore actually is, given his public position and apparent lack of concern over Apple's standing. It's an uncomfortable truth that Apple just isn't doing that well.
Lenovo, which doesn't have the leading political advocate for the environment on its board, got the job done largely by making sure it had practical ways to keep its products from ending up in landfills.
However, regardless of the ranking, it's gratifying that the industry is choosing to compete in this way, and Lenovo should take well-earned special pride for being recognized as the green leader. Congratulations, guys. Now figure out a way to explain to Mr. Gore how he can help do this at Apple.
HP Changes the Game
Talk about something that would have caused chuckles, if not outright laughter, a few years ago: Becoming a player in gaming was simply not something the HP of the 90s was capable of achieving. Now, it's making a run for the leadership of the segment.
What a difference a few short years can make. HP systems have gained in performance and in design; the company has passed Dell for the No. 1 spot in the PC market; and it now has a credible consumer electronics story. Despite HP's strong consumer brand, when you think of gaming, you are more likely to think of Dell XPS and AlienWare.
However, HP bought Voodoo, and the market changed — though we didn't know it at the time.
HP has always had a significant research and development capability. Along the lines of Watson and Bell Labs, HP's researchers constantly work on ways to do amazing things.
HP's R&D developments haven't applied to gaming, though, because it has not been a priority. They often never even made it into PC segments — particularly consumer PC segments.
After the acquisition, Voodoo descended on HP's research group and began to play pirate. It literally started pillaging HP resources, and we're now getting a taste — but just a taste — of what's to come.
We aren't talking about a new hot machine; we are talking about moving gaming ahead five to 10 years by applying technology to the segment that firms like AlienWare and Falcon simply don't have access to.
For instance, using imaging technology, HP's team demonstrated a system that overlays a virtual game over a physical location. Players can physically run through the game and interact with others, using handheld computers as their windows into this alternative virtual dimension.
Other players are physically present. They are portrayed on the screen in their gaming personas and tracked using GPS. Game elements have physical locations. This not only gets you off the couch, but also moves you generations ahead of where virtual reality can take you on its own.
Some of us still remember playing outside and imagining we were James Bond or Superman. With HP's new approach, you can actually create a virtual reality outside that gives physical form to your imagination (flying should be avoided, however).
Just think what this could do for a place like Disneyland, where a headset could make fairies real or put actual Jules Vern flying machines in the sky over Tomorrowland.
A Storm Is Brewing
Imagine blending trading cards with PC gaming. Using a technology called "memory spot," trading cards can interact with a PC game through proximity. This would allow either the merge of a traditional, highly visual PC game with the more traditional card-based game systems, or the networking of card-based games while retaining the physical aspects of using actual trading cards.
With the addition of other technologies, like ePaper, the barriers between physical and virtual worlds would significantly blur, refreshing a gaming category that hasn't generally been that well connected to this new age of networked gaming.
Dream of a gaming display bigger than you are that is bright enough to see in full daylight. Using off-the-shelf projectors (that's projectors, plural), which have been dropping sharply in price, you can overlay and significantly brighten an image.
HP can take multiple image projectors and sync them so they are all showing the same image at high speed. The result is an ultra-bright room-sized image that could be used not only for gaming events like LAN (local area network) parties, but also in advanced home theaters for a fraction of the price of a movie-grade projector.
With the reduction in LCD (liquid crystal display) costs and prices, think of tables that could be gaming displays. With touch capability and a variety of sensors, you could emulate full-sized pool tables, air hockey, and any number of physical table-based game systems on a large scale.
You could alter the physics to increase reality or decrease it, and even take away any effect by gravity or mass. And strategy games — oh man. They could become wonderful, as wars and battles are played at epic levels with table scale.
This is not without risk. It is vastly easier and safer just to compete on performance — but changing an industry is the stuff legends are made of, and this is that level of effort.
Successful or not, it is impressive that a company not known for gaming is moving to take the industry by storm. At the very least, HP has given notice that it is coming, and competitors better lock up their women and children.
The first wave of products will arrive in the second half of the year. If you are a PC gamer, be prepared to see things you've never imagined but probably always wanted. Prepare to be amazed.
Three More Ideas for Dads and Grads
The Gift of Music: M-Audio, owned by Avid, makes professional quality musical instruments and recording equipment. It makes theSession KeyStudio, a very nice keyboard that comes with session software and pretty much everything you need to start recording music. It costs US$100, which isn't bad considering the quality and software.
Bluetooth Headset: It amazes me that everyone doesn't yet have one. That is likely to change when the iPhone ships, because you'll likely look like a dork putting that thing up to your ear.
The wildest headset I've seen recently is theBlueAnt V12 LCD Bluetooth Headset. It has a built-in LCD screen and ambient noise reduction. It will store call history so you can redial from the headset. It also has a number of visible status indicators — so you can tell the battery is almost dead before making the discovery firsthand, for example — and it's under $60.
Knowledge: There is one book that has been incredibly valuable in my life, and it is Flaws and Fallacies in Statistical Thinking by Stephen K. Campbell.
People continually try to fool you with bogus statistics to get you to buy things or vote for things that aren't in your best interest. This book teaches you in fewer than 200 easy pages how to look for these scams and make the people who use them look really stupid. Under $10 and priceless.
---
Rob Enderle
is a TechNewsWorld columnist and the principal analyst for the
Enderle Group
, a consultancy that focuses on personal technology products and trends.
---