Lenovo unleashed a series of mobile computers aimed squarely at the SMB and corporate markets on Monday.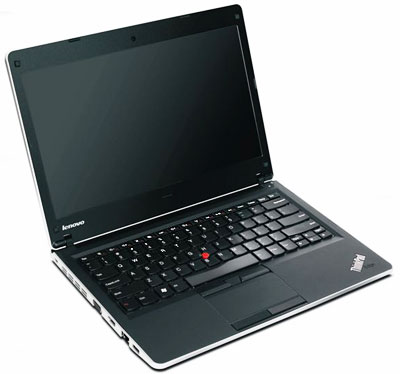 The 13-inch ThinkPad Edge by Lenovo
It unveiled the ThinkPad Edge laptop series, based around AMD processors, targeted for SMBs.
Lenovo also announced a new ultraportable, the X100e. The ThinkPad Edge products and the X100e all leverage AMD's VisionPro multimedia technology.
The vendor also unveiled four additions to its classic ThinkPad series in the T and W lines.
See Me, Hear Me
Both the ThinkPad Edge and the X100e use AMD's VisionPro technology. Lenovo is banking heavily on the multimedia features of that technology to lure SMB customers. "A lot of our SMB customers are using multimedia," explained Charles Sune, global marketing manager of Lenovo's ThinkPad product group.
The ThinkPad Edge series also comes with Skype software. "We're preloading Skype on all these machines because the SMB segment sees VoIP (Voice over Internet Protocol) features as really important in their communications strategy," Sune told TechNewsWorld.
AMD announced its Vision Pro technology on Monday. This supports multiple monitors, video viewing and video conferencing software use out of the box. It also can handle presentations with embedded video and three-dimensional (3-D) graphics.
Going to the Edge
Laptops in the ThinkPad Edge series come in three sizes, measuring 13 inches, 14 inches and 15 inches. They are available in glossy black and red as well as Lenovo's traditional matte black.
"Lenovo's trying to break out of the image it inherited when it took over the product from IBM," Jim McGregor, chief technology strategist at In-Stat, told TechNewsWorld. "They've had what I call the 'Volvo image' — the products are reliable, safe, and look like bricks. Now with the colors and the X100e, they're going after a much broader market."
The ThinkPad Edge laptops have a new simplified keyboard design that is targeted at the SMB sector, Lenovo's Sune said. For example, rarely used keys like "System Request" have been removed.
ThinkPad Edge laptops have multimedia keys on the top row of their keyboards and have large multitouch touchpads. Some of the 14- and 15-inch models will come with illuminated keyboards.
Despite the changes, the keyboards will have the same tactile feel as traditional Lenovo keypads. "A big part of our brand reputation for ThinkPads is associated with our keyboard experience," Sune pointed out.
Edge series laptops will offer WiFi; 3G and WiMAX connectivity. Bluetooth will be an option.
Lenovo will offer various service and support solutions for Edge buyers. These include ThinkPad Protection to protect from unexpected repair costs in case of accidents and spills; 24 x 7 tech support; and Hard Disk Drive Retention.
The 13-inch ThinkPad Edge will be available Tuesday starting at US$549. The 14- and 15-inch laptops will be available in the second quarter.
Banking on SMBs
ThinkPad Edge buyers can choose between AMD Turion and AMD Athlon Neo dual-core processors, or Intel Core 2 Duo processors. The Edge series is optimized for Windows 7.
AMD processors are less expensive than those from Intel, and that was a major reason for Lenovo to select the Neo. "The Neo processor line complements our overall portfolio because we can now address the very important lower-price sales that are critical to this SMB segment," Lenovo's Sune pointed out.
Lenovo may have also considered positioning when selecting processors for the Edge line. "AMD has some advantages when you can bundle their processors with ATI graphics solutions, so it's a good bet, and all the OEMs are out there trying to find different niches in the market," In-Stat's McGregor explained. AMD owns ATI.
Lenovo is the latest vendor to include brightly colored computers in its lineup. OEMs are trying out new colors and features in an effort to meet customers' demands, McGregor said. "PCs today are targeted towards different usage models, and it's difficult to communicate what the usage models are and come up with the perfect combination of features and price to meet those models," he pointed out.
The X100e Files
Lenovo's other announcement on Monday was the ThinkPad X100e, an entry-level ultraportable among the company's first product in this category.
It's available with AMD Neo single- or dual-core processors. Later in the first quarter, AMD Turion dual-core processors will be added to the lineup. The X100e uses AMD's Vision Pro technology and supports dual monitors out of the box.
The X100e supports Windows 7 Professional. It comes with Lenovo's ThinkVantage hardware and software tools and comes with global technical support and various warranty options.
"The X100e is for enterprise and SMB customers, as well as customers in the public sector and education," Lenovo's Sune pointed out. "It's a primary device for content creation, for the business customer who needs to create PowerPoint slides or Excel spreadsheets or Word documents."
The X100e has an 11.6-inch high-definition LCD display and an ISO full-sized keyboard with a multitouch touchpad and Trackpoint.. It has enlarged keys and, as with the Edge series, Lenovo has removed rarely used keys like "System Request" and the embedded number pad. "Our enterprise customers value full-sized keyboards and slightly larger panels," Sune explained.
Like the Edge series, the X100e comes in glossy black and red.
Wireless connectivity is provided through 802.11n WiFi and 3G. Bluetooth is optional. X100e models weigh in at three pounds and up. They come with the same support options as the Edge series.
The X100e will be available Tuesday. Prices start at $449.