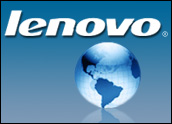 Chinese PC maker Lenovo, best known for office computers like its ThinkPad laptop line, has announced four new products aimed at the consumer home market.
One is its first home theater PC, the IdeaCenter Q700. Another is its first home server, the IdeaCenter D400.
The other two are the Q100 and Q110 nettop computers, which Lenovo claims are the world's thinnest in this category.
Expanding into home wares could expand Lenovo's sales base; however, the company is entering a crowded market with a very short track record in consumer products.
Lenovo Q700's Specs
The Q700 home theater PC is designed to reside in the living room and will connect with multiple devices — TVs, digital cameras, smartphones, etc. Users will be able to watch videos in full high-definition resolution, view photos and listen to music on TVs and living room sound systems after hooking them up to the Q700. They will also be able to watch and record digital TV programs with a TV tuner and remote, both of which are sold separately.
The system has a 2.5 GHz Intel Pentium Dual-Core E5200 processor with a 2 MB cache; the Intel X4500 integrated graphics media accelerator; 4 GB of 667 MHz PC2-5300 DDR2 SDRAM; and 640 GB of storage. It can run on a local-area network and record DVDs. It has eight USB ports and an eSATA port.
The Q700 comes with a one-year parts and labor warranty. It supports 1,920 by 1,080 pixel graphics and 7.1 digital surround sound. It has 64-bit Windows Vista Home Premium installed.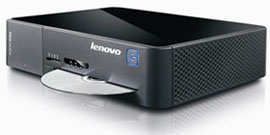 Lenovo Q700 home theater PC
The price is US$549.99 — no TV screen or a remote included.
Why a Home Theater PC?
"The intent is to put your multimedia — Blu-Ray DVDs, multimedia videos, photos, anything you store on a USB key — on the Q700 and hook up to your HDTV so you can see the content," Lenovo spokesperson Kristy Fair told TechNewsWorld.
However, Gartner analyst Mikako Kitagawa doesn't see much action in this category at present. "The home theater PC market is crowded and is a niche market," he told TechNewsWorld.
That sentiment is shared by Bob O'Donnell, a vice president at IDC. "The home theater PC market is all noise because home theater PCs are essentially DVRs [digital video recorders], and I can get those for free from my cable or satellite company," he said.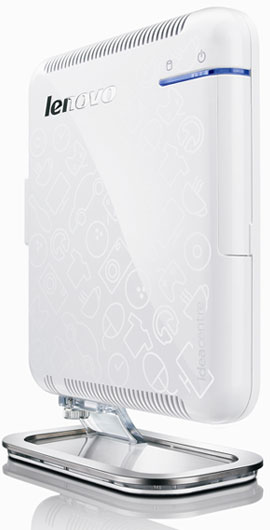 Lenovo Q100 nettop PC
Still, Lenovo might have a shot because of its low pricing. "A lot of people in this market sell high-end systems at $3,000 to $4,000," O'Donnell told TechNewsWorld. "Lenovo is coming at the market from the other end, and people are a lot more likely to buy these devices when they cost a few hundred dollars than when they cost a few thousand."
Pricing is key, but if consumers continue to be apathetic about home theater PCs, manufacturers should think about calling it quits, said Charles King, principal analyst at Pund-IT. "If Lenovo's and other vendors' home theater products don't catch fire soon, it may be time to retire the idea for good," he told TechNewsWorld.
What is a Home Theater PC?
These devices often don't look much like typical desktop PCs. They typically do not sell with a monitor — after all, they're made to hook up to a flat-screen TV. The Lenovo Q700 resembles a typical set-top box, while the Sony Vaio VGX-TP25E/B looks something like an overgrown makeup compact.
Wikipedia defines the home theater PC as a convergence device that combines the functions of a personal computer and a media center with software that features video and music playback and, usually, digital video recorder functionality.
They can be purchased pre-configured with the required hardware and software, or can be cobbled together out of components.
Often, home-built home theater PCs run Windows Media Center, MediaPortal, SageTV, MythTV, Freevo or LinuxMCE. Common software like iTunes and Windows Media Player can also be used. Using a standard browser, viewers can also access online video like Hulu and Netflix's streaming service.
Other Lenovo Products
Along with the home theater PC, Lenovo also rolled out its IdeaCenter D400 home server and Q100 and Q110 nettops.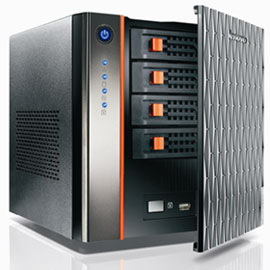 Lenovo D400 home server
"The home server concept is interesting, but there are other good methods of automatically backing up PC data," Pund-IT's King said. Most consumers probably won't need it, he said.
The nettops drew mixed responses from analysts.
King thinks the Q110, which includes the Nvidia Ion processor, might be ahead of conventional nettops in graphical and media performance. "It may qualify as a best-of-both-worlds solution at a very attractive price," he said.
However, Lenovo's nettops aren't a good enough product to spark interest for IDC's O'Donnell. "Standalone nettops are going up against standalone desktops, but they're smaller and slightly less powerful while being priced the same," he said. The ideal nettop would be an inexpensive all-in-one system, the equivalent of an iMac or an HP TouchSmart, priced at under $500, he said.
Lenovo is going into the consumer market because it sees an opportunity to beef up its sales. "There's a lot of forecasted growth in the home server market as well as other digital lifestyle PC products," the company's Fair said.
However, O'Donnell is not sure Lenovo will succeed.
"They're a very weak consumer brand," he explained. "What's kept the market from doing worse than it has is consumer notebook sales, particularly in retail. Lenovo is not in that market."