Lenovo unveiled a slew of PCs for the consumer market on Tuesday. These include its Skylight smartbook, a refreshed S10 netbook lineup, and a refreshed all-in-one desktop line.
Multimedia, multitouch and access speed featured prominently in the lineup.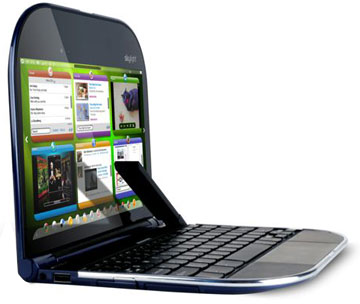 Lenovo's Skylight smartbook
Lenovo's beefing up of its consumer product line, especially with the Skylight, may help its efforts to be perceived as more than just a PC vendor for the enterprise market, Rob Enderle, principal analyst at the Enderle Group, told TechNewsWorld.
Skylight to Open Up New Markets?
Possibly the most interesting of Lenovo's announcements Tuesday was the unveiling of its Skylight smartbook line. Members of this family measure 9.96 by 7.9 by 0.68 to 0.74 inches. They weigh less than two pounds.
Entering the smartbook market is a cagey move, as this category could be hot for 2010. "This area is where a lot of exploration will be done this year," Enderle said. "Smartbooks, smart tablets like the iSlate and smartphones will compete with netbooks as to which of them will be the next big thing."
For Lenovo, the Skylight fills a key need. "This is an important product for Lenovo because it allows the company to argue that it's ahead of the curve here and can continue to be ahead with future offerings," Enderle said.
The Skylight has a 1GHz Qualcomm ARM II Snapdragon processor; a 10.1-inch high-resolution display offering 1,280 x 720 resolution; and a mono internal microphone. It has a battery life of up to 10 hours.
The Skylight has integrated 3G and WiFi and a 1.3 MP camera. The Skylight also has an 8 GB mini SD card slot; 8 GB of flash memory; 512 MB of LP22r2-PAM; and a 4 GB USB stick. Lenovo offers 2 GB of online storage to Skylight owners.
Lenovo's Skylight has a customizable user interface (UI) built on a Linux shell. "The gadgets consist of live Web gadgets like Facebook, Gmail and Twitter," said Ninis Samuel, director of global marketing for Lenovo's Idea product group. These gadgets are always connected to the Web and update automatically. The gadgets also let users buy and download videos and movies from the Web.
Skylights come in red and blue. It will be first available in the United States in Spring. It will then be offered in China and Europe.
Pricing will start at US$499 when purchased standalone. The Skylight will also be offered bundled with a 3G data plan at a subsidized price. "Today in the U.S., the carrier will be AT&T," Samuel said. However, he declined to rule out other carriers.
Butting Heads With Smartphones
Here's the problem with the territory Skylight inhabits: These types of products are much like smartphones on steroids but without the telephonic capability. Manufacturers of the latest, top-end smartphones already offer always-on connectivity to the Web and customized UIs that let users go directly to social networking sites. These UIs also have widgets that update automatically.
One such device is the Nokia N900 smartphone, which has real-time Web widgets. Like the Skylight, it runs on Linux. Meanwhile, HTC's "Sense" UI lets users customize their smartphones by adding widgets.
"Smartbooks are an attempt to cross a notebook with a smartphone, and sometimes these blended devices catch on, but sometimes they don't," Allen Nogee, an analyst with In-Stat, told TechNewsWorld.
Given that smartphones can offer many of the features smartbooks can and have phone capabilities as well, why would anyone buy a smartbook? Finding an answer could possibly dog vendors in the future.
Smartbooks might have features smartphones don't at present, including larger screens and keyboards, but that's going to change, In-Stat's Nogee pointed out. "Pico-projectors are starting to appear in smartphones like the LG Expo, and that solves the problem of display size," he said. "Combine that with a Bluetooth keyboard and you may not need a smartbook."
Right now, however, there's still a place for smartbooks. "Until smartphones with built-in pico projectors and Bluetooth keyboards for smartphones are common, smartbooks fill the niche nicely for people who don't mind spending an additional $60 a month for service," Nogee said.
Other Lenovo Offerings
Lenovo also refreshed its venerable S10-2 netbook line with the S10-3 with a multitouch screen. In addition, it unveiled the S10-3t, which it claims is the first convertible netbook tablet with a capacitive multitouch screen. Both of these have the DirectShare feature, which lets users synchronize files with other laptops without connecting to the Internet. They also have Quick Start 2.0 with an "instant on" function so users can access applications and the Internet without having to boot up Windows first.
Lenovo also on Tuesday unveiled the IdeaCenter A300, an all-in-one PC it claims is the world's thinnest.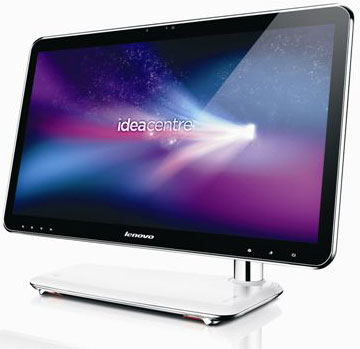 Lenovo's IdeaCenter A300
This has a 21.5-inch high LCD panel that's just over 0.7 inches deep. Other key features include certification for Windows 7 and the Lenovo Rescue System v3.0 for documents.
Lenovo may face stiff competition in the all-in-one category. "HP and Apple currently define this category, and both Acer and Dell have rolled out nice offerings over the past year," Enderle said. However, "Lenovo is providing an alternative and using thinness as its differentiating factor. That has worked well for TVs and may work well here."