Lenovo on Tuesday announced new Ultrabook ThinkPad laptops based on Intel's latest Ivy Bridge processor.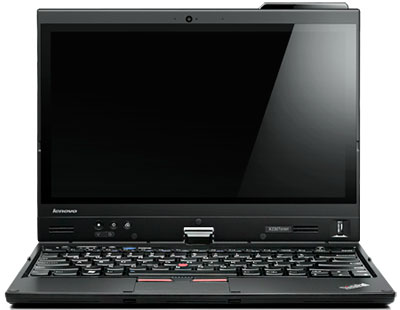 The Lenovo X230t
Heading the procession is the upcoming X1 Carbon, which will use premium carbon fiber material and is aimed head-on at the Apple MacBook Air.
The lineup also includes new models in the ThinkPad T, X, L and W series aimed at small businesses, government agencies, educational institutions and large corporations.
All of them are based on Intel's third-generation Core Ivy Bridge microarchitecture.
"We see this as a PC-plus environment where, clearly, traditional PCs are not disappearing," Dilip Bhatia, vice president and general manager of Lenovo's ThinkPad Business Unit, told TechNewsWorld. Ultrabooks will comprise 43 percent of all laptops globally by 2015, according to projections by IHS iSuppli, he added.
"Lenovo is trying to retain its IBM heritage of being the premium provider of corporate laptops while also capitalizing on Intel's current promotion of Ultrabooks," Carl Howe, a vice president at the Yankee Group, told TechNewsWorld. "These products may not be consumer-sexy, but sexy usually isn't the attribute most IT groups are looking for in a corporate environment."
Lenovo "will shine in the enterprise," remarked Andrew Eisner, director of community and content at Retrevo. "This is a continuation of the IBM ThinkPad brand where nobody ever got fired for buying a ThinkPad."
Carbon Fiber vs. the MacBook Air
Lenovo's touting its ThinkPad X1 Carbon laptop as the lightest 14-inch Ultrabook in the industry. It weighs less than three pounds.
The X1 Carbon has a carbon fiber rollcage. It also offers 3G connectivity; Lenovo RapidCharge, which charges the battery to nearly full in 30 minutes; and Intel vPro technology to help IT manage the device.
"Lenovo's doing a pretty good job with the carbon fiber laptop; that's competitive with the MacBook Air," Retrevo's Eisner told TechNewsWorld.
The X1 Carbon will be available this summer, but Lenovo didn't say what it would cost.
The Rest of Lenovo's Lineup
The new ThinkPad X, T, W and L Series models announced Tuesday all have Lenovo Enhanced Experience 3.0 with RapidBoot technology. The latter lets the laptops boot 40 percent faster than a typical Windows 7 computer, Lenovo claims.
The entire line, including the X1 Carbon, will also have a backlit ThinkPad Precision Keyboard, which has chiclet keys; a super-bright high-definition display; and Dolby audio.
Some of them will have 4G LTE mobile broadband capability and Lenovo's upcoming contract-free mobile broadband feature.
All these laptops will be available from early June at prices ranging from US$880 to $1,500.
Will Lenovo Gag on the Tablet?
As IT becomes increasingly consumers and the BYOD (bring your own device) phenomenon expands, tablets are increasingly making their appearance in the enterprise, and they are cannibalizing laptop sales. Although Android tablet sales appear to be relatively sluggish, iPad sales are generally expected to remain strong. For example, Sterne Agee analyst Shaw Wu has forecast iPad sales to hit the 15 million unit mark for the June quarter. Wall Street's consensus is 14 million.
Meanwhile, Ultrabook sales have been relatively anemic. However, Lenovo's "carbon fiber-based device offers enough differentiation that consumers might choose it in a bring-your-own-device environment, and that's a plus for Lenovo," the Yankee Group's Howe suggested.
Further, while these laptops are generally larger than tablets, "they offer many of the same advantages — long battery life and high portability — while still fitting into a corporate environment filled with legacy software and users," Howe continued.
Why a Laptop?
"The tablet serves as a convenient, portable way to consume content, but ultimately, when it comes time to create content, business users need the extra horsepower and expandability found in a traditional PC," Lenovo's Bhatia stated.
"There's a need for laptops, especially in business, and I think laptops will coexist nicely with tablets in the enterprise," Retrevo's Eisner opined. "This is the transition stage where there are tablets in business but corporations will still want to retain control of devices, particularly in the face of issues like corporate espionage, lost devices and malware."
The real challenge "will be convincing users to pay more for a Lenovo Ultrabook than they would for an iPad," Howe pointed out. "Companies aren't used to Apple being the low-cost player in computer markets, but when it comes to Ultrabooks, the MacBook Air is the standard, and everyone else is playing catch-up. Lenovo's offering is good, but it's still two years behind."