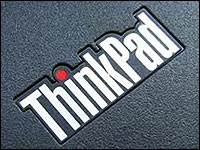 Lenovo on Tuesday introduced six new products to set the stage for thePC maker's Think platform for 2010. The additions to the Thinklineup include five laptops and a server, all of which target bothenterprise business and SMB users.
The line boasts a new ultraportable laptop and a servercosting under US$400. The new models include built-in webcams, dualmicrophones and microphone mute buttons. Users can hit a keyboard toggle to temporarily mutethe microphone and blank the camera during teleconferences.
Perhaps one of the most unusual inducements to interest buyers in thenew laptops is the company's three-year warranty on battery life.Depending on the model and configuration, the new laptops can providepower up to 12.2 hours, according to Lenovo.
Lenovo hopes the new Thinkpad line up will attract SMB customersstateside and buyers in emerging foreign markets, according toMika Majapuro, senior world wide product marketing manager for Lenovo.
"Our strategy is to protect our core and attack when we see a goodopportunity almost like a boxer," Majapuro told TechNewsWorld.
Attack Targets
Lenovo is targeting buyers in the SMB and emerging markets. ForLenovo, these markets are Latin America, Russia, Turkey, India andChina, he said.
The features built into this latest Thinkpad inventory focus virtualmeetings and teleconferences. The economy has forced many companies to cut backon business travel, noted Majapuro, and teleconferencing is often looked at as a lower-cost substitute for face-to-face meetings.
These features include 2-megapixel cameras that workwell in poor lighting typical of small and home offices. The laptopshave dual microphones that capture voices in front of the computer andcancel out ambient sounds from the background.
Another business feature to make teleconferencing more convenient is adedicated hardware button on the keyboard. A mute button allows usersto silence the microphone and blank the video camera simultaneously toallow for private conversations. The teleconference resumes with thepush of the button.
"We wanted to focus on innovation that matters in today's market andwill continue to matter as we get out of this recession," saidMajapuro.
Feature Factory
The Thinkpad models are powered by the Intel Core i7 processor family.Buyers have numerous options for RAM, storage and operating systems.Some of the models have carbon glass fiber covers to make them morelightweight and durable.
OS choices include Microsoft Windows XP Professional, Windows 7 HomeBasic, Home Premium, Professional or Ultimate. Memory options rangefrom 1 through 8 GB. Similarly, hard drives range in capacity from80 GB to 500 GB. Some models offer SSD storage of 80 or 128GB.
Battery configurations offer 4-cell, 6-cell and 9-cell options.Running time varies from 3.6 to 12.2 hours. With Lenovo's battery warrantee, customers can get replacement batteries if therunning time after three years falls below the rated hours, accordingto Majapuro.
When thelaptops are in standby or hibernation modes, at least one USB portremains powered. This allows users to charge other devices or runUSB-powered devices while the laptop is otherwise not powered up.
Laptop Highlights
The W701 and W701ds weigh 8.973 lbs and measure 16.14 by12.2 by 1.59. They come with a 17-inch WUXGA/WXGA+ display. A seconddisplay option is available on the W701ds, a 10.6-inch WXGA screen.
Nvidia Quadro FX 3800M or FX 2800M supply the graphics. Both modelshave embedded X-Rite color calibrator and Wacom digitizer.
The X201 is Lenovo's ultra-light performanceportable. The X201s is a scaled-down version for buyers who do notneed the full performance delivery of the X201. Both models have a12.1-inch WXGA LED display with a screen resolution of 16:10. Intel HDGraphics are available through external USB Optical Drive orUltrabase. Ultrabase offers a combination R/W DVD drive.
Included are three USB ports anda VGA connector along with sockets for microphone/line-in andheadphone/line-out. Also provided are an Expresscard slot (54mm), 5-1media card reader with modem or 3-1 media card with modem.
The X201 weighs from 2.89 lbs to 3.52 lbs depending on the batterytype. The X201s weighs 2.48 lbs to 3.11 lbs depending on batterychoice.
The X201 models start at approximately US$1,199, and the X201s modelsstart at approximately $1,599.
Lenovo designed the X201 tablet to allow users to changefrom tablet mode to keyboard mode with the flip of a switch.
The Thinkpad Tablet weighs 3.57 lbs. with a 4-cell battery and 3.95 lbs.with an 8-cell battery. Models start at approximately $1,549.
Server Side
the Think Server TS200v is built with 65percent recycled plastic. An option besides the Intel Core processoris a choice of Intel Pentium G6950 or Intel Celeron G1101. The Intel3450 chipset offers support for Intel AMT 6.0, Rapid StorageTechnology 9.5, AT-p (TDT), Quiet System Technology, Integrated MACand Integrated Graphics Support with PAVP 1.5.
The TS200v is configured with one PCIe and 16 slots, one PCIe and oneslot, two PCI slots, 10 USB 2.0 ports, one DB9 COM port, one DB-15 VGAconnector and one DP Energy Star Server 1.0.
Intel Active Management Technology 6.0 is available with Intel Core i5processors, and standard management is available with Intel Celeron,Pentium and Core i3 processors. The server is housed in a Tower FormFactor that measures 14.54 by 6.89 by 16.34 inches. Models start under $400.