Lenovo watchers expected the company to announce a number of new laptops when CES rolled around, but the company surprised on Tuesday when it also unveiled new products aimed at the home technology market.
"The Smart Assistant and Smart Storage line probably caught everyone off guard," said Patrick Moorhead, principal analyst at Moor Insights and Strategy.
Lenovo developed its Smart Assistant with Amazon. Like Amazon's Echo, the Lenovo assistant uses the Alexa cloud-based voice services to respond to a user's spoken commands. It can do such things as conduct Web searches, play music, create lists and provide calendar updates.
Pricing for the Smart Assistant starts at US$129.99; the Harmon Kardon edition starts at $179.99. The units are offered in three colors: light gray, green or orange. They are scheduled to go on sale in May.
Lenovo also raised the curtain on a new controller, the Lenovo 500 Multimedia Controller. The palm-sized wireless keyboard of the unit acts as both a keyboard and Windows 10 gesture-supported touchpad.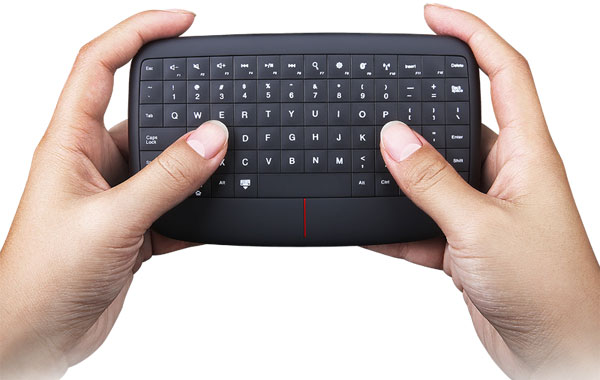 The unit is designed for convenience. Every key is within a thumb's reach, and the controller's wireless range is 65.6 feet, more than double the range (32.8 feet) of conventional wireless remotes.
Scheduled for sale in March, the 500 Multimedia Controller is priced at $54.99.
Smart Storage
Lenovo announced a new network storage device, Lenovo Smart Storage, that offers 6 terabytes of disk space. It supports dual-band wireless access and multidevice synchronization, as well as built-in facial recognition software for managing photos by faces.
Lenovo Smart Storage will sell for $139.99 when it becomes available in May.
The company announced the immediate availability of its Phab 2 Pro smartphone ($499.99).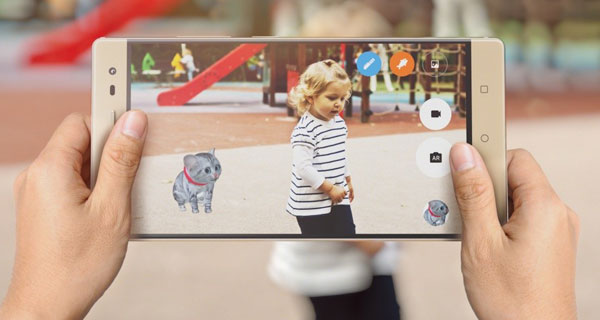 The Phab 2 Pro supports Tango, a technology for running virtual and augmented reality applications. For example, an app called "Measure," which is included in the Phab 2, allows users to measure interiors and real world objects.
"More than any other PC company, Lenovo has aggressively tested the waters for new categories and accessories," observed Ross Rubin, the principal analyst at Reticle Research.
"Clearly, more immediate revenue will come from its upgraded laptop lineup," he told TechNewsWorld. "However, it is showcasing products that take on AR, VR and smart home."
Beneficial Partnering
Teaming up with Amazon on the Smart Assistant is a good move on Lenovo's part, since the device has the highest volume opportunity of all the products in the new categories, said Rubin.
"Since it was developed with Amazon, we can bet on Amazon.com featuring it pretty prominently, helping with distribution," he added. "That's been a weak point for many of the company's previous product category explorations."
Although the companies collaborated on Smart Assistant, Lenovo may have made a device that outshines its partner's.
"With the Harmon Kardon Smart Assistant, it appears they are offering a better product than Amazon's Echo," Moor Insights' Moorhead told TechNewsWorld — "which is ironic, because it uses Alexa from Amazon."
New Laptops
In addition to its new products for the home, Lenovo announced a number of new notebook computers: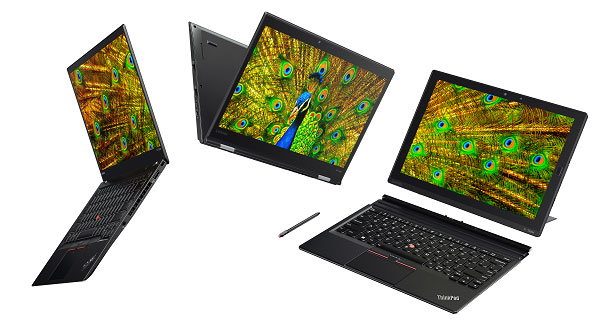 The ThinkPad X1 Carbon, available in black or silver, squeezes a 14-inch display into a 13-inch form factor. It's light, at 2.5 pounds, and its battery can run 15 hours between charges, according to the company. The unit supports Thunderbolt 3, LTE-A Wireless WAN and WiGig. It has a fingerprint sensor with a dedicated chip to handle biometric processing, and it has an infrared camera for logging on to the computer through facial recognition. The notebook goes on sale in February starting at $1,349.
The ThinkPad X1 Yoga has a 14-inch OLED display and is being offered in a new color, silver. It has a redesigned rechargeable pen and rise-and-fall keyboard. The Yoga will be available in February, starting at $1,499.
In the detachable-screen notebook department, Lenovo is offering up the Miix 720, which has a 12-inch QHD+ display, a touchpad-enabled keyboard, Thunderbolt 3 support, and an infrared camera for facial recognition.

It's being offered in two colors — champagne and iron gray — and will start selling at $999 in April.

Lenovo also announced a new gaming line of notebooks, called "Legion." There are two models — the Y720 and Y520 — that have Nvidia graphics, Dolby Atmos sound and the latest Intel Core i7 processor.

The Y720 starts at $1,399 and will be available in April, while the Y520 starts at $899.99 and is expected to hit retail shelves in February.
Better Pen
To go along with the Miix 720, Lenovo is offering its Active Pen 2, which will be available in February at $59.99. This edition of the pen tries to address a bothersome problem with digital pens.
"They've increased the friction element to the pen to give it a more natural writing experience," said Rhoda Alexander, director of tablet and notebook research at IHS Markit.
"That's something users constantly indicate they want on a laptop, so it feels more like pen on paper," she told TechNewsWorld.
Many users also will appreciate Lenovo's decision to install Microsoft's Optimized Signature Image on their new laptops, which should mean less bloatware.
"Maybe we won't have Candy Crush Soda Saga on our business laptops anymore," Eric Grevstad, a contributing editor to PC Magazine, told TechNewsWorld.
Solid Lineup
The biometric and connectivity features give the new notebooks a leg up on their competitors in the market, especially in the eyes of enterprise buyers, but that advantage may be short-lived, noted David McQueen, a research director at ABI Research.
"Lenovo has a window of opportunity to get these devices into the enterprise because of the biometric and connectivity features," he told TechNewsWorld, "but they have a limited shelf life and will be replicated by others relatively soon."
Overall, Lenovo's new notebook lineup is solid, observed Charles King, principal analyst at Pund-IT.
"The updates to the Thinkpad X1 family are solid extensions of that platform, and the Legion laptops should put Lenovo on a more equal footing with other gaming PC vendors, like Dell and HP," he told TechNewsWorld.
"It's hard to say at this time how advantageous the new Smart Assistant, 500 Multimedia Controller and Phab 2 Pro will be," King added, "but that's mainly because I expect numerous other vendors to deliver similar devices at CES."