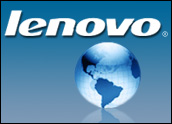 Lenovo introduced on Wednesday its newest energy-efficient desktop line with the ThinkCentre A61e, an ultra small form factor PC that combines a small footprint the size of a telephone book with 45-watt AMD Athlon 64 X2 and Sempron energy efficient processors.
The ThinkCentre A61e takes up 25 percent less space than previous models and weighs eight pounds. Its small form factor follows a trend for shrinking desktop real estate in the workplace.
Configured with a single, low-speed fan, the new PCs provide a cool running environment that is consistently quieter than surrounding office noise, according to Tom Tobul, executive director of emerging products marketing at Lenovo.
"It has been tested and verified as running at 4.1 decibels at both idle and under load," Tobul told TechNewsWorld.
The ThinkCentre A61e desktop packs in full-size PC performance with the latest technologies such as Gigabit Ethernet, choices of Athlon 64 X2 or Sempron processors and choices of hard drives in an ultra small form factor. Plus, all of the components are desktop rated, not their mobile equivalent for a higher cost, Tobul said.
Expandable Laptop
Developing small form-factor desktop computers has been a trend for business since the 1990s. The trend is continuing with the ability to create more energy efficient designs, according to Rob Enderle, president and principal analyst for the Enderle Group.
"What lit a fire under the small form factor model is the need for expandable laptops," Enderle told TechNewsWorld. "The goal is to produce smaller, more powerful and less expensive to run desktops that are designed to be highly expandable."
The computer industry is now comparing computers in terms of their power savings and recyclable components, he said. Enderle expects to see more green technology as businesses focus on cost and conserving power.
What Green Means
The ThinkCentre A61e desktop marks Lenovo's first product with EPEAT (Electronic Product Environmental Assesment Tool) Gold status, the highest designation for energy efficiency, said Tobul. Operated by the Green Electronics Council, EPEAT ranks products on a variety of environmental attributes from energy efficiency to materials used.
Many organizations use the EPEAT rating to make purchasing decisions. The ThinkCentre A61e uses an external power supply of 130 watts that produces an annual energy savings of 52 percent per year, Tobul said, making it the first desktop in the industry to meet that standard.
Lenovo codenamed the new desktop line "Blue Sky" for its environmental attributes. The desktop uses up to 90 percent reusable/recyclable materials as well as 90 percent recyclable packaging. It also can be powered by a solar panel.
Smaller Footprint
The new ThinkCentre desktop line measures about the same as an 8 1/2 by 11-inch sheet of paper if placed flat on a desk and is about the height of a phone book — about three inches — said Tobul.
The new desktops have rubber feet on the side so users can run the computer in either orientation.
The ThinkCentre A61e weighs in at 8 pounds — 42 percent lighter and 25 percent smaller than Lenovo's previous small form factor desktop line, according to Tobul.
The energy efficiency rating produces an electricity savings of US$42 per year with the AMD-configured model and $22 per year for the Sempron-configured model, according to Lenovo figures.
The two processor configurations give business users the choice of a lower startup configuration with the Sempron chip for "good enough" performance or a higher memory and power capacity with the AMD chip, Tobul explained.
The ThinkCentre A61e and A61 desktop start at approximately $399 and will be available in October.