Manuals from Lenovo that were leaked onto the Internet indicate that the company is working on a laptop running Android.
Not only were two manuals for the IdeaPad A10 discovered this week on the Web — one dated July and the other dated August — but Lenovo has reportedly since confirmed the upcoming product.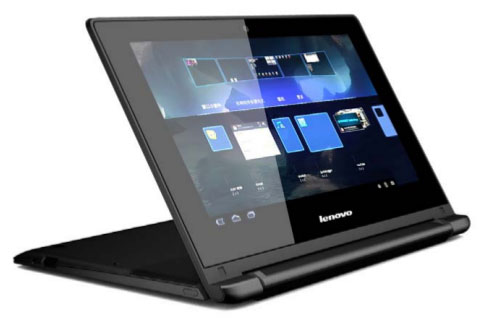 Android will come preinstalled on the device, whose convertible form factor allows the screen to be flipped around backwards so as to enable upright viewing.
Powered by a 1.6 GHz Rockchip RK3188 ARM quad-core processor, the A10 will have a 10.1-inch screen, two USB 2.0 ports, one microUSB port that doubles as a charging port, one microSD card slot, two speakers, a built-in microphone, an HDMI port, a 6.3 MP integrated camera, and a keyboard and a touchpad.
Standard memory will be 1 GB or 2 GB DDR 3l; the A10 will have an eMMC 16 GB or 32 GB solid state drive. Bluetooth and WiFi are both supported.
Lenovo did not respond to our request for further details.
A Simple Device for Consumers
Putting Android on a clamshell device "makes sense to me," Jim McGregor, principal analyst at Tirias Research, told TechNewsWorld.
"The nice thing is, they're using the microUSB port for power so they can use the same adapter as your cellphone," McGregor continued. "I like that because you don't have to carry a big heavy PC adapter when you're on the road."
Lenovo's motives for creating the device are likely similar to those of Dell, "which launched its own Android-based tablets last week," suggested Charles King, principal analyst at Pund-IT.
"That is, to deliver a device aimed at consumers who want a simple device that can take advantage of the entertainment and media content, and tens of thousands of apps available through Google Play," King told TechNewsWorld."
That might go down well with the current generation of consumers, Tirias' McGregor agreed.
"For many people, the primary computing device is the handset or smartphone, and if the smartphone has become the primary computing platform, do you really need to go backwards or sideways to a different environment to work on a PC?" McGregor asked.
"Mobile platforms are the preferred computing platform in the world right now," he added.
Android on the PC
There are already several solutions that let PC owners use Android on their computers.
Asus, for instance, offers the Transformer Book Trio, which it bills as the world's first 3-in-1 notebook, tablet and desktop PC.
That device is a dual-boot Windows 8 and Android laptop running Windows on an Intel Core i5 or i7 processor and Android on an Intel Atom. The screen detaches to become a tablet, and the Trio plugs into an external monitor to serve as a desktop PC. The tablet runs Android apps that are on users' smartphones.
Acer, meanwhile, offers the DA241HL, a 24-inch all-in-one desktop PC running Android.
In March, Intel released a pre-alpha build of an optimized version of Android Jelly Bean 4.2.2 that would run on an x86 processor. There's one catch, though: Apps written for ARM-based devices will need to be recompiled for x86 or emulated.
'The Only Real Weapon They Have'
"There's not a compelling argument for Windows on tablets except for very niche applications," Tirias' McGregor said. "By the same token, there's not a very compelling argument for Android on x86. More and more of the usage models that we once used on PCs we now use on tablets."
Still, Silicon Valley startup YouWave offers software that lets users run Android on PCs, and Beijing-based startup SocketEQ offers Windroy, which is Android running with a Windows kernel. Both are claimed to offer full Android functionality on the PC.
"One of the biggest problems plaguing Microsoft's Windows RT efforts is the paltry number of available apps," Pund-IT's King said. "Google's Android and Chrome are providing PC vendors the only real weapon they have to address Apple's hegemony in mobile computing markets."