Lenovo on Monday announced a 27-inch table PC that doubles as a monster tablet and a desktop at the 2013 CES in Las Vegas.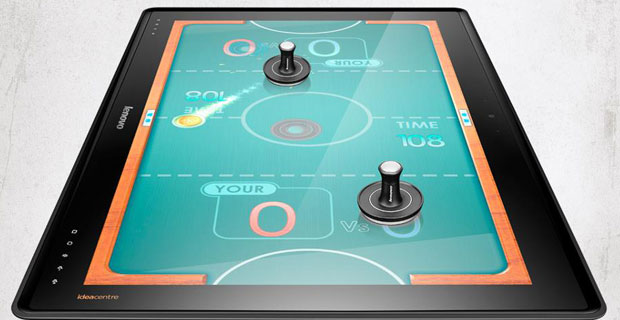 Lenovo IdeaCenter Horizon
The IdeaCenter Horizon Table PC has a two-legged kickstand in the back that, when extended, props the device up for vertical use. It has a 10-point multitouch screen that's optimized for Windows 8.
The Horizon Table PC will retail at close to US$1,700, and will be released in early summer through Lenovo's business partners. It will also be available for purchase directly from Lenovo's website.
"We believe families, particularly moms between the ages of 35 and 45, will choose this as a replacement to their home PC," Nick Reynolds, executive director of worldwide consumer marketing at Lenovo, told TechNewsWorld. "It's a quite capable all-in-one desktop that adds a lot of new value in its ability to become a flat, immersive "edutainment" experience for the family."
The Particulars
The Horizon Table PC has a 2-inch backlit full HD 1920 x 1080 multitouch display. This can be used simultaneously by two or more people.
It will have up to a third-generation Intel Core i7 processor and up to an Nvidia GeForce GT 620 graphics processing unit with DirectX 11.
The Horizon Table PC will have stereo speakers with Dolby Home Theater v4 certification. Standard storage is a 1 TB hard drive; or purchasers can opt for a 64 GB solid-state drive.
The device has an integrated 720p HD webcam and comes with a joystick, striker and E-dice. It has a USB 3.0 port, a 6-in-1 card reader and an HDMI port. It is about one inch thick, has an integrated battery with up to two hours' life, and reportedly weighs about 10 lbs.
Let's Get Phygital
The joysticks, strikers and e-dice offer on-screen gaming combined with a physical experience, which Lenovo dubs "phygital."
The Horizon Table PC also comes with either exclusive access to, or preloaded, gaming and educational apps from vendors that include Electronic Arts, FableVision, Open Labs, Ubisoft, FilmOn TV and BlueStacks.
Looking at the Horizon
Reaction to the news of the Horizon Table PC was mixed.
"It's too expensive at $1,700," Julien Blin, a directing analyst at Infonetics Research, told TechNewsWorld. "I think it's only going to work if they focus on verticals like retail and fast food chains. You can get a desktop PC with a big screen for around $500, and 27 inches is too big for a tablet."
The two-hour battery life will also be a problem, Blin pointed out. "You'll probably have to plug it into a wall socket most of the time."
On the other hand, price is not an issue, contends Andrew Eisner, director of community and content atRetrevo. "It doesn't cost much more than a Surface Pro or an iPad."
The Horizon Table PC might fit into the world of ubiquitous computing, Eisner told TechNewsWorld. "You'll see computers attached to walls as a fixture, on kitchen counters and coffee tables," he elaborated.
Further, "the horizontal mode is really a working mode for a lot of people," Eisner said. "People read and play games on a horizontal surface."
The Horizon Table PC comes preloaded with Lenovo App Shop, a dedicated app store offering more than 5,000 multi-user entertainment apps.
While the Horizon Table PC is "an interesting and clever product in the new world of touch and gesture devices, it will be one of those devices that people may want more than they need," Eisner opined. Still, "Lenovo is not afraid to bring out new products, and this is another indication that they're trying to introduce new products and create new market segments."
Perhaps this might work. Consumers are more likely to purchase multi-function devices than single-function ones this year, according to a survey conducted in September by Accenture.
"As described, the Lenovo Horizon Table PC appears to perform multiple functions from gaming to productivity applications," Accenture spokesperson Charles Hartley told TechNewsWorld. Further, its price "is still within range of the high-end PCs available in the market today."