LG Electronics on Monday became the first manufacturer to make a 55-inch OLED TV available on the market, taking preorders in Korea for its device.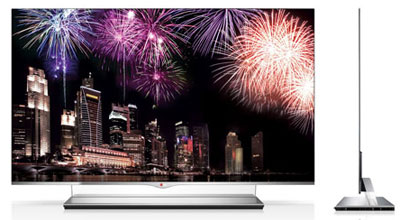 The device is the LG Model 55EM9700. It is listed at US$10,000, and will begin shipping in February.
With the announcement, LG has taken pole position in the race for the 55-inch OLED TV market over rival Samsung, and beaten out other possible contenders, including Sony and Toshiba.
LG describes the device as transformational, but "this is probably just bragging rights," Andrew Eisner, director of community and content at Retrevo, remarked.
Possible Specs for LG's 55-Incher
LG gave few details about the 55-inch Model 55EM9700 apart from a general blurb.
LG's OLED TVs are 4 mm thick and weigh less than 22 lbs, use WRGB technology, LG's Color Refiner technology and the company's four-color pixel system. The 55-inch OLED TV also offers infinite contrast, the company said.
Perhaps a hint is available from LG's reference to last year's Consumer Electronics Show, at which it unveiled another 55-inch OLED TV, the 55EM960V.
Rumors on the Web have it that the earlier model was made over slightly and is now being announced as the 55EM9700.
The model demonstrated at CES 2012 used Kodak's RGBW (red, green, blue, white) technology, which includes "white" or transparent filter elements that allow the photodiode to respond to all colors of light, and detect, rather than absorb, light. LG purchased Kodak's RGBW color filter patents in 2009.
LG did not respond to our request for further details.
Vive la Revolucion?
It's likely that LG is using active-matrix organic light-emitting diode (AMOLED) technology in its screens. AMOLED screens are used in mobile phones, media players and digital cameras because they provide higher refresh rates than passive-matrix OLED technology. AMOLED technology also requires significantly less power than OLED technology.
OLED will usher in a new era of home entertainment and make for a transformational moment in that area, LG claims.
"This 55-inch LG TV is an engineering marvel," Eisner told TechNewsWorld. However, he thinks the transformative technology in TVs will be ultra-high resolution using a new backplane technology called IGZO — Indium Gallium Zinc Oxide."
Where The Future May Lie
IGZO, also called metal oxide, is apparently garnering interest as an LCD backplane technology.
Apple is reportedly evaluating the use of IGZO for screens for future iDevices.
"You'll see IGZO TVs at CES 2013, and this new backplane technology will make super-high resolution TVs practical," Eisner predicted. "That will be the next wave."
CES 2013 will be held Jan. 8-11 in Las Vegas.
Apart from screen technology, the direction Apple takes may prove to be a more powerful agent for change than OLED.
"Apple's going to approach TV from a different direction," Eisner said. "It's going to be more about content and user interface and blending into the Apple ecosystem."
However, OLED technology "is definitely the future," Sweta Dash, senior director of display research and strategy at IHS iSuppli, contends.
Got Money?
Price may be the stumbling block for LG and Samsung as they roll out large-screen OLED TVs.
"The biggest issue is: Can they reduce the manufacturing costs to make these OLED TVs mainstream? We don't think it's possible to do so right away," Dash told TechNewsWorld. "We've heard LG have changed from mass production to producing limited quantities."
Further, "we saw 60-inch full HD TVs selling for $700 on Black Friday," Dash pointed out. "Are you ready to pay $9,000 more for something that's slightly thinner with slightly better quality? Customers have got used to that sub-$1,000 price range."
Pushing OLED TVs as the next wave "could see LG doing itself and the TV industry harm because consumers may hold off from buying TVs in the expectation of getting cheaper OLED sets soon," Eisner suggested. "That's not good for an industry that's already seeing some challenges."
Still, LG has no choice but to establish a beachhead in the market. It's important for OLED manufacturers to make a statement as the LCD TV market moves to larger screen sizes and higher resolutions, according to NPD Research.