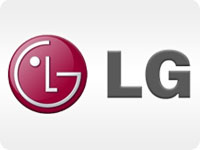 The competition to offer transparent and flexible OLED screens heated up last week, withLG's unveiling of two 18-inch OLED displays.
One is flexible and the other transparent.
"Up to now, nobody has come up with an 18-inch flexible OLED display, although both LG and Samsung offer smartphones with flexible displays of less than six inches," said Sweta Dash, director of display research and strategy at IHS.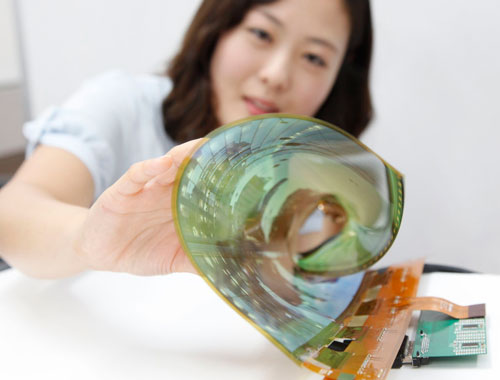 The South Korean government in 2012 made LG Display the lead in a project to develop transparent and flexible OLED displays, as part of its "Future Flagship Program." LG said it would develop technology for ultra-high-definition 60-inch flexible OLED displays by 2017.
The two 18-inch OLED displays LG just introduced show it already has the fundamental technologies to lead the large-sized flexible and transparent display market, the company said.
Step in the Right Direction
The flexible screen has a curvature radius of 30R, and it can be rolled up into a cylinder with a radius of 3cm without affecting its function, LG said.
LG Display used high molecular substance-based polyimide film instead of plastic for the backplane of the flexible screen to achieve the maximum curvature radius. The film also reduced the screen's thickness, contributing to its flexibility.
"This is a big step in the right direction for the future of flexible displays," IHS' Dash told TechNewsWorld. "People want bigger displays in [mobile devices] but the size makes them inconvenient, so rollable flexible displays will be a big thing."
LG Display used its transparent pixel design technology to give its transparent screen 30 percent transmittance, compared to existing transparent LCD panels' transmittance of about 10 percent, the company said.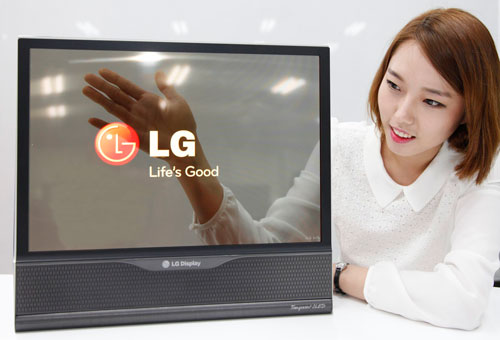 The LG screens have a resolution of 1,200 x 810 pixels and have almost 1 million megapixels, LG said.
It's not likely that these 18-inch screens will be used for TVs, "because you won't achieve the same resolutions and brightness that you have with traditional LCDs yet," Jim McGregor, principal analyst at Tirias Research, told TechNewsWorld. "The best applications for these are commercial applications."
The Benefits of Curves
A curved screen "substantially reduces the reflection of ambient light," Raymond Soneira, president of Displaymate Technologies, told TechNewsWorld. "That's very important for TV displays and small displays [like smartphone and tablet screens]."
The curvature will be small — about 1.4 inches on a 55-inch TV screen, he said.
Curved screens also reduce geometric distortion, according to Soneira. "Nobody ever gazes at the sweet spot, which is in the center, when looking at a screen — whether it's a smartphone or TV screen. They all look at it from an angle."
The Samsung Galaxy Round and LG Flex smartphones both have curved screens.
However, they did not take off "because [the companies] failed to explain the advantages of curved screens, so most reviewers and consumers still think they are just marketing gimmicks," said Soneira.
Possible Technical Problems
The 60-inch OLED TV screen scheduled for 2017 will come out on time, with a transmittance of more than 40 percent and a curvature radius of 100R, said In-Byung Kang, head of LG Display's R&D center.
However, "showing off or announcing a display and being able to have volume commercial production are two different things," Dash cautioned.
Indeed: Samsung demoed its Youm flexible screen at CES 2013, but technical problems have delayed its move into mass production.
However, LG in October announced that it was mass producing the first OLED flexible screen for smartphones, and Samsung quickly followed with a similar statement of its own.
"Both LG and Samsung have invested considerably in producing OLED displays on flexible plastic substrates with very high ppi and display performance comparable to OLEDs on the original glass substrates," Soneira said.
"They are still difficult to manufacture," he noted, "but there are lots of advantages to the technology, so it will eventually become mainstream."