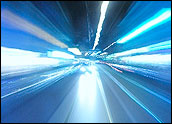 A promising technology that involves controlling light with magnets could improve the speed and reduce the juice requirements of future computer chips.
The technology, developed by researchers at the U.S. Navy Research Laboratory in Washington, D.C., and the University of Alberta in Edmonton, Canada, combines knowledge from two budding research fields — plasmonics and spintronics — that may open the door to future development of small, fast electronic devices with low power consumption requirements.
Plasmonics involves small volume transfers of light in electromagnetic form to produce intense electrical fields.
Spintronics entails harnessing the magnetic quantum properties of an electron's spin. Although the field is only slightly more than 10 years old, it has already produced promising products, most notably in the area of high-density data storage.
Both fields are seen as important if computer electronics is to enter the realm of nanoelectronics, where the rules of quantum physics make designing devices a whole new ball game.
Enhancing Silicon
What the Navy and academic researchers have demonstrated — and what they've filed patents for — is a way for light traveling over the surface layer of a metal to be turned off and on by manipulating the spin of electrons with magnetic fields.
Devices using plasmonic and spintronic technologies will be used in the future to enhance silicon technologies, predicted Navy Labs researcher Mark Johnson.
"I see this as augmenting semiconductor electronics, not competing with it," he told TechNewsWorld.
For example, an electronics package might have a silicon device that receives radio waves, turns those waves into digital information and transfers that information to a display.
"What we're talking about is the front end of that package," Johnson said. "What we're talking about is something that will increase the efficiency of receiving the radio waves and working with it before it gets to the semiconductor."
By reducing how hard a semiconductor has to work, spinplasmonic devices can create benefits for an entire system, the Navy researcher noted.
"If you're reducing the burden on the semiconductor, maybe you're reducing its power consumption, that keeps it a little cooler and that extends the battery life," he reasoned.
Data Bottleneck
Another fertile area for plasmonics is in improving moving data on and off chips, observed Jonathan Gorrell, CEO and founder of Applied Plasmonics in Gainesville, Fla.
His company has developed a plasmonic technology for enabling silicon to generate any color of light using an nanoatenna array and electron beam.
"If you were to pull a Pentium chip from a circuit board, you'd see that the whole thing is covered with pins," he told TechNewsWorld. "That limits how much data they can get on to and off of a chip."
"That's creating a problem for them," he continued, "because they can increase processor speed, but what good does that do if you're waiting for the data arrive?"
Let There Be Light
The bottleneck, he explained, has become so bad that chipmakers have found it easier to design redundancy into their wares than try to move data around on them.
"They're taking the same circuitry and putting it on multiple locations just because it's easier for them to put another 5,000 transistors some place multiple times than it is to get data from point A on the chip to point B on the chip and back."
One way to improve the spreed of data on the chip is to move it with light instead of wire. "The problem is silicon doesn't produce light," Gorrell said.
His company's technology can be overlaid over the existing structure of a silicon chip and produce light that can be controlled by the chip itself, he explained.
"We can increase the bandwidth at which data goes on and off the chip without changing the underlying transistor technology that Intel and everybody else knows how to make so well already," he maintained.