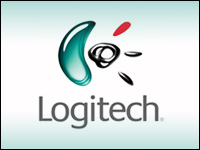 Logitech unveiled and demonstrated its Logitech Revue Google TV controller in New York on Wednesday.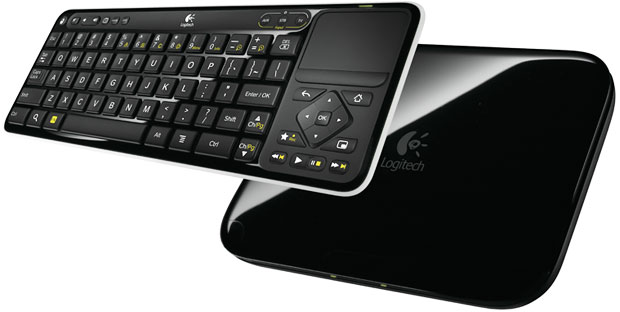 Logitech Revue with keyboard remote
The device is a box that plugs into a TV sets via an HDMI port, along with a keyboard controller that appears to be about the size of a full-sized PC keyboard. Logitech also offers several accessories, including a TV camera for videoconferencing, for which consumers will have to pay extra.
Several apps are available for the Logitech Revue, although these may not be free.
The device gives users access to the Internet, Logitech said. It has also teamed up with Dish Network.
The Logitech Revue's Specs
The Logitech Revue requires a high-definition TV set with an HDMI port, a cable or satellite box with HDMI out, and high-speed Internet access, whether Ethernet or WiFi.
HDMI input and output are both 1080p at 60 fps.
The set-top box has two USB 2.0 ports and an integrated Logitech Harmony Link IR blaster for A/V device control. It uses Logitech Unifying wireless technology.
"The Revue is an add-on set-top box for your existing TV, which means you don't have to buy a Google TV to use it," Carl Howe, director of anywhere consumer research, told TechNewsWorld.
The Logitech Revue's keyboard controller is a wireless device. It has a touchpad with scroll functionality and back and home buttons for Web browsing. It also has buttons to control a user's TV set, A/V receiver and DVR.
The keyboard controller enables dual-view mode so users can watch TV and browse the Internet at the same time.
Why would Logitech come up with such a large keyboard controller which users may find awkward to use?
"I think we're seeing the industry struggling to meld the Web experience designed for PCs into one designed for homes and TVs," Rob Enderle, principal analyst at the Enderle Group, told TechNewsWorld. "The two come at the market from different ways — one assumes you need a keyboard and the other assumes you don't. Logitech is the best in the market with remote controls right now, and it's difficult to imagine anyone could do it better, but it still isn't good enough," he added.
The Logitech Revue's suggested retail price is about US$300. It can be ordered now.
More Shiny New Revue Toys
Logitech also announced the Logitech TV Cam and the Vid HD service, which will let Google TV users make videoconference calls over their TV sets. It also unveiled the Logitech Mini Controller for the Logitech Revue.
The Logitech Mini Controller measures six inches by 3.5 inches. It has a touchpad and illuminated keys that are color-coded to the mode being employed. They turn green for navigation and orange when users type or point.
The Mini Controller also has buttons to control users' TVs, A/V receivers and DVRs. It is powered by a rechargeable lithium-ion battery that runs for up to two weeks between charges. Suggested retail price is about $130.
The Logitech TV Cam lets users make and receive HD video calls at 720p resolution on their HDTVs when with Logitech's Vid HD software. It connects with the Logitech Revue box through one of the latter's two USB 2.0 ports. It has a wide-angle lens and offers 5x digital zoom.
The TV Cam comes with two digital directional microphones. It uses Logitech RightLight 2 technology to adjust images in dim light. Calls can be made to PC or Mac users, who can download the Vid HD software for free. Suggested retail price for the Logitech TV Cam is about $150.
"In this day and age, the price for the Logitech Revue is high," Laura DiDio, principal at ITIC, told TechNewsWorld. "Will consumers consider the Revue too expensive?" she asked.
"Logitech's solution may be the best way of getting videoconferencing in the living room, but there doesn't seem to be much demand for it," Enderle pointed out. "At least it lets you watch TV and make a videoconference call at the same time, but even so, this is going to be a tough one to move in the market."
Do the Apps Have It?
One key to Google TV is that it offers the Internet experience and gives users access to apps. A host of apps is available for the Logitech Revue, including ones for services like Netflix, Pandora, Napster, CNBC and Twitter.
"The possibilities for apps from Logitech, Google and developers are huge, once the apps can be available on the Android Market in 2011," Ashish Arora, vice president and general manager of Logitech Digital Home Group, told TechNewsWorld.
Logitech may be able to attract developers to create more apps relatively easily.
"The challenge for TV apps is finding ways for developers to make money from them," Carl Howe, director of anywhere consumer research at the Yankee Group, told TechNewsWorld. "The fact that Google has an advertising business that might help them do that is perhaps the strongest driver."
However, the apps may cause partners in the Google TV business some grief. One such partner is Dish Network, which has teamed up with Logitech and is offering the Logitech Revue at a discount to its customers — $179.
"Dish network sells premium TV content in addition to basic TV, and if subscribers don't need to buy that premium content because they can get it from Google TV over Hulu Plus and other over-the-top services, Dish could be putting part of its revenue stream at risk," Jordan Selburn, a principal analyst at iSuppli, told TechNewsWorld.
The Internet access itself may prove a problem.
"The Logitech Revue uses the unvarnished Chrome browser — a lot of the protections built into current-generation browsers against pop-ups and poisoned websites aren't in it," Enderle pointed out. "That's a bit of a red flag."