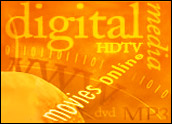 Ask a sales associate at a big-box retailer which section of the store has the most traffic this year, and more than likely he will point to the rows lined with big HDTV screens.
Yes, those slim, shining flat-panel HDTV sets are irresistible. Even the bulkier DLP (digital light processing) and rear-projection TVs are on the Slim-Fast diet this year and appear trimmer and slenderer than their predecessors.
U.S. consumers are particularly drawn to the "thin" form factors, namely LCD (liquid crystal display) flat-panel or plasma panel TVs, as they have been with iPods and Razrs. Almost 60 percent of TV intenders in the U.S. favor these two types of TV sets (Figure 1).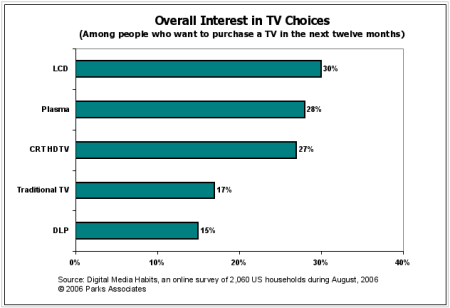 Figure 1: Types of TVs Consumers Intend to Purchase
Among Internet households earning US$100,000 or more a year, that percentage increases to 80 percent (Figure 2), according to a recent Parks Associates survey.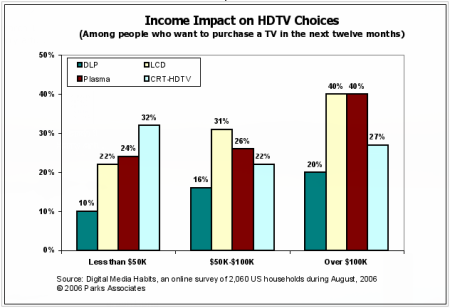 Figure 2: Income's Impact on HDTV Choice
What about price? Lowered material cost and price wars among OEMs (original equipment manufacturers) have driven the average price downward by more than 10 percent this year, according to the Consumer Electronics Association. During a few deep-promotion periods, some models even saw a hefty 40 percent price cut. Consumers have every reason to consider buying a large-screen HDTV this year, and so they will. Parks Associates initially pegged the U.S. HDTV sales at 10.4 million units for 2006, but we revised the number up to 14.2 million units to account for the demand stimulated by the deep discounts in the 2006 holiday season.
Hidden Concern or Opportunity?
Manufacturers and retailers alike hope to jump-start TV sales through digital technology and particularly HDTV. However, a hidden concern is that the arrival of HDTV has not really energized overall TV sell-through volume and that higher prices more than volume are driving the increase in dollar sales. Recent surveys show that the percentage of U.S. households intending to buy a TV has remained relatively flat over the last several years (Figure 3). If the price-slashing trend continues, the price contribution to TV sales figures will erode quickly if overall demand remains this flat.

Figure 3: Overall TV Purchase Intention Relatively Flat During 2004-2006
It's true that around 30 percent of U.S. households own at least one HDTV. However, an overlooked fact is that the average number of TVs per household is slowly climbing as U.S. consumers acquire new TV technologies. In other words, consumers are simply moving their older TVs into other rooms when they make new purchases. Does this behavior have any implication on overall TV demand? Yes, indeed.
A large-screen HDTV usually goes to the living room/family room in a typical U.S. household. The desire to upgrade the living-room TV is the primary driver of current large-screen HDTV sales and can be easily spurred by communicating the HD benefits to consumers.
Manufacturers and retailers theoretically still have about 70 percent of this market to conquer, or about 70-75 million units in the best scenario. However, because of the replacement cycle, affordability and TV service-eligibility issues, 100 percent penetration of this market is unlikely in the next four or five years. Do the math and you will find that the remaining market size might not be as big as many expect. Therefore, an important strategy for manufacturers and retailers to drive volume growth in the future is to motivate HDTV demand for the second and third rooms of a household.
Tricky Sales and Unconventional Tactics
However, it is tricky to rally demand for HDTVs in other, "secondary" rooms. Demand is weak and checked by several factors, one of which is consumers' tendency to hold on to older TVs if they are still operational. Why? Frequently cited reasons by consumers are as follows:
The infrequent usage of TVs in other rooms does not justify the cost of a new HDTV set.
Other rooms do not have HDTV service or digital TV service (or multiroom TV service is too expensive).
TVs in other rooms are for non-TV related activities like gaming or watching DVDs.
I cannot dispose of older TVs, so I keep them in other rooms.
Consumers have every reason to stay with their older TVs and eschew new TV purchases. However, TV manufacturers and retailers must overcome the negative perceptions of the need to have HDTVs in other rooms and help consumers rationalize the purchase of a second or third HDTV.
In order to do so, manufacturers need to not only come up with new products with lower prices and features more attenuated to a smaller-room environment but also wage a psychological campaign to influence consumer behavior and decision-making processes. Unconventional marketing tactics might be considered to accomplish this goal.
For instance, how about a trade-in program to motivate consumers to replace an older TV? The residual value of the older set could be applied as a discount toward a new TV purchase. The trade-in program is pervasively used by the auto industry to shorten the upgrade cycle and satisfy consumers' desire for a new car, so why can't the TV industry also use this tactic?
Or, how about partnering with cable or satellite TV operators to offer price discounts toward the purchase of an HDTV set to subscribers of HDTV or other digital TV services? Penetration of HDTV service in the United States is still relatively low, which means significant growth potential ahead (Figure 4).
For quite a long time, TV hardware and content services have been separate businesses, but HDTV technology brings synergy to these two operations, as the iPod did with digital music services. Better yet, consumers do not have the hardware-service interoperability concerns as seen in the digital audio player market, so why not give it a try?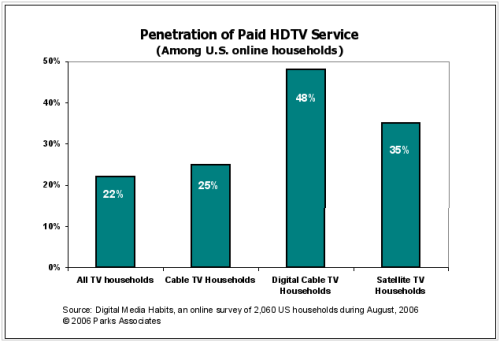 Marketing is also about educating consumers on how to choose digital technology for optimal user experience. Still playing games on a CRT (cathode ray tube) TV? Why not replace it with a 25-inch LCD flat-panel HDTV for better graphics and high-fidelity sound effects? We can throw in a few free games if you purchase one today. Besides, an LCD screen is easier on the eyes of your kids, who are probably playing for several hours at a time." When you communicate such benefits in this concise and targeted fashion, your customers will be more willing to buy that second or third HDTV set.
Finally, tell your perspective customers about the FCC-mandated deadline of February 2009, when broadcasters must terminate their analog signals. Inform them in an "as-a-matter-of-fact" manner and never resort to scare tactics. Although this knowledge is not likely to create surging sales in the near term, it affects consumers psychologically. Over time, as the deadline approaches, consumers will more proactively replace their analog TVs in the second or third rooms with new HDTV sets.
Misinformed Consumers Are Biggest Hurdle
You would hope that by the time consumers purchase their second or third HDTV set, they will be equipped with the correct, complete, and up-to-date information needed to make a wise decision. Unfortunately, with new technologies emerging every year, consumers are swamped with incorrect, outdated or inadequate knowledge about HDTV technologies.
For one, consumers are still confused by TVs that are HDTV-ready versus HDTV-integrated. This misconception is particularly damaging when consumers wrongly expect their HDTV-ready TVs to receive over-the-air HDTV signals. For another example, many consumers are still wary of plasma TVs because of the now-resolved screen burn-in issue.
The first-generation plasma panels did suffer from this problem, but the latest panels have largely fixed it. Nevertheless, LCD pundits' exaggeration of this issue has left a lasting negative impression of plasma technology.
Finally, although 1080p is touted as the true HD resolution and has become a buzzword in the TV industry, consumers are not made aware that not much HD content is currently produced in the 1080p mode and that it is hardly certain when and if true 1080p content will be available. Therefore, a 1080p HDTV is overkill for most consumers at this stage.
Marketing gimmicks and poor communications cause these misconceptions. In order to overcome consumers' HDTV adoption barriers, TV manufacturers and retailers must strive to be honest with consumers with straight facts, full disclosure, and clarification of potentially confusing technology terms. Consumer satisfaction is the best incentive for them to come back for their second or third HDTV purchase.
---
Harry Wang
is a research analyst for
Parks Associates
. E-mail him at
[email protected]
.
---