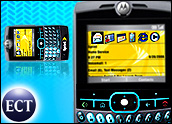 Personal Data Assistants have become dinosaurs, and after taking the Motorola Q for a test drive, it's easy to understand why. Just about anything you'd want to do with a PDA (personal digital assistant) you can do with a smartphone like the Q — and a lot more.
The Q is about the size of a PDA — 2.5 by 0.5 by 4.6 inches — and beefy like one, too, at 4.1 ounces.
My pewter gray review unit from Sprint had a gorgeous color display that measured 2.5 inches diagonally. It was bright and sharp. Text was easy to read — not even a hint of jaggedness — and images "popped" on the screen.
QWERTY Keyboard
As is typical for many smartphones, the Q has a QWERTY keyboard. Most of the keys are black, but the keys with numbers on them are silver, making them easy to identify when dialing the phone. Nevertheless, I found the digits difficult to discern even with my reading glasses on.
Above the keyboard, is a four-way navigation dial that makes moving around the phone's display very fluid.
You can also navigate menus with a scroll wheel on the right side of the unit. Beside that wheel is a button for undoing menu actions or moving back through menus.
To the left of the navigation dial are flat buttons for dialing and answering calls and returning to the home menu. To the right of the dial, are buttons for paging backwards through menu screens and for ending phone calls. The "end" button also doubles as an on/off switch.
Decent Speakers
In addition to its dedicated keys, the unit has two "softkeys." Their function varies from menu to menu.
On the left side of the phone, there's an infrared port, which can be used for sharing information with other devices; a memory card slot, which supports MiniSD cards; and a mini USB port for connecting the mobile to a computer.
A headphone jack is located at the top of the unit. I used an off-the-shelf Logitech headset with the Q, and it worked fine. The phone also supports Bluetooth so you could use a wireless headset that supports the technology, too.
On the back of the mobile, there's a lens for the unit's built-in camera, as well as a flash for taking pictures in low light. The phone's 1.3-megapixel camera has a 6x digital zoom and captures video as well as still images.
Also on the back are two stereo speakers that deliver decent sound for their size.
Slow to Boot
The Q's operating system is Microsoft Windows Mobile. While there may be advantages to that — compatibility with Microsoft's desktop applications, for example — the OS shares an irritating attribute with its desktop brother: slow boot times. On average, the unit took 20 seconds to perform a cold boot.
After starting up the phone, you're presented with a main screen.
It gives you some important information in a nutshell — time, e-mail and text messages in your inboxes and pending appointments. Softkeys give you immediate access to your contacts and the Windows Mobile start menu.
The main screen also presents you with a row of icons for quick access to programs like Pocket MSN, which includes MSN Messenger and MSN Hotmail; media center for viewing images and videos and listening to audio; Microsoft Internet Explorer for surfing the Web; and Solitaire for killing time between appointments.
Fights Gadget Glut
It's too bad Solitaire can't be played while browsing the Web with the phone. From my location, I found Internet access very sluggish. However, I was impressed by the aesthetics of the mobile Web. They've greatly improved from the days of bare-bones text menus.
The Q lists for US$449.99, but Sprint is offering the unit at $99.99 with a two-year service agreement, $250 "instant savings," and a $100 mail-in rebate.
If you're a fighter of gadget glut, the Motorola Q, with its ability to act as a PDA, digital music player and Internet-enabled mobile phone, will be an appealing addition to your arsenal.
---
John Mello
is a freelance business and technology writer who can be reached at
[email protected]
.
---