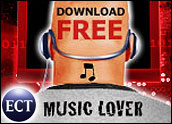 It may not be a perfect deterrent to illegal file-swapping on the Internet, but it comes very close to it.
That's how Loudeye characterized its new high-performance Titanium antipiracy service announced this week by the Seattle-based provider of business-to-business digital media solutions.
The service protects its customers' digital media assets by scanning all of the major file-sharing networks on the Internet — such as Kazaa, iMesh, Grokster and e-Donkey — and flooding the computers of would-be pirates with bogus search results.
Spoofing Results
When someone does a search for content protected by Loudeye, its software fills up their search screens with its own data, explained Loudeye vice president and general manager for digital media asset protection Marc Morgenstern. "Only they appear to come from thousands of different peers," he told TechNewsWorld.
The results are disguised to look like genuine search results, he noted. "Every aspect of the display is disguised, from the title to the size to the speed to the username to the hover information — everything that you could possibly imagine."
The idea, he continued, is to make the displays generated by Loudeye as tantalizing to a would-be buccaneer as possible.
Effectiveness Debated
Moreover, Morgenstern said, Loudeye's software can give its phony search results priority over other results so that they will be displayed more prominently on a pirate's screen.
For every 100 persons searching for a title protected by Loudeye, 99 will receive the company's counterfeit search results, he claimed.
That claim seems far-fetched to Greg Bildson, COO of LimeWire, a New York City-based maker of file-sharing software. "Ninety-nine percent?" he asked rhetorically. "I truly doubt that."
20,000 Machines
"That would require a tremendous number of nodes being controlled by them," Bildson told TechNewsWorld. "They'd have to have a computer room like Google, with 20,000 machines, maybe more."
Loudeye said in a statement that it can claim its high rate of protection because it has more than doubled the infrastructure supporting its antipiracy service.
"These performance levels are regularly verified for customers through various third-party testing and Loudeye's own proprietary technology that automatically scans worldwide piracy activity," the company noted.
Nasty Consequences
When picaroons click on results from Loudeye, a number of things might happen, according to Morgenstern. They might be tossed into an endless loop in which clicking on a file simply quits the current search and automatically does it again.
They also might be sent a decoy file that could contain anything from a song sample to movie trailer to noise. And they might be redirected to a legitimate site where they can buy the digital content they were seeking.
Monitoring traffic over peer-to-peer (P2P) file-sharing networks is an enormous undertaking. According to Morgenstern, in an average month Loudeye's servers catch 25 billion "get" requests from about 150 million unique users for the 5,000 music, film, video, software and game titles it protects.
When asked for examples of protected titles or customers using the system, Morgenstern said he is bound by confidentiality agreements not to reveal that information.
Neither would he reveal pricing information for the service. He said pricing varies based on techniques used to protect an asset, the size of the asset and whether redirection and marketing are tied into the protection package.
Dramatic Growth
"We work with our customers very closely to have a value proposition that pays off for them," he observed.
He contended that if one-tenth of 1 percent of users trying to obtain an asset illegally buy it legally because of Loudeye, those purchases will more than pay for the cost of the service.
"Our business is growing dramatically," he asserted. "As broadband becomes more available in the home, more piracy attempts are taking place by a long shot, and the need for our business keeps expanding.
"Our marketing activity continues to expand, too," he added, "because our customers recognize that it's great to stop an act of piracy, but it's even better to convert that act of piracy into a legal sale."
LimeWire's Bildson, however, expressed skepticism about schemes like Loudeye's. "They may provide some degree of comfort doing these things with their spoofing and whatnot, but it's not 100 percent effective," he said. "This is not a long-term solution. This is a stopgap measure that's not going to achieve much in the long term."