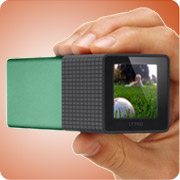 Lytro is giving users of its shoot-now, focus-later digital camera more control over the photos they capture with the innovative snapper.
With the new additions to the Lytro announced Tuesday, shutterbugs will be able to control the camera's shutter speed, light sensitivity (ISO) and bright-light exposure settings, as well as lock the exposure in a scene while changing its composition.
The new features in the unorthodox-looking camera — it looks like a rectangular spyglass with its measurements of 1.61-by-1.61-by-4.41 inches — will be appearing not only in new versions of the product but in existing units, too, through a firmware update.
"We view the Lytro camera as 'living hardware,'" Lytro Director of Photography Eric Cheng told TechNewsWorld. "Updates to the software and firmware allow us to make any needed bug fixes, as well as bring new technological advances for free to our customers."
In addition to the new manual controls, Lytro announced two new colors — seaglass and moxie pink — and two new cases for the snapper.
Greater Creative Control
Giving Lytro shooters more control over the camera's shutter speed allows them to take photos with longer exposure times — up to eight seconds — and to freeze the action in a picture with faster speeds–up to 1/250 second.
With the new ability to control the Lytro's light sensitivity — ISO settings from 80 to 3200 are available — its users can shoot better photos in low light conditions.
Too much light can be as taxing to a photographer as too little light. Lytro addresses that issue by adding a Neutral Density (ND) filter to its camera's toolbox. In manual mode, the ND filter can be activated so a shooter can dial down the light intensity in brightly-lit scenes.
Locking the exposure in a shot, another new feature added by Lytro, gives a photographer the latitude to recompose a shot without worrying about the camera's automatic exposure system changing the exposure of a scene when that isn't wanted.
Feedback Loop
The addition of manual controls to the Lytro's bag of tricks was a direct response to feedback the company received from its customers since introducing the camera last year, Cheng said.
"Many of our customers are incredibly creative and requested additional control over the camera to continue to push the boundaries of Light Field photography and create stunning Light Field pictures," he said.
Lytro's Light Field technology allows the camera to capture much more information about a scene than is captured by a conventional digital camera. Conventional cameras describe the sum total of light rays striking each point in an image. Light Field captures the color, intensity and direction of all the rays of light flowing into the camera.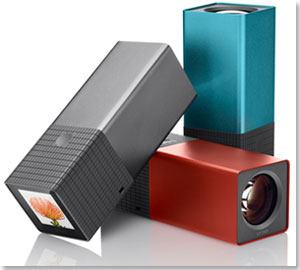 Lytro's cameras in various colors
Lytro's makers have compared pictures taken with its Light Field camera to recording a studio session with a one-track recorder versus a multi-track recorder. Traditional digital cameras are like capturing all the instruments in a musical piece on a single audio track. The Lytro is like giving each instrument its own track and the photographer the power to blend those tracks creatively.
The technology also allows a shooter to alter the focus point in an image after it's been captured.
Attracting Enthusiasts
Adding features to a product can increase its complexity, a situation Lytro tried to avoid with the new additions to its digicam.
"We have stayed true to our simple and streamlined aesthetic," Cheng observed. "The new manual controls are simple to access and use on our touchscreen interface."
The latest additions to Lytro are part of the company's evolutionary roadmap for the camera. "Lytro, as a startup, has the luxury of evolving their product strategy over time," IDC imaging analyst Chris Chute told TechNewsWorld.
Part of that evolution is responding to who's buying the camera, which sells for US$399. "It's no surprise that their first users are photography enthusiasts and that as a startup, Lytro is able to quickly meet their needs by adding these features," Chute explained.
Because of Lytro's limitations — a dearth of features compared to conventional cameras, oddball file format that's not directly editable in Adobe Photoshop, the absence of video capture — photo enthusiasts are its natural audience right now, said Terry Sullivan, associate editor for digital cameras and imaging for Consumer Reports.
"One thing photo enthusiasts see when they use the camera is the potential for it," he told TechNewsWorld, "but I don't find that enough to buy the camera at this point."