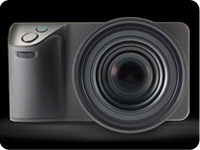 The folks who introduced the masses to ex post facto focusing upped their game Tuesday with the introduction of a new camera aimed at shooters who take their photography seriously.
The Illum, by Lytro, contains an updated version of the company's innovative Light Field engine, which allows the focus in a photo to be manipulated after it's shot. Unlike Lytro's previous offerings — rectangular tubes that resemble slide viewers — the Illum looks like a conventional digital SLR camera.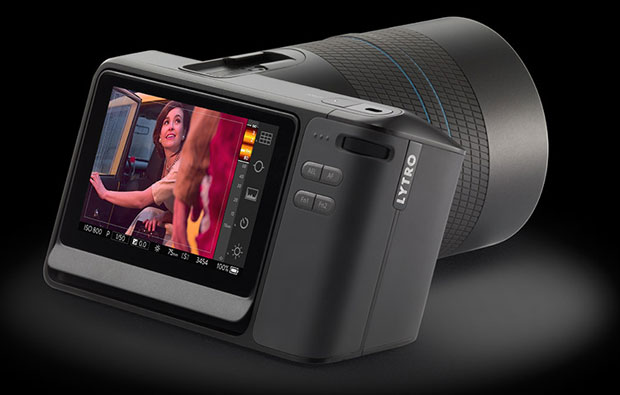 The bytecam, which weighs a little over two pounds, has a magnesium and aluminum body and fixed lens with an 8x optical zoom (30-250mm equivalent) and constant aperture of f/2. The lens also has an extreme macro capability that allows an object to be shot with almost no space between it and the glass.
Other features include a 1/4000 second shutter speed, hot shoe for third-party flashes, one-inch image sensor, and exposure controls for shooting in pre-set programmed modes as well as ISO priority, shutter priority and manual modes.
Powerful Software
The Illum also has a back-lit four-inch tilting color display with a glass touchscreen and resolution of 480 x 800 pixels. Combined with a special "Lytro Button," the screen enables a shutterbug to see all depth-of-field options in a shot.
Once an image is captured, software included with the camera allows elements that would be fixed in a conventional photo — focus, tilt, perspective shift and depth of field — to be modified.
The software also can be used view images in 3D, build custom animations with "Ken Burns" effects that add change of focus with movement, and export to conventional image formats like JPEG. In addition, the camera's workflow is compatible with popular processing suites like Adobe Photoshop and Lightroom, and Apple Aperture.
The Illum has received a resolution boost over its predecessors, too — to 40 megarays from 11 megarays. The megaray metric is used by Lytro because its Light Field technology produces images differently from a typical pixel-capturing digital camera.
Conventional digital cameras capture only a fraction of the information from the light entering a lens. Light Field technology captures much more information from that light by analyzing all the light rays in a scene.
It's All in the Rays
Conventional images tell very little about the light passing through the lens of a traditional camera, Lytro explained. Conventional cameras tell only the sum total of light rays striking each point in the image.
To make an analogy with a music-recording studio, it continued, taking a conventional photograph is like recording all the musicians playing together in one audio track, rather than recording each instrument separately.
In addition to the boost in megarays, the latest Lytro model has received a price boost over prior offerings. Current Lytro cameras sell for US$199-$249, depending on internal storage. The Illum will sell for $1,599 when it's available in July. Early birds, though, can pre-order the camera for $1,499, and legacy Lytro owners can take an additional 20 percent off that.
"Light Field Photography is following the classic pattern for a transformational concept. The original Lytro camera, which launched in 2012, introduced an entirely new era in photography. Lytro Illum will advance this movement to a new level," Lytro founder Ren Ng said.
"With Lytro Illum, creative pioneers — ranging from artistic amateurs to experienced professionals — will tap into a new wave of graphical storytelling," added Lytro CEO Jason Rosenthal. "By combining a novel hardware array with tremendous computational horsepower, this camera opens up unprecedented possibilities to push the boundaries of creativity beyond the limits inherent in digital or film photography."
Future of Photography
Even creative pioneers can be a tough sell for a new technology, though.
"Some of their most vocal critics said the original Lytro was expensive for what it offered," said Stan Horaczek,online editor for Popular Photography. "Now, they're releasing something that costs four-times as much. It's really going to have to impress people to get people to buy into it."
However, the Illum has something going for it that its progenitors didn't have.
"I think the most important change they made was making it look like a camera," Horaczek told TechNewsWorld. "I think a big part of what branded it a 'toy' was how the original Lytro looked."
The Illum makes Light Field technology more appealing to some in the photographic community.
"This makes it more interesting," said David D. Busch, creative director of the David Busch Photography Guides.
"They're allowing experimenters to accomplish things more easily with this technology," he told TechNewsWorld.
Although ex post facto focusing has begun to appear in consumer products — the HTC One M8 has a UFocus feature that does it — the friction between taking a Light Field photo and sharing it can be a drag on broadening its appeal.
"The insular sharing model that hinges on Lytro's own service seems like a serious hindrance to many people," Horaczek said.
"It's a fairly substantial hurdle," he continued. "Relying on an outside service just to show people your images isn't ideal. I went to an article about the new Lytro on a website and the example image they had embedded wasn't showing up. Rather, I saw a prompt for me to log into the Lytro system so I could see the content."
Nevertheless, camera makers failing to take notice of Lytro's technology may be doing so at their own peril. "I look at Lytro and I see this is the way traditional photography is going," observed IDC Research Director Chris Chute.
"If you're a Canon or Nikon, this is the type of technology you have to take a really hard look at," he told TechNewsWorld, "because it's one of the ways that you can differentiate from taking pictures with a smartphone."