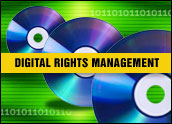 It's as jarring as former First Lady Nancy Reagan saying yes to drugs.
The maker of the code hackers love to crack — Macrovision — is touting the sharing and copying features of the next version of its CDS-300 copy-protection scheme when it's released in this year's fourth quarter.
Those features include compatibility with Apple's music management software, iTunes, and its best-selling digital music player, the iPod.
Some 350 million audio CDs have been sold outside the United States with earlier versions of CDS-300 that block music-ripping from the discs. But Macrovision is taking a different tack with the new edition of the software — version 7.0 — a tack it feels will be more acceptable to the U.S. market.
"We believe that version seven is the first version of CDS-300 that's ready for the Americas," Macrovision Senior Marketing Director Entertainment Technologies Group Adam Gervin told TechNewsWorld.
"That's predicated in supporting the hot digital player of the day, and that is the iPod," he said.
Apple Silent
Asked if the Santa Clara, California company had signed a licensing agreement with Apple to incorporate its digital rights management (DRM) scheme called FairPlay into the next version of CDS-300, Gervin responded, "I really can't comment about the relationship with Apple except to say that Apple works in the same ecosystem that we do, and I think it believes everyone would benefit through enjoying music in a DRM fashion as opposed to a non-DRM fashion."
Apple did not respond to phone calls and e-mails by TechNewsWorld seeking comment on its relationship with Macrovision.
According to Jarad Carleton, an IT industry analyst with Frost & Sullivan in Palo Alto, California, Macrovision's new software will be beneficial to Apple because it will allow consumers to rip songs from protected audio CDs and listen to them in iTunes and on an iPod.
Unreal Situation
"This is very important because the iPod is the most popular digital music player on the market, and if a CD is protected with DRM technology that doesn't allow consumers to transfer the music on the CD to their Apple iPod, you end up with a lot of very dissatisfied customers," he told TechNewsWorld via e-mail.
For just that reason, much consumer dissatisfaction was directed at Macrovision's major competitor, SunnComm, of Phoenix, Arizona, Carleton noted.
Because a Macrovision deal would benefit Apple, the situation between the companies is unlikely to degenerate into the state of war between the Cupertino, California Macintosh maker and RealNetworks, which recently released desktop music management software that converts tracks bought at its music store into tracks that will play in Apple's products.
Significant Step for Apple
"Macrovision is providing value to Apple itself by creating a technology that not only protects music CDs but also helps to feed protected music into the Apple iPod, thereby increasing the value of an iPod for the mass consumer market," Carleton asserted.
"This is why I don't foresee Apple entering into litigation with Macrovision and suspect that there is a chance that Apple might be willing to license FairPlay to Macrovision," he said.
"I don't see this as a watershed event," added Ray Wagner, a research director at the Gartner Group in Stamford, Connecticut, "although it would mark a moderately significant step for Apple."
CD Survival
"Macrovision does not want to miss out on the iPod crowd, while it's a straight licensing deal for Apple that probably won't cannibalize iTunes, as opposed to the Real situation," he told TechNewsWorld.
Some analysts see Macrovision's move as a necessary one for the survival of the audio CD as a music medium.
"It's a realization that if the medium doesn't take into account these [online music] services, then people will begin bypassing that medium and simply purchase online," observed Rob Enderle, president and principal analyst of the Enderle Group in San Jose, California.
"You could certainly see a scenario where secure CDs were forced out of the market by a number of the online properties or forced into such a subservient position that they couldn't move much product," he told TechNewsWorld.
"They are responding to a competitive threat that if they didn't respond to could force them to leave the [market] segment," he added.