Boutique gaming PC maker MainGear on Monday announced a new line of what it describes as "personal supercomputers." The Shift, a large desktop built to user specifications, runs at up to 4 GHz and features its a liquid cooling system. Prices begin at US$2,199.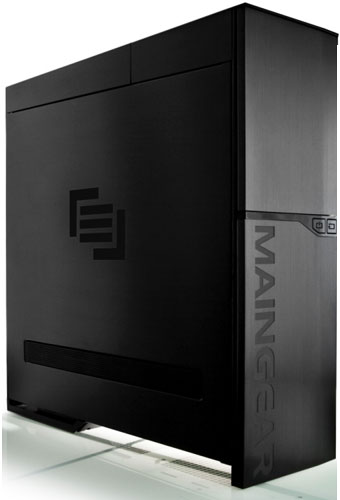 MainGear Shift PC
What this computer shares with supercomputers used in places like the Oak Ridge National Laboratory is a heavy emphasis on the processing ability found in latest-generation graphics chips.
MainGear has designed the Shift line to exploit the natural behavior of heat, according to the company. The internal components have been rotated so that all heat is radiated through the top vents and cool air is drawn in from the bottom. The case has large ventilation grates and inlets for increased air flow.
That's necessary because Shift PCs use up to three graphics processor cards from Nvidia and ATI. "The configuration is designed to accommodate these large, high-heat cards inside the chassis," Chris Morley, chief technology officer at MainGear, told TechNewsWorld.
CPUs generally do not dissipate more than 130 watts of heat, but graphics cards put out between 150 and 200 watts of heat each, Morley explained. "Even Intel's fantastic core i7 CPU can't keep up," he said. MainGear puts a 180mm fan below the intake to draw in cool air as heat escapes upwards through the vents.
Shift PCs have stainless steel frames for strength and airbrushed aluminum exteriors.
The Technical Details
Peripheral connections for users' monitors, keyboards, mice and speakers are placed on the top of the Shift's case. They are concealed by a cover which has a grill to let hot air out. The case has a pop-up panel for Firewire, audio and multimedia memory cards.
Shift PCs have six removable internal drive bays that pop into a backplane. Each drive cage mount has a built-in SATA power and data adapter. "You can pull out the drive cage, insert a drive and it will connect automatically," Morley said.
Each drive bay can hold a 3.5-inch 2 TB SATA drive or two 2.5-inch solid state drives (SSDs). That makes for a total of 12 TB of potential storage.
Shift PCs use Intel's Core i7 and Xeon processors. They also offer support for integrated dual- and triple-channel memory controllers and PCI Express 2.0 expansion.
These PCs use up to three Nvidia CUDA and AMD ATI Radion graphics cards. "The Shift recognizes the increasing role of the GPU (graphics processing unit) in personal computing," Morley said. Nvidia last month announced its next-generation CUDA GPU, code-named "Fermi."
MainGear is not alone in recognizing the ability of the GPU to turn a desktop into a supercomputer. The Oak Ridge National Laboratory, the largest science and energy lab in the Department of Energy, will build a new supercomputer based on Fermi. Cray, IBM, HP, Dell and other computers have also come out in support of the Fermi's architecture, which is designed for general-purpose computation.
Intel is also moving into graphics. In September, it demonstrated the first chip based on its Larrabee architecture for graphics-centric processors. This is a hybrid chip.
Shift PCs use a modular power supply design. They use Silverstone power supplies rated at up to 1.2 KW. The PCs are rated for 50,000 hours of operation. "We test every PC before we ship," Morley said. They are water-cooled to keep the processors' temperatures low while offering performance speeds of up to 4 GHz.
MainGear uses Kingston's HyperX DDR3 memory chips. These offer speeds of up to 2,000 MHz. "We use extremely good components from memory to motherboards to video cards to processors instead of loading up on megabytes and gigabytes but sacrificing on components like the big Tier 1 companies do," Morley said. "All our parts are 100 percent industry standard, and you can swap them out any time you want."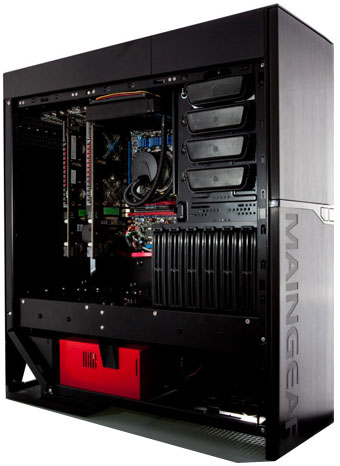 MainGear Shift PC Open view
The Shift PC is 21.6 inches deep, 8.6 inches wide and 24 inches high.
Is the Price Right?
With the economy still limping along and dedicated game console makers cutting prices, is this the right time to come up with a gaming PC line that starts at about $2,200?
There is a market for these products, insists Laura DiDio, principal at ITIC. "Gamers are willing to spend that money, or get their parents or grandparents to buy them a gaming PC," she told TechNewsWorld.
Wouldn't gamers stick to the far less-expensive dedicated consoles like Xbox 360 and PlayStation 3? Or will gaming PCs cut into sales of those consoles? No and no, Stephen Baker, vice president of industry analysis at NPD told TechNewsWorld. "This has little to do with competition with console games," he explained. "Most hard-core gamers are likely to use both."
Gaming PCs appeal to a niche market where profits are high but volume is not, and the gaming PC market looks set to remain strong. "With the Windows 7 launch and the Intel i7 chip coming out, there's lots of opportunity here to give gamers the latest and the greatest, which is what they want," NPD's Baker said. For example, MainGear has had record-breaking sales for four straight months, the company's CEO Wallace Santos said during an interview with Big Download.
MainGear isn't the only company seizing this opportunity; Dell revamped its Alienware line of gaming PCs in September. It released three new models, the most powerful being the M15x starting at $1,499.
"These gaming PCs are elite now, but once they get these features out in the market, you'll see a trickle-down effect to office computers," ITIC's DiDio said. "They'll probably go to power users like network administrators and software developers first."