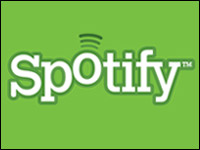 The problem with hitching your wagon to a shooting star, as online music service Spotify is beginning to discover, is that sometimes you can get burned.
Spotify is one of several online music services that have teamed up with Facebook recently and was singled out by the social networking giant at its f8 developers conference in San Francisco last week.
That special mention sent Spotify's daily average user figures soaring from just over 1 million on Sept. 23 to a peak of about 3.5 million on Sept. 25, Appdata's statistics indicate.
This meteoric rise was matched by a plunge on Monday to about 1.6 million, and Tuesday's statistics at the time of writing indicated the number stood then at just below 1.5 million.
Spotify's new policy, which requires all new users to sign in through a Facebook account, might be the culprit.
"Consumers now get to vote with their signups and their wallets," Carl Howe, a research director at the Yankee Group, told TechNewsWorld.
So, whose idea was it to make signing in through Facebook mandatory for new Spotify users? Facebook's? Or Spotify's?
Facebook spokesperson Kyla Keefe directed TechNewsWorld to Spotify when asked to comment.
"As most of our users are already social and have already connected to Facebook, it seemed logical to integrate Spotify and Facebook logins," Spotify spokesperson Alison Bonny said.
The idea is to create a simple and seamless social experience, Bonny told TechNewsWorld.
Too Seamless for Its Own Good?
Perhaps users are wary of too seamless an experience with Facebook. That problem could be the result of criticism leveled against Facebook several times in the past over its stance on privacy.
Facebook CEO Mark Zuckerberg has famously declared that privacy is, for all intents and purposes, dead, and at f8 he said Facebook's new Open Graph apps would help members discover new things through their friends in three ways.
These are: Frictionless experiences, real-time serendipity and finding patterns in friends' activities.
The frictionless experience would mean that once users add apps to their timelines, the apps take it for granted that they always have permission to access that timeline.
"Now Spotify isn't going to have to prompt me every time it wants to add an activity and I'm in the middle of something else," Zuckerberg said at f8.
'Trying New Things'
Real-time serendipity lets Facebook subscribers see what their friends are doing in real time and possibly join in those activities online.
"If you see they're listening to a song that's cool you hover over it and it will play in real time so you're listening to the music in real time with your friend," Zuckerberg said.
Further, subscribers can look at patterns in their friends' activities over a period of time, which will let them "discover some really neat new things," Zuckerberg said.
Taken together, these three factors mean apps can access your system at any time, something with which privacy defenders may have a problem.
It's unclear how long Spotify will keep this new policy in place.
"We're constantly trying new things, always looking for feedback, and we're always going to listen to our users, making changes based on this feedback wherever we can," company spokesperson Bonny said.