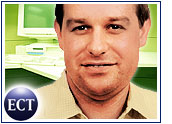 Federal Communications Commissioner Michael Copps recently lamented that "the Internet may be dying," but he might as well have said "the sky is falling." Indeed, Copps seems to see his position as one of two Democrats on the five-member commission as a reason to stir up fear, uncertainty and doubt.
In a series of speeches on topics including the death of the Internet, the position of incumbent telephone companies, and the problems surrounding the alleged concentration of media, Copps has pleaded his case for more power to the FCC in order to regulate Americans into the next century.
His misguided concerns run counter to those of Michael Powell, chairman of the FCC, who stated recently, "as one who believes unflinchingly in maintaining an Internet free from government regulation, I believe that IP-based services such as VoIP should evolve in a regulation-free zone."
VoIP benefits consumers by allowing low-cost phone calls over the Internet, but in typical paternalistic fashion, Copps argues that "before [VoIP] becomes too hot for end-users and entrepreneurial-minded businesses to touch," the FCC "must bring clarity to the issues."
Embrace and Empower
In contrast, Powell maintains that "no regulator, either federal or state, should tread into this area without an absolutely compelling justification for doing so…." Powell sees the potential of technology to enable and to empower people — but only through the absence of unnecessary and undoubtedly harmful governmental regulation.
Not currently saddled with the regulatory burdens of traditional phone providers, VoIP technologies are quickly moving closer to the mainstream. But it still remains to be seen whether they will supplant existing methods of communication, so the FCC needs to be cautious about rushing to regulate the technological equivalent of apples and oranges.
Power-hungry regulators with dollar signs for federal coffers in their eyes should not be given the authority to map out the future of communications before it happens.
Benefiting the Consumer
Another of Copps' concerns is the consolidation of media interests that has occurred in the wake of economic conditions and business judgment decisions.
Much like his misplaced concerns about incumbent telephony providers, his thoughts on media concentration are another opportunity for the Commissioner to rail against people who simply have been successful enough to adapt and adjust to changing business and economic environments.
The competitive nature of the free market has left in its wake several formerly large companies that are unable to sustain their existence but for the money and support of their more stable competitors.
One need look only as far as the airline industry, the Internet economy or the auto industry to see that companies have consolidated for appropriate reasons that often ended up benefiting the consumer.
A Future of Innovation
General apathy outside of the Beltway — coupled with the complexity of issues facing the FCC — causes most people's eyes to glaze over when they hear about telecommunications, media ownership and the like. People simply want to know if their phone bill is going to go up, if they are going to be able to watch their favorite television show, and if their Internet connection is going to be fast enough to download the latest content.
But this does not mean we should accept the musings of a Commissioner with a fear of the unknown and a political axe to grind. Perhaps Commissioner Copps should stop and consider the words he recently uttered, that "it's no slam dunk that the old rules even apply."
So long as the leaders of the FCC allow for logical policymaking and cautious optimism, the future will hold exciting innovations with great benefits.
---
Lucas Mast
is a fellow in technology studies at the California-based
Pacific Research Institute
.
---