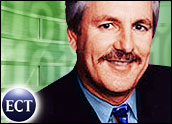 The Linux folks must be feeling like they've walked into some kind of alternative universe. Last week, Oracle made its move to take Linux over by swiping Red Hat's revenue stream in a pre-Halloween surprise. This week, Novell and Microsoft are partnering in an event for the history books.
In a year of mixed financial reports, Gateway entered the gaming market and released surprising financial results on top of what may be the best deal in a high-performance gaming bundle. Finally, a study from ABI suggests that either Zune will kick iPod butt or someone is trying to corner the market on wishful thinking.
Novell and Microsoft Strike the Impossible Deal
Ok, aNovell-Microsoft Linux partnership simply has to be right out of news of the weird. Novell and Microsoft have hardly been close historically, but partnering in a way that may protect Suse Linux has to top the charts for announcements that should have been done on April 1st, because it is simply unbelievable.
I'm actually having a chuckle wondering what the folks over at the Linux fanboy sites are going to write about this one. Even referring to Microsoft as a "white knight" would probably have most catatonic long before they finished the first paragraph. The fact is, Oracle represents a major threat to both companies, and Novell was likely to be collateral damage in the process of Oracle's attempt to sink Microsoft.
Strangely enough — much like it was with Oracle — the real trigger for this relationship may have been the hostile activity that Richard Stallman had been taking, which was scaring the companies that supported Linux into action. For Oracle, this meant a predatory move to take control of Linux. For Novell, it meant a willingness to partner with Microsoft to address real customers concerns — and by so doing create meaningful competitive advantage.
While the two firms had been working together to cut a deal for some time, it appears more than coincidental that the deal was done shortly after the Oracle announcement — and that it is an incredibly robust partnership. Estimated at creating a situation where Microsoft resells Suee Linux — strangely enough, making Microsoft into a Linux reseller — it carries elements of indemnification for both customers of Microsoft and customers of Novell offerings.
With Vista coming, and with the widely touted Munich Linux deployment — which after three years isstruggling to reach 200 units out of the 14K initially announced — we know at least one Linux customer who could use Microsoft's help. (A typical large scale Windows deployment can exceed 200 desktops an hour.)
Seriously, both platforms have solid advantages and generally address differing needs anyway, so a cooperative arrangement may have always made more sense, and it may have simply been the case that many of us were simply unwilling to see it.
When we talk of change, we seldom see this much of it in a very short period of time. With Oracle's announcement, Linux was forever changed but the risk of Linux becoming Oracle road kill increased. With the Microsoft-Novell announcement, the customers' need to have Linux and Windows interoperate was effectively addressed — as were their IP concerns.
Any time companies do the impossible and customers benefit, congratulations are in order. If this sets a trend of companies cooperating to do what's right for customers, then the future just got a lot brighter. In the end, this means Novell is clearly putting itself back in the game, and this creates the strongest future for that company it has had in years.
Gateway's Fortunes Improve
Speaking of back, Gateway reported financial results last week, and it launched a new gaming platform and monitor. Solidly back into the black with strong growth numbers in retail and business segments, it may once again have stifled a potential feeding frenzy to purchase the company.
However, it was the launch of anew gaming PC that caught my eye.
This product, which is slated to be one of the first to get the new Intel quad core processor, is also bundled with what could be the best 24-inch monitor now on the market. This monitor builds on the company's very successful 21-inch product with a built-in upscaler that makes it ideal for watching DVDs, playing video games, and watching TV using the tuner built into the PC.
Very similar to Dell's successful entry into this space a few years back, which eventually led to its purchase of AlienWare, Gateway's entry into the gaming market is a good first step — particularly since the FX530T appears to be benchmarking as the fastest of the quad-core products that have so far hit the market. Here, performance really does matter.
iPod vs. Zune – and Zune Wins?
After seeing the Zune offering, no one is more surprised than I am that the majority of potential buyersintend to buy a Zune rather than an iPod in the coming weeks. This comes right after an historical look back at what many of us saidwhen the iPod launched.
The ABI survey may simply go to show that those of us in the industry may not always get what the buyer wants. Often, what looks unattractive to us may be attractive to the audience targeted by a specific device.
One conclusion the survey reaches that most of us did realize was this: There really is no loyalty to any one vendor in the consumer electronics space. People often switch between vendors for TVs, stereos, and other home electronics and appliances, so it was actually more likely that people would not be tied to Apple for the iPod based on past experiences.
With increasing reports ofiPod problems and the arrogant response to theRandom Shutdown Syndrome annoying many of the Apple loyalists, maybe it isn't surprising that folks want to switch.
Still, the Zune is kind of bulky, and the key color is brown — which really seems to counter the popularity of iPod and Razr colors and design. Everyone and their brother has been flocking to these thin products that often lack critical features — and must be unusually fragile in construction in order to reach these incredibly slim dimensions. It would seem that experienced buyers might prefer a more robust product that actually has all of the important functionality.
Of course, the survey could simply be designed to make Microsoft executives who made a bad decision look smart before the reality of actual sales sets in. Surveys that don't require the actually spending of real dollars are relatively unreliable anyway. However, it is also true that tastes change, and while Apple's designs may be Porsche at the core, kids are actually buying Scions, which are closer to the Zune in terms of core design elements.
So, the survey could be right and Zune could, in fact, be very successful, which would make for a very interesting end to a very interesting year — particularly for Microsoft, Novell, Apple and Linux.
---
Rob Enderle
is a TechNewsWorld columnist and the Principal Analyst for the
Enderle Group
, a consultancy that focuses on personal technology products and trends.
---