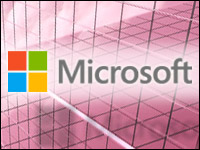 Microsoft on Thursday laid out the specifications and pricing of its Surface tablet with Windows 8 Pro, which goes on sale in January.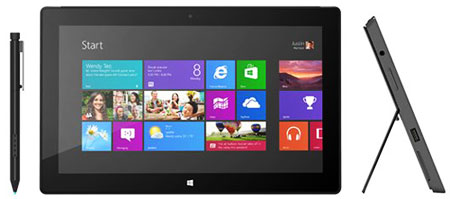 The Surface with Windows 8 Pro, due out in January
It will offer the 64 GB standalone version at US$899 and the 128 GB standalone version at $999, both including a Surface pen with Palm Block technology. Palm Block prevents pen-based input from being interrupted when users place their palms on the tablet's screen.
Surface tablets running Windows 8 Pro are 64-bit tablets based on third-generation Intel Core i5 processors with an Intel HD Graphics 4000 GPU. The tablets' 10.6-inch ClearType displays have a 16:9 aspect ratio and run at 1920 x 1080 full HD resolution.
They weigh less than two pounds, and will be 13.5mm thick.
Mixed Responses
"This is a no-compromise platform compatible with current security and administrative processes and backwards compatible with Windows 7 and legacy applications in addition to the new modern user interface tile style," Jeff Orr, senior practice director at ABI Research, told TechNewsWorld.
"Microsoft's claim that this is a no-compromise tablet is just marketing speak," said Carl Howe, research vice president at the Yankee Group. "The Surface Pro is ultimately a compromise device trying to split the software baby between the desktop and tablet worlds."
"This is more of a laptop alternative than an iPad alternative," Rob Enderle, principal analyst at the Enderle Group, remarked. "It is targeted at the unhappy MacBook Air users that were disappointed in the iPad."
Microsoft did not respond to our request for more details.
Under the Surface
The tablets will include a full-size USB 3.0 port, and a Mini DisplayPort. The latter will let users hook them up to an external display with a resolution of up to 2560 x 1440 pixels. The tablets also have a microSDXC card slot and a cover port.
The Surface with Windows 8 Pro tablets have 10-point multitouch screens. They will have a Dark Titanium VaporMag casing and a kickstand like their counterparts in the Windows RT line. They will also have a font-facing and a rear-facing cameras offering 720p HD capability with TruColor, and volume and power buttons.
Don't expect to be able to use the full 64 GB or 128 GB of built-in storage the tablets have; Microsoft warns that the "system software uses significant storage space" and the amount of storage available will depend on system software updates and app usage.
The tablets offer WiFi and Bluetooth 4.0 connectivity, and come with dual 2×2 MIMO antennae. Both have an ambient light sensor, accelerometer, gyroscope and compass.
They come with preloaded apps for Windows Mail and Messaging, SkyDrive, IE 10, Bing, and Xbox Music and Games.
The Surface with Windows 8 Pro tablets will run current Windows 7 desktop applications and Microsoft Office. However, Office has to be purchased separately, as does the keyboard cover.
Who'll Need Ya?
"Microsoft has a great chance of being successful in the enterprise market with these devices," Eric Ogren, principal at the Ogren Group, told TechNewsWorld. "Every business runs on Windows applications with a Microsoft infrastructure, especially Active Directory." However, Surface "will fail if it becomes bloated and tries to be all things to all people."
The Surface with Windows 8 Pro may find a niche with IT departments charged with deploying tablets running existing enterprise apps, Howe told TechNewsWorld. "I think of it as a gateway tablet designed to move businesses gradually into a touch environment."
However, businesses probably won't account for any significant purchases until the middle of next year, by which time they will have been able to budget for the purchases and try the devices out, ABI's Orr remarked.
It's not likely that consumers will go for the Surface tablets with Windows 8 Pro because "the price delta, particularly when you take into account the price of Microsoft Office, which isn't included, is going to be difficult for consumers to get over," Enderle told TechNewsWorld.