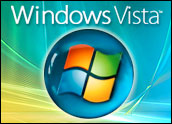 A strong backlash from technical users of Windows Vista has forced Microsoft to revise its general release dates for Vista Service Pack 1, moving up the release date for technical users to the end of February.
Microsoft released Vista SP1 to manufacturing last week in the English, French, Spanish, German and Japanese-language versions. Release to manufacturing means sending the software to the factories where it is burned onto disks and packaged in boxes for shipping.
Vista SP1 will be released to Windows Update and to the download center in the first five languages in mid-March, said Mike Nash from Microsoft's Windows Product Management Group. Originally, Microsoft planned to release SP1 to IT professionals at the same time, but a flurry of blog comments resulted in the accelerated release. Technical users wanted to receive the update at the same time it was released to manufacturing.
Windows Vista customers who have updates downloaded automatically to their PCs would get access to Vista SP1 in mid-April. Versions of Vista SP1 in languages other than the first five would be released to manufacturing in April.
The delay in releasing Vista SP1 was to ensure compatibility with some device drivers that didn't work properly during beta testing, which began in late September, Nash said.
When Windows Vista was launched in 2007, it caused so many problems that its sales fell far below projections, and many users switched back to Windows XP.
"When Vista was initially released, it was arguably less stable and slower than Windows XP for many operations," Michael Silver, research vice president at Gartner, told TechNewsWorld.
Microsoft has released "a significant number of fixes" to Vista through automatic updates over the past year or so, and now SP1 "lets them fix some additional items so they're really shooting to make an operating system that's as stable as or more stable than Windows XP," Silver added.
The Best Laid Plans
Customer care may have been behind the delay in releasing Vista SP1, but technical users, who subscribed to the Microsoft Developer Network and TechNet, were steaming.
"This is one of the reasons I am considering dropping my TechNet subscription this year," fumed a TechNet subscriber signing himself Matt. "How can I show the boss that this is the final code and things are buttoned up tight for a Vista roll-out?"
The delay was "a stupid decision" because Windows Server has already been released to TechNet and MSDN users, while Vista SP1, "which … comes from the exact same codebase" was not, according to another poster, tziegmann.
Blog moderator Kathy Dixon opened a new post after being deluged with angry comments.
When You're Hit, Backpedal
Dixon's new post announced that Mike Nash had updated his blog and that the release date for TechNet and MSDN subscribers will be moved up to the end of the month, and thanked subscribers for the "spirited discussion" on the issue.
That didn't mollify everyone, though.
"Would you be able to explain the reasoning to not release Vista SP1 to MSDN and TechNet on February 4th, at the same time Windows Server 2008 became available?" a poster signing himself as Maarten asked.
In his new blogpost, Nash announced new release dates for Vista SP1.
Volume licensing customers will get the English version of Vista SP1 at the end of this week; MSDN and TechNet Plus subscribers will get it later this month; and general users will still have to wait until mid-March. Participants in the Vista SP1 beta program got the software last Friday.
Windows Vista SP1 is final, and Microsoft will not make any changes to the code prior to making it publicly available, Nash said in his blogpost. "Please keep the comments coming. We are listening," he wrote.
Savin' Microsoft's Bacon
The new schedule saved Microsoft at least one Vista customer.
One of the 84 responders to Nash's new blog, who signed off as eponymousnyc, said, "Nice call. I was planning on coming in this weekend and rolling my work machine back to XP, but now that I don't have to wait six weeks, I'll give you guys a chance."
The new schedule is "good because it lets volume license customers start testing sooner," said Gartner's Silver, but he warned that early users should be aware of the device driver incompatibility issue when they are installing Vista SP1.
Why the Fixes?
Vista's notorious instability as an operating system came about because it was released too soon, Mahmoud Alqudsi, director of NeoSmart Technologies, a non-profit Chicago company that analyzes technology and develops software for free downloads, told TechNewsWorld.
"They rewrote a lot of components from scratch and these weren't perfected when they released Vista," he said.
"They had various issues and problems, and now we're finally able to address the various quirks. What we'll see after SP1 is installed is what we should've seen originally when they released Vista, but in general they've taken a pretty good approach," Alqudsi added.