You really don't get a sense of just how limited the iPad is until you actually explore the Surfacetablet that Microsoft released last week. It is like the designers sat down over beers and argued over everysingle shortcoming they found in the iPad and then built into Surface just the right features to make the iPad look inadequate.
It is as if they put their decade of frustration over Apple kicking their butts with the iPod, iPhone and iPad into one vengeful response — and that offering is the Surface tablet. What I think will make this response even more painful is that Apple just launched its iPad mini at a price that's 60 percent higher than the competition, and I doubt that will turn out well. So the new Microsoft tablet could actually significantly outsell the new less-expensive iPad mini in its debut quarter, and Microsoft has never done that to aniProduct.
My product of the week has to be the Microsoft Surface tablet — an offering that turned out far better thanany of us expected.
Designed From the Inside Out
One sentence spoken during the launch of the Surface tablet really got my attention and made it clear that we hadn't been looking at the Surface tablet properly. You see, Apple designs very uniquely in the technology market — well, in any market other than art, really. It designs from the outside in.
This creates beautiful products but also massive problems, because to fit all of the technology into the tiny case, it often has to make huge tradeoffs — sacrificing advanced radios, for example, or putting antennas in the wrong place, or creating a frame that won't protect the screen adequately. Thus has resulted in limited ports, lack of memory slots, and what has proven to be a rather fragile product family, given how much money the firms that specialize in fixing iPads seem to make.
By going the more traditional design route, Microsoft has built a tablet that has more ports (USB andHD out), is more balanced, is sturdier, has a memory slot, and has a screen aspect ratio that not onlymatches media but is more consistent with current-generation laptops.
Yes, something we really didn't notice is that the iPad uses the old near-square laptop screen aspect ratio that has been obsolete on all but the cheapest notebooks for years.
Microsoft was also able to add a fast-charge battery that can charge almost fully in two hours.
Keyboard Cover
This is one of the things that I think drove Bill Gates nuts: Back in 2007, while they both shared the stage, Steve Jobs basically called Bill stupid for suggesting tablets would be the future of computing. Jobs argued that you'd pretty much have to be stupid to think people would give up a keyboard.
So, the iPad doesn't have an integrated keyboard option, but the Surface tablet does. In fact, it looks like Microsoft took the signature magnetic cover that Apple launched with the iPad and made it useful.
The irony doesn't end here, because Tim Cook, Apple's current CEO, has been comparing the Surface tablet-plus-keyboard to the ugly offspring of a refrigerator and toaster. This kind of suggests that he thinks Jobs was stupid, and I think that is why this one option likely put a huge grin on Bill Gates' face.
The Kickstand
Now I don't get why every tablet doesn't have one of these. If you want to share a video, someone hasto hold up the damn iPad. If you want to use a wireless keyboard, you have to have a stand — and oftentouching the damn iPad will cause it to tip over. We've had kickstands on motorcycles and bicycles fordecades, and we've even had them on some smartphones. Why was this so hard to figure out?
Well, this takes us back to design; Apple didn't want to mar the perfect back of its product, eventhough you really don't look at the back that often.
Yep — the Surface Tablet has a kickstand.
Cloud Services and Productivity
The only thing that really makes iCloud look good is the horrid MobleMe service that it replaced.Compared to MobleMe, iCloud is brilliant. However, it also showcases that cloud services aren't Apple's forte.
Microsoft has wrapped Surface (and all of the Windows tablets) with a broad set of services — fromSkype to SkyDrive — that are designed to showcase its cloud competency. Integration with Exchange issuperior, but so is integration with Gmail and other third-party mail services that work even when youaren't connected.
The other area that Apple struggles with is productivity. In fact, Office is still the leading productivityapp on Macs, but it doesn't run on iPads. Strangely enough, the best productivity pack I've ever tried onan iPad is Office 365, which you can get to through the iPad browser.
Office comes packaged with the Surface tablet.
Wrapping Up: The Anti-iPad
There is an old saying about Microsoft needing three tries to get something right. The Zune launched asa brown turd (the signature color). The Kin phone was better looking, but still a really bad failed idea, and then we got the Surface tablet, and it's surprisingly impressive.
What is more interesting is that it makes the iPad — even the brand new iPad 4 — look incomplete and just a tad out of date. Now, if Microsoft can only fund marketing adequately, it will have a winner here.
Product of the Week: Microsoft Surface Tablet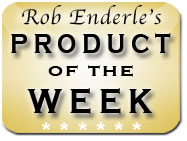 What I think is funny about the battle to come between the iPad 4 and the first Surface tablet is that theiPad really pointed the way. So many people I knew really wanted to get rid of their laptops and usethe iPad instead but then found it wanting, and most are back to using laptops most of the time.
Apple created the need but didn't fill it, and I don't think it was because it couldn't — it was because itwanted people to buy a MacBook and an iPad.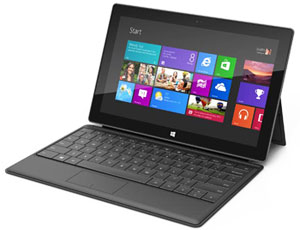 Microsoft's Surface RT Tablet
So, with the Surface tablet, Microsoft stepped in and fixed a problem Apple didn't want fixed but that still needed to be addressed. Seeing this opportunity and going after it, rather than just trying to create an iPad clone, is the kind of creative strategic move that founded Microsoft and that we haven't seen from the company often in the last few decades.
You don't beat a company like Apple by trying to build a better Apple product; you beat it by doing abetter job of meeting customer needs than it does, and by forcing it to fight on your terms. This iswhat Microsoft is attempting with Surface. It is not a sure win, but it is a vastly more powerful attemptthan anything it's tried since launching Windows.
Because the Microsoft Surface tablet showcases a Microsoft much closer to the dynamic, strategiccompany I first knew, it is my product of the week.