With the demonstration of its newest mobile platform Monday at the Mobile World Congress in Barcelona, Microsoft vastly extended its mobile platform and at the same took it in a new direction, at least from a naming and branding perspective. It's dubbed the new platform "Windows Phone 7 Series."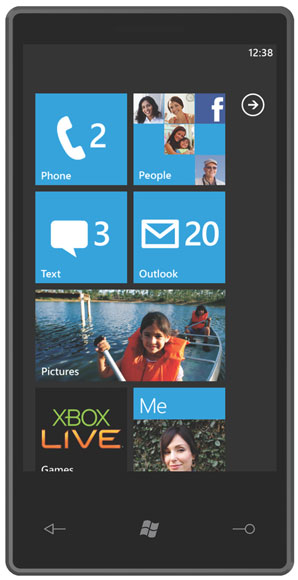 A demo start screen of Microsoft Windows Mobile 7
For the new platform, Redmond is bringing together Xbox Live games, the Zune music and video experience, social networking, mobile apps, access to Microsoft Office and photographs.
It has already lined up several partners worldwide, and the first smartphones with Windows Phone 7 Series will be available in time for the holiday buying season, Microsoft announced.
What's Inside?
Microsoft CEO Steve Ballmer's introduction of Windows Phone 7 Series seemed to echo what HTC, Samsung and Google have said recently when introducing their new phone families — the platform "marks a turning point toward phones that truly reflect the speed of people's lives and their need to connect to other people and all kinds of seamless experiences," he stated.
The "Start" screens of Windows Phone 7 Series devices will have dynamically updated "live tiles" that show real-time content updates. When a user creates a tile of a friend, up-to-date info, such as that friend's latest pictures and posts online, will show up on the screen.
Windows Phone hubs will bring together related content from the Web, applications and services into a single view to simplify common tasks. There are six such hubs: People, Pictures, Games, Music + Video, Marketplace and Office.
All Windows Phone 7 Series phones will have a dedicated hardware button for Bing, and a special implementation of Bing Search will provide the most relevant Web or local results as required.
The People hub includes live feeds from social networks and photo sites; the Pictures hub lets users share pictures and videos on social networks; and the Games hub offers Xbox Live games on a phone.
Music + Video brings Zune functionality — including content from users' PCs, online music services and a built-in FM radio — into one location. Marketplace lets users discover and load the phone with certified mobile apps and games, and the Office hub gives users access to Microsoft Office, OneNote and SharePoint Workspace.
Breaking Down the Phone 7 Series
That hardware button for Bing may restrict users' choice to a certain degree. It's doubtful that upcoming Windows phones would outright forbid access to other search engines, but it's possible that only Bing will enjoy one-button access.
Also, instant linking to social networks raises questions about privacy. Google has already been burned on its Buzz project by critical privacy advocates, and Microsoft could run into similar problems if it builds in too many automated processes.
As for mobile apps, Microsoft's decision to build Xbox Live and Zune capabilities into Windows Phone 7 Series may be an attempt to catch up with the popularity of functions available through competitors like Apple's App Store. Microsoft has long allowed third-party developers to create applications for Windows Mobile, but Apple was able to generate significant new consumer interest by building a central mobile app storefront inside its already popular iTunes platform. Other smartphone software makers, including Microsoft, have since also built centralized application stores.
Still, incorporating games and other hubs into Windows Phone 7 Series may be more than just a defensive move; it might let Microsoft leverage existing products to maximize potential returns. "This is Microsoft saying 'We have all these other services — Xbox, Zune, the marketplace — and we want to integrate that with our smartphone," Chris Hazelton, a research director at The 451 Group, told TechNewsWorld.
Redmond has lined up partners worldwide to support the Windows Phone 7 Series platform. They include mobile operators AT&T, Deutsche Telekom and its American child T-Mobile USA, Orange, Sprint, Telecom Italia, Verizon Wireless and its European parent Vodafone.
Manufacturers include Dell, HTC; HP, LG, Samsung, Sony Ericsson, Toshiba and Qualcomm.
Sidestepping the WinMo Curse?
Since Windows Phone 7 Series is the latest version of Microsoft's mobile phone platform, why not call it "Windows Mobile 7" to maintain continuity?
That's possibly because Microsoft wanted to avoid the bad connotations of the WinMo name, Carl Howe, director, anywhere research at the Yankee Group, pointed out. "The name change is an admission that Windows Mobile wasn't successful," he told TechNewsWorld. "If you have a product that's a break from the past, you don't want to burden it with a brand that has a checkered past."
Windows Mobile's past wasn't just checkered; it was cross-hatched and polka-dotted. Smartphone consumers and even some manufacturers turned their backs on the Windows Mobile 6 series of updates, yet many held out hope for WinMo 7. However, the next version of Microsoft's mobile OS been delayed several times since 2008, and up until Monday, there was speculation that it might be put off yet again until 2011.
Nokia, Intel Unveil MeeGo
Not to be outdone by Microsoft, Nokia, whose Symbian Foundation recently transitioned the Symbian platform to open source, jointly unveiled a new, open source platform with Intel on Monday.
Meego, as the new platform will be called, is a combination of Nokia's Maemo and Intel's Moblin platforms. It is being hosted and administered by the Linux Foundation.
MeeGo will support multiple hardware architectures across a broad range of mobile devices, from pocketable mobile computers to netbooks to tablets to mediaphones to connected television sets to in-vehicle infotainment systems.
It offers the Qt application development environment. This is a cross-platform application and user interface framework that lets developers write an app once and deploy it across multiple platforms without having to rewrite the source code. Qt is used in Google Earth, KDE, Opera, Skype and VirtualBox. It was created by Trolltech, which Nokia acquired in 2008.
Apps developed with Qt will be marketed through Nokia's Ovi Store and Intel's AppUpSM Center. The first release of MeeGo is expected in the second quarter of this year, and devices running the platform are scheduled for launch later in the year.
Living Together in Harmony?
Right now, MeeGo and Windows Phone 7 Series are not exactly competing with each other head-on. "MeeGo is really meant for a wide variety of devices, and Windows Phone 7 Series is targeted at consumer smartphones," Hazelton said.
Also, MeeGo may not get off the ground unless Intel and Nokia put some elbow grease into the project. "I don't see MeeGo getting any traction yet; it depends a lot on what Nokia and Intel do with it," the Yankee Group's Howe said. "Making something open source isn't enough to guarantee its success; you also have to market it with real products."
Windows Phone 7 Series is a good effort, Howe said, but it also needs a lot of work. "Microsoft gets a lot of credit for dumping Windows Mobile's legacy feature and starting over to build a good consumer-centric experience," he said. "But we won't know if they're successful until we see actual devices."
Whether or not those devices make any headway depends on how they'll measure up against the iPhone. "They'll be competing with the iPhone [version] 4," Howe pointed out. "Still, I have to give Microsoft an A for ambition. Let's hope they extend that A to execution as well — demos are easy, but shipping products is hard."