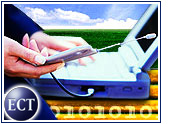 Mobile computing and wireless networking received a boost this week as Microsoft and HP announced new products at ITU Telcom World in Geneva, Switzerland.
While HP unleashed a tsunami of product announcements on Sunday, it was Microsoft that had analysts buzzing on Monday with the unveiling of its Wireless Provisioning Services (WPS), a new technology for accessing WiFi hotspots.
Slated for release in the first quarter of 2004, WPS will be available as a downloadable upgrade for Windows XP and as part of a service pack for Windows Server 2003.
Trick or Treat?
Microsoft claims the technology is aimed at making it easier for users to sign on to wireless services at public and private access points, simplifying the processes of provisioning and managing hotspots and securing data on wireless networks.
But skeptics believe the software company's implementation of WPS is just another way in which it hopes to undermine competing operating systems, such as Linux. That's because devices running WPA will only be able to talk to hotspots that are connected to computers running Windows 2003 Server.
Microsoft's critics also fear that the company might be fouling the standards waters, which until now have been kept pristine by the WiFi Alliance, one of the neutral industry groups overseeing development of WiFi implementations and standards.
No Comment from Alliance
Asked by TechNewsWorld about Microsoft's move, the Alliance said in an e-mail message, "Unfortunately, it is our policy not to comment on the business plans of individual companies."
When announcing WPS, Microsoft made rhetorical allusions to open standards, but that is not what the technology is about, noted Warren Wilson, mobile and wireless practice director at Summit Strategies, a market research firm in Framingham, Massachusetts.
"It's more about driving adoption of client upgrades to Windows XP and driving sales of Windows Server 2003," he said. "But I don't see any attempt to hijack anything."
Wireless, Wireless Everywhere
Wilson explained that WPS is a bridge technology needed until more robust security standards can be released under the 802.11i designation. "There has been broad recognition that some interim step was needed between WEP and 802.11i, and WPS is that step," he said.
Some aggregators also are welcoming WPS onto the scene. "It's a great first step toward normalizing authentication procedures across the industry," Boingo director of project management Christian Gunning told TechNewsWorld. "The public WiFi space is highly fragmented, and establishing a common authentication structure would simplify a number of the roaming issues from the operator-aggregator perspective."
WPS is not the complete solution, he added. "As an XP-only service, it ignores the vast majority of the installed user base who still have Windows 2000 or other Windows versions."
In addition to the platform limitation, said Gunning, WPS doesn't integrate additional products and services that customers want, such as 3G WAN, VPN connections or location-based services. "These will be big in the market in the next 6 to 12 months," he said.
HP on the Move
Prior to Microsoft's announcemnt, HP unveiled a slew of new products, including new Bluetooth- and WiFi-enabled printers; new wireless business notebooks and mobile workstations; new Pocket PCs with built-in WiFi and Bluetooth chipsets; a new GPS navigation system for the company's iPAQ Pocket PC; and a new tablet PC powered by an Intel Centrino chip and enabled with WiFi and Bluetooth.
According to HP vice president Tera Bunch, the new products allow HP to "deliver on the value proposition of simple, smart and safe solutions across both business and consumer markets."
In addition, HP also announced a new platform that allows Bluetooth-enabled multimedia messaging from Nokia Series 60 phones to HP printers.
"Our announcement with Nokia is particularly important," Bunch told TechNewsWorld. "We're bringing a whole new range of products with cell camera phones into the mobile imaging market and connecting them up with products that consumers have been using in this space for a long time."
Nokia Connection a First
HP also is enabling the phones to participate in several network printing and communications technologies — the first partnership of its kind, according to Bunch.
"Mobility is really about seamless access to corporate and personal information," Yankee Group vice president Rob Rich said in a statement.
"Users want rich content and applications with appropriate levels of service and security over a broad variety of access media," said Rich. "HP's extensive portfolio of products, services and partnerships position [it] uniquely across all aspects of the mobillity marketplace, including service providers, enterprises, business users and consumers."