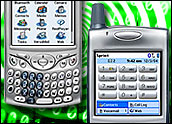 In the comic book series X-Men, Magneto is a supervillain bent on world domination. Microsoft is associating its Magneto with world domination, too — domination of the global mobile operating system market.
Magneto, the code name for version five of the Redmond, Wash., software maker's mobile operating system, is expected to be introduced today at the Microsoft Mobile & Embedded DevCon (MEDC 2005) in Las Vegas.
However, even before the OS is out of the gate, pundits are predicting it could have a serious impact on leaders in the mobile market like Symbian, maker of an OS for smartphones, and Research In Motion (RIM), purveyor of the Blackberry mobile e-mail device.
Blackberry Killer?
Late last month, two Gartner analysts, Nick Jones and John Girard, predicted Magneto would cause big trouble for Symbian, which has some 50 percent of the smartphone OS market.
Rob Enderle, president and principal analyst of the Enderle Group, of San Jose, Calif., although unable to reveal any details about Magneto because of a non-disclosure agreement signed with Microsoft, did attest to the software's potential to slice into Symbian's lead in its market and the Blackberry's popularity among the corporate set.
"Yes, this definitely has that potential, though it will depend as much on the hardware implementation as it does on software," he told TechNewsWorld via e-mail. "And hardware has been a traditional Microsoft weakness because they don't control it. I've seen at least one phone that looks to be close enough, however, and think that they may have the right stuff this time as a result."
Common Mobile OS
Microsoft has kept details about Magneto under tight wraps, but a Russian Web site, mobile-review.com, has had information and screenshots of the new OS posted there since the end of March.
According to the Web site, Magneto will create a "common operating system, which replaces Windows Mobile for Pocket PC and Windows Mobile for Smartphone."
It noted that the new OS makes it easier to navigate with one hand on a hardware device.
It said that photos can now be added to contacts in the software's contact manager and that Microsoft has revamped its mobile office suite, including adding a mobile version of PowerPoint, and renamed the suite Office Mobile.
Future of Hand-Helds
Microsoft's melding of its hand-held and smartphone operating systems into a single OS might be a sign that it's looking forward to what hand-held devices will be used for in the future.
"While there's still significant volume, at least among professionals, for the hand-helds, Microsoft is looking beyond standalone PDAs," Ross Rubin, director for industry analysis with the NPD Group in Port Washington, N.Y., told TechNewsWorld. "It's been leveraging a lot of its operating system work into portable media players and smartphones, which are two growing categories."
What lies beyond PDAs might be more "media centric" devices like thesoon-to-be released palmOne LifeDrive, he noted.
Mobile Managers
The LifeDrive is expected to be the first in a line of hand-held devices that palmOne has anointed "mobile managers."
According to a statement released by palmOne yesterday, mobile managers are designed for customers who are eager to take full advantage of the trend toward "digital everything" from documents and e-mail to music, images and video, as standalone files or in organized folders.
"In studying customer trends, we found that some people want to carrydozens of documents and hundreds of songs while others want to carry a thousand-plus photos and enjoy videos," Microsoft Vice President of Marketing Page Murray said.
"Organization functions were highly valued by nearly all our customers," she continued, "but some wanted much more business and personal file-management capabilities. We listened and will deliver a new category of mobile-computing product that will let customers fuse their own mix of personal and business content in ways never before possible in either hand-held computers or smartphones."