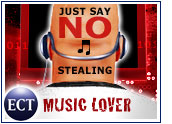 Microsoft released a "technical beta" of Windows Media Player 10 yesterday, and while the target date for the prime-time version isn't until later this year, there's little doubt now who is in the crosshairs with this incarnation of the software.
According to Michael Gartenberg, vice president and research director at Jupiter Research in New York City, with edition 10 of Media Player, Microsoft "is trying to provide a better integration model, similar to what Apple has with iTunes."
"We're seeing an increased emphasis in terms of integration with other devices going forward, allowing for greater portability," he told TechNewsWorld.
Pizzazz Monopoly
Some observers believe that kind of integration is important if hardware makers in the Windows world ever hope to break up Apple's monopoly on industrial pizzazz in the market. "The lacking piece right now is not so much on the software side, but that there's no hardware alternative to the iPod that's won the hearts and minds of consumers," Gartenberg said.
In some eyes, if Apple's online music model has a flaw, it's in its use of a la carte purchasing. At 99 cents per song, enthusiastic music buyers can drop a lot of lettuce in a hurry.
In Media Player 10, Microsoft has included support for a new digital rights management (DRM) scheme that's predicted to boost the popularity of subscription music services.
Subscription Portability
In the past, interest in those services has been lackluster because music downloaded from them lacked portability. Microsoft's DRM scheme embedded in Media Player will create that kind of portability for the services.
That's good news for outfits like Los Angeles-based Napster, which operates both an a la carte and a subscription service. "The DRM is really exciting to us," Napster COO Laura Goldberg told TechNewsWorld.
With the DRM, she explained, Napster will be able to allow downloads tethered to its subscription service to be transferred to several portable devices.
No-Brainer Sync
Once tethered music is stashed on a portable device, she said, that device needs to be synchronized with its host computer at least once a month to determine that a subscription is in good order. As long as it is, the music will continue to play on the device.
Automatic synchronization between a host computer and a portable device — a staple of the iTunes-iPod axis — has been problematic in the PC world. "Synchronizing collections between a computer and portable device has not always been as robust with the Windows Media Player as it has been with some other media players," Goldberg maintained.
To improve synchronization, Microsoft developed something called the Multimedia Transport Protocol (MTP). If a device supports MTP, when it's connected to a computer, Media Player will handle the sync operation automatically without requiring installation of additional software.
Better Experience
With MTP, Microsoft hopes to make working with portable multimedia devices as easy as connecting a digital camera to a computer running Windows XP, a spokesperson for the company told TechNewsWorld.
Other new features in Media Player 10 include a sleek new interface that's relatively easy to navigate, direct links to online music stores through a "Media Mall" feature, and support for a new kind of multimedia portable called the Portable Media Center, expected to hit the marketplace later this year.
"The Media Player experience is much better," Goldberg observed. "Microsoft has really improved that."
Large Step Forward
Moreover, she continued, with the new DRM, Microsoft has enabled what could be a more affordable business model for consumers.
"At 99 cents a track, it costs $10,000 to fill up a 20-gig hard drive with music," Goldberg explained. "With a subscription that supports portable devices, you're able to pay a much, much smaller fee a month and fill up your device.
"This is large step forward for the PC platform and the non-iPod devices," she added.