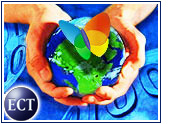 Undeterred by the hard line laid down by the European Commission in its antitrust case against Microsoft, the software company on Wednesday announced its hardware partners will be expanding the distribution of Media Center PCs in Europe and Asia.
The company's Media Center PC, a hardware-software combination introduced in North America last year, uses Microsoft's Windows XP Media Center Edition operating system and is seen by some analysts as a restorative for sagging sales of home PCs.
Announcement Timing
The timing of the announcement — on the same day that the EC drew a final linein the sand in its antitrust case against Microsoft — seems curious, but Microsoft disavowed any furtive motives. "This is something that has been in the works for a long time," Microsoft Windows eHome product manager Tom Laemmel told TechNewsWorld.
Attempting to determine Microsoft's motives for the announcement, if anything, would be "pure speculation," observed EC Washington D.C. Delegation spokesperson Wilfried Schneider.
Integrates Digital Entertainment
With a Media Center PC, home users can integrate their digital entertainment experience, including live television, personal video recording, digital music, DVDs and digital imaging.
Microsoft has enlisted more than 30 hardware makers to push Media Center PCs into the United Kingdom, Germany, France, China and Japan.
In addition, the Redmond, Washington-based company has enlisted two major programming guide providers — Nikkan Hensyu Center in Japan and Broadcasting Dataservices in Europe — to offer Media Center buyers a free TV program guide to search and select television listings as well as record TV shows.
Guide Is Guiding Light
According to Laemmel, the program guide is essential to the Media Center experience.
"It's an important part, and it's also why we don't say, 'Now here's the next50 countries where we're rolling out Media Center PCs,'" he said. "It's adeliberate country-by-country expansion."
Microsoft will not introduce the PCs into a country until a strong program guide provider can be found because TV is such an integral part of the Media Center experience, he explained.
North American Success
Introduction of the Media Center PCs into North America last year was successful, according to Laemmel. "Last holiday season, retailers were selling out of Media Center PCs," he said.
"Upon launch of the product last year, sales exceeded our expectations, and since then, they have continued to meet or exceed expectations," said Hewlett-Packard spokesperson Tiffany Smith.
Microsoft intends to clone that success overseas, especially in Europe, where a hunger seems to be building for a Media Center-type box.
Home Sales Sagging
"The boom days of 2001, when 9 percent of European households bought their first PC, are over," wrote Forrester senior analyst Paul Jackson in a research report. "With current record-low levels of consumer interest, the good times won't return in 2003."
Jackson noted that just 2 percent of European households bought their first PC in 2002.Even worse, he added, the proportion of consumers who do not own a computer but say they plan to buy one also dropped to 2 percent — not a good sign for future PC sales.
Moreover, the pace of equipment replacement is flagging, with 31 percent of PCs at least five years old and just 3 percent of existing owners saying they are likely toreplace their aging hardware in the next six months.
Changing Consumer Needs
"New PCs need to adapt to changing consumer needs — handling digital content, advanced communication and even home networking [eventually]," wrote Jackson. "These new applications will create a third wave of home PC replacement and adoption."
It's that wave that Microsoft hopes to ride with the Media Center PC — if its difficulties with the European Commission don't put a snag into its plans.
Whatever those snags might be, Microsoft's Laemmel is confident that the company will adapt to them. "We will follow the rules and do what has to be done," he said.