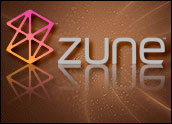 Dogged by rumors in the blogosphere about its Zune portable media player, Microsoft threw in the towel on Wednesday, divulging a few details about the upcoming Zune and confirming that the next generation of the device will be available in the U.S. this fall.
The Zune HD will target the same market as the iPod touch, which has proved hugely successful for rival Apple.
It will combine a built-in HD Radio receiver, high-definition (HD) video output capabilities, an organic light-emitting diode (OLED) touchscreen, WiFi and a full-screen Internet browser.
Microsoft will also extend the Zune video service to its Xbox Live platform this fall. Xbox Live is the vendor's online multiplayer gaming and digital media delivery service.
Gunning for the King
In late 2007, as the MP3 player market moved toward commodity pricing, Apple shifted to a new direction with the iPod touch, turning a potential loss into a profit. Playing off the buzz surrounding the iPhone, which was first released a few months prior, the touch brought similar touchscreen and Web-browsing capabilities to users without requiring them to sign on to a cellphone plan. When Apple opened its App Store last year, it allowed touch users to access some of the same apps iPhone users were downloading.
"Apple escaped the effects of commodity-based pricing for [MP3 players] by opening up the iPod touch for other applications, predominantly Web browsing," Ross Rubin, an analyst at the NPD Group, told TechNewsWorld.
Microsoft, he said, is looking to do the same with the Zune HD.
"We've been doing a lot of infrastructure work on the Zune platform to make sure we can scale horizontally, and the first place where we're landing is Xbox Live," Brian Seitz, group marketing manager at Zune, told TechNewsWorld.
"You'll later see Zune in other areas of the company where they'll need a compelling entertainment service," he said. As a whole, the Zune platform encompasses Microsoft's MP3 players, an online store and an online music community.
Aiming High Is a Good Thing
Since the first Zune's release in 2006, sales of the MP3 players have been a mere fraction of those of the market-leading Apple iPod.
In November, Microsoft slashed the prices on its flash-based Zune devices in a bid to boost holiday season sales. However, in a filing for the second quarter of fiscal 2009 (ending Dec. 31, 2008), Microsoft said Zune platform revenue fell by US$100 million, or 54 percent, because of poor sales.
Microsoft blamed a poor economy, but iPod sales were up 3 percent during that period (although revenue fell because of price-cutting).
In January, Microsoft restructured the Zune team, splitting up the hardware and software divisions.
The Blogosphere Buzz
Despite all this, over the past few months, the blogosphere has been alive with rumors about Microsoft's plans for Zune.
About two weeks ago, a Twitter account apparently attached to the "Office the Movie" Microsoft marketing team began sending out messages hinting that Microsoft would launch a Zune phone in June. Those messages, however, were disowned by Microsoft as fakes.
There have consistently been rumors circulating about Microsoft's so-called "Pink" project, which will puportedly bring Zune features and functions to Windows Mobile smartphones.
"We decided for the sake of our Zune customers and potential customers to just come out and say what we're doing," Zune's Seitz said.
Zune HD Specs
Microsoft, however, has unveiled only a handful of choice details on the upcoming Zune, rather than a full and complete list of specs.
"There's a bunch of stuff related to firmware that's still in development, and technical specs are still being worked out," Seitz said.
What is known is that the Zune HD is capable of HD Radio reception and HD television output if it is plugged into an HD television.
Its OLED screen will provide crisp contrast, and it will run Windows CE.
Microsoft views the Zune HD as a strategic device, and NPD Group's Rubin agrees with that assessment.
"It's more of a platform, and that's traditionally been Microsoft's bailiwick," he said. "It's crucial Microsoft leverages that development environment against an installed base such as Windows Mobile devices."
What About Xbox Live?
In the fall, Seitz said, Zune will take over the Xbox Live video marketplace in eight countries: the U.S., Canada, the UK, Ireland, France, Italy, Spain and Germany.
"Zune will become the new brand for the Xbox Live marketplace," commented Rubin. "The content and service will expand beyond the isolated devices that Microsoft offers."
This could be a marketing ploy; videos played on Xbox Live and on Zune are incompatible with each other, and Microsoft could be seeking to get the 17 million-strong Xbox Live community to purchase Zune HD devices.