Microsoft last week rolled out versions of Skype 6.0 for iOS and Android. The company redesigned the applications to be more natural and intuitive, and it added new features.
Skype 6.0 for Android now has a floating action button, which makes it easy to start a new conversation. Its navigation is more streamlined, too.It's compatible with Android 4.0.3 or later.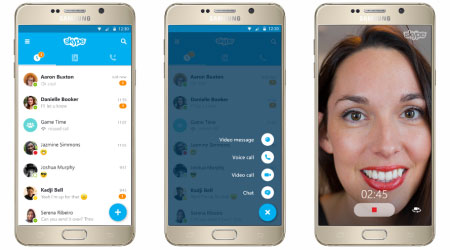 The new version for iOS incorporates swipe gestures and makes it easier to share photos, Web links, emoticons and users' locations while on a voice or video call, as well as to start a group chat or a group voice call on the iPad. It runs on iOS 7 or later.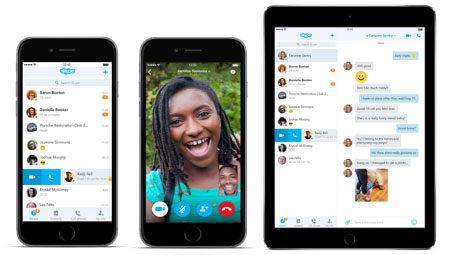 Both Skype for Android and Skype for iOS have enhanced search to simplify finding messages and contacts.
Going With Nadella's Mobile Vision
Microsoft apparently focused on uniformity when redesigning the app for iOS and Android.
"Typically, Microsoft designs the UI to match the OS, but in looking at the two versions, both are very similar to the one I have on my Windows phone, suggesting Microsoft focused at least as much on keeping them largely consistent across mobile devices," remarked Rob Enderle, principal analyst at the Enderle Group.
"You should be able to move to any version of Skype on any device and pick it up pretty quickly as a result," he told TechNewsWorld.
That's in keeping with Microsoft CEO Satya Nadella's vision of competing in a mobile-connected world.
Microsoft didn't have to do too much to customize Skype for Android and iOS as the two operating systems are "actually pretty close to each other in apps across the board," Enderle said. The differences "have to do with interfacing with both platforms' stores, but Skype doesn't need to do that."
Skype's Position in the Market
Skype faces stiff competition across the board. Facebook reportedly terminated its partnership with Skype this spring, when the social network added free video calling to its Messenger app.
Other competitors for instant messaging include WhatsApp, QQ Mobile, WeChat and Viber.
WhatsApp was the most popular global messenger app in August, with 800 million monthly active users, according to Statista. Facebook Messenger was next with 700 million. QQ Mobile came in third with 603 million, and WeChat was close on its heels with 600 million. Skype ranked fifth with 300 million, and Viber was sixth with 249 million.
WhatsApp offers free voice calling on iOS, Android and Windows Phone; QQ Mobile offers video calling; WeChat offers audio and video calling; and Viber offers video calling on Android over smartphones with an ARMv7 processor.
While Skype users can call each other for free, they have to pay to connect with nonusers on mobile phones and landlines.
However, free voice and video calling apps may have hidden charges. Unless the users are on WiFi networks, they guzzle data.
WhatsApp sucks down 800 KB a minute for calls made on 4G/LTE networks, AndroidPit found. Its verdict: Go with WiFi.
Who Will Use Skype?
Skype is not likely to make much headway in the market because "it depends on the demographics," said Susan Schreiner, an analyst at C4 Trends.
Skype is "still a major brand internationally, but kids and millennials are all looking for free," she told TechNewsWorld. "It's more likely that Skype will be used for business."
Skype's "pretty easy to use, and cuts across platforms, including PCs — but at the moment, few people use it heavily," Enderle said.
Expect Microsoft to continue working on Skype, though, he suggested. "It's one of their key cross-platform products which can be used to pull people into the Microsoft family of products, and it's their key communications offering."