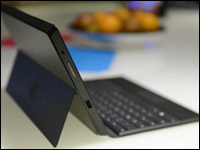 Microsoft is rolling out a fix for a troubled firmware update that caused several problems for Surface Pro 2 owners in December.
Many of those who installed the December patch saw battery-life issues and trouble with the sleep and shutdown functions on the tablets. Some users reported that battery power drained more quickly, and that their Surface either did not charge fully or did not show it was actively being charged.

Microsoft's Surface 2 and Surface Pro 2
Shut Down Error
Others said their tablets shut down completely when closing the cover rather than going into sleep mode, or that they failed to go into sleep mode when the cover was closed. Microsoft removed the update and promised a fix would be available after the holidays.
Some users started receiving the update on Jan. 17, according to ZDNet.
The most recent update may be a partial update or one of several updates that Surface Pro 2 owners may receive, multiple reports suggested.
Awaiting Update
The firmware fix resolved issues for a small number of users but had no effect on those who did not install the December update. Microsoft reportedly is working to bring the working parts of the December patch to those who did not install it before it was pulled from distribution.
Some Surface Pro 2 owners apparently were still anxiously awaiting an update as of Monday morning.
"If things actually fail, as they're tending to do with the Surface Pro updates, that's a very high annoyance factor," Jack E. Gold, principal analyst at J. Gold Associates, told TechNewsWorld. "Microsoft has to fix the problems correctly, or they're really going to run into some significant problems and potentially lawsuits."
Microsoft did not respond to our request to comment for this story.
'Better Test System'
"This is the unfortunate side-effect of a company being new in hardware," Wes Miller, an analyst at Directions on Microsoft, told TechNewsWorld. "These are the kinds of growing pains they will have to work through periodically, and hopefully they will have a better test system in place so customers so don't have to see this kind of issue in the future."
Owners of the first-generation Surface Pro last week received an update to resolve battery-life issues stemming from problems with the Type and Touch covers.
Faster Tablets
Microsoft launched the Surface 2 tablets in September. The Surface 2 and Surface Pro 2 are both faster and have longer-lasting battery life than their predecessors. The Surface 2 utilizes an Nvidia Tegra 4 processor, while the Surface Pro 2 houses an Intel Core i5 Haswell processor.
The Surface is Microsoft's first attempt at its own computing device. It reduced the price of the Surface RT by 30 percent in July — just 10 months after it was launched — writing down inventory by US$900 million before cutting the original Surface Pro by $100 in August.
Early Adopters
"A lot of the people who have bought Surface Pros at this point are traditionally early adopters or very big Microsoft advocates, especially if they have bought the higher-end devices, which are much more expensive than competitive tablets," noted Directions on Microsoft's Miller.
"I don't think [the update issues] really harmed the goodwill a ton. That said, I don't think it's the kind of thing that could go on very long, if you want people to have faith that they're not going to have to see this periodically," he noted.
"The Surface 2 is not doing terribly, but it's certainly not doing anywhere near the sales level of an iPad or a Samsung tablet," pointed out Gold. "I think the [firmware issues] will have an effect, but I think if Microsoft can fix this fairly rapidly to everyone's satisfaction, then it probably won't be a lingering effect."