Microsoft on Monday announced two Windows tablets in its new Surface line — one running Windows 8 RT, and one running Windows 8 Professional.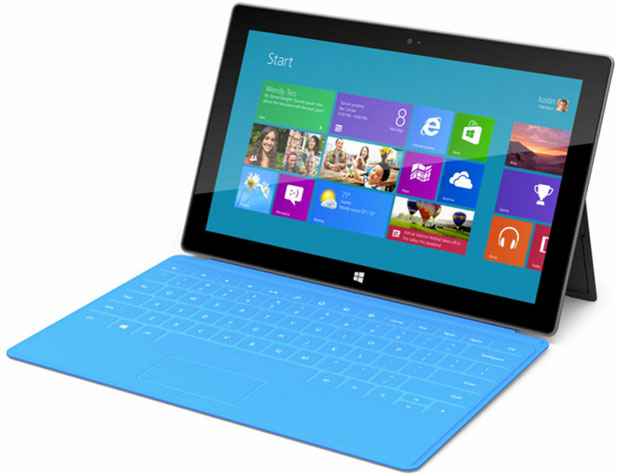 The Microsoft Surface
The Win 8 RT version will run on an ARM processor, and the Windows 8 Pro version will have a third-generation Intel Core processor.
The casing of Microsoft's Surface tablets is made from VaporMg, pronounced "Vapor-Mag," based on magnesium. The Surface tablets have a 3mm pressure-sensitive Touch Cover that senses keystrokes as gestures. This lets users type faster than they would with an on-screen keyboard.
The Surface tablets' screens have a 16:9 aspect ratio, the current industry standard for high-definition screens.
Surface with Windows RT will weigh 676 grams. It will feature a 10.6-inch ClearType HD screen; a microSD slot, a USB 2.0 port, a Micro HD video slot and a 2×2 MIMO antenna. It comes with Office 15 apps.
Surface for Windows 8 Pro will weigh 903 grams. It features a 10.6-inch ClearType full HD display, a microSDXC slot, a USB 3.0 port, a Mini DisplayPort Video slot, and a 2×2 MIMO antenna.
Microsoft did not offer pricing information.
What About Your Friends?
With the Surface tablets, Microsoft is once again taking a stab at vertically integrating products from hardware to software, an approach that could prove risky.
"They're competing with their customers [PC OEMs]," Shaw Wu, an analyst at Sterne Agee, told TechNewsWorld, referring to PC OEMs. "And I think their customers will look at alternatives. Perhaps this will help out Android."
However, Android tablets haven't really caught on and are vulnerable, said Rob Enderle, principal analyst at the Enderle Group. "When these [Surface tablets] come out, they will be offered and supported in a premium fashion very similar to the iPad. The Google tablets can't get to this level."
Then again, Microsoft "wants a high-quality product, but can it mass-produce these with quality?" asked Michael Cherry, an analyst at Directions on Microsoft. "Remember, it had quality issues with the early Xboxes."
Microsoft spokesperson Serina Hall pointed TechNewsWorld to the company's press release and the Surface website when asked for additional comment.
Gunning for the iPad?
The Surface tablets constitute a threat to the iPad, Enderle argued. "Both of them have three distinct advantages over the iPad — Microsoft Office; the Optical Display, where the display itself can capture external information; and full integration with Microsoft's suite of management and security products. The Windows 8 Pro version has a fourth advantage — full support for legacy Windows applications."
However, "I like the keyboard concept and integration, but it's a battle for the apps in my mind," Directions on Microsoft's Cherry told TechNewsWorld. "As neat as the hardware is, it isn't about hardware or OSes, it's about where developers provide the best applications."
The apps ecosystem is "one of the reasons why Apple products do so well," Sterne Agee's Wu remarked. "Microsoft has been trying to build an apps ecosystem for Windows Phone for some time and that hasn't taken off."
Android and iOS devices will continue to consolidate market share, Wu predicted.
Follow the iLeader
By vertically integrating the entire process from hardware to software for the Surface tablets, Microsoft "wants to have the same ability to control the total experience users have with Windows 8 [as Apple does with iOS devices]," Directions on Microsoft's Cherry speculated.
Microsoft's "executing tightly on the Apple model," and this vertical integration "will certainly upset their OEMs," Enderle said. "On the other hand, the relationship between Microsoft and its OEMs has been worsening for years, and the OEMs pissed off Microsoft first by adopting Android."
To Have the Market or Have Not
Ultimately, Microsoft's power in the tablet market might be questionable. "These companies can talk all they want but, at the end of the day, the customers are going to decide and right now, particularly in the tablet space, Apple has a very dominant share," Sterne Agee's Wu pointed out.
The only way Microsoft will make headway in the tablet market is by losing money, but then "the big question is how much money they are willing to lose," Wu suggested.